Jagananna Amma Vodi Payment Status Check 2021 Online, Eligibility List Download: Andhra Pradesh Chief Minister YS Jagan Mohan Reddy has recently launched an educational supportive scheme Amma Vodi. To encourage the education percentage in the state and to empower the state's development, the AP State Government has launched the scheme. As per the announcement, the scheme will be commencing from 9th January 2021.
Students of poor families who are pursuing in various Government/Private/Aided colleges and schools are eligible to get the benefits of this scheme. Students up to class 12th/Intermediate will get the financial aid of Rs 15,000/- per year. Especially the BPL category will get financial support from the state government. Recently, it was revealed that the cabinet has approved the Amma Vodi scheme. Hence the students undergoing various classes in Andhra Pradesh will get the annual scholarship by the AP State Government from next year onwards. Soon, the AP State Government is going to announce the AP Jagananna Amma Vodi Beneficiaries List 2020-21. Applicants can keep checking the AP State Government official website, ap.gov.in for further updates.
Amma Vodi Payment Status Check 2021 (అమ్మఒడి), Eligibility List Download Online
Amma Vodi Status Check With Aadhar Card: Recently, the Andhra Pradesh State Government announced the 'Amma Vodi' scheme to empower the education in the state. As the remembrance of her father YS Raja Sekhar Reddy's Rajanna Badi Bata program, AP CM has implemented the 'Amma Vodi' scheme. This scheme is the part of YSRCP Election Manifesto (Navaratnalu). Students of Andhra Pradesh will get financial aid under the Amma Vodi scheme. The scheme will be commencing from 11th January 2021. Amma Vodi scheme will be exclusively offered for students who are undergoing their education in Government and private schools in AP, and Intermediate students pursuing in government and private colleges. The scheme was exclusively implemented to empower education in the state. Pupil belongs to the lower-income category will get benefited from this scheme. Amma Vodi scheme offers an amount of Rs 15,000 per year to support a student's education.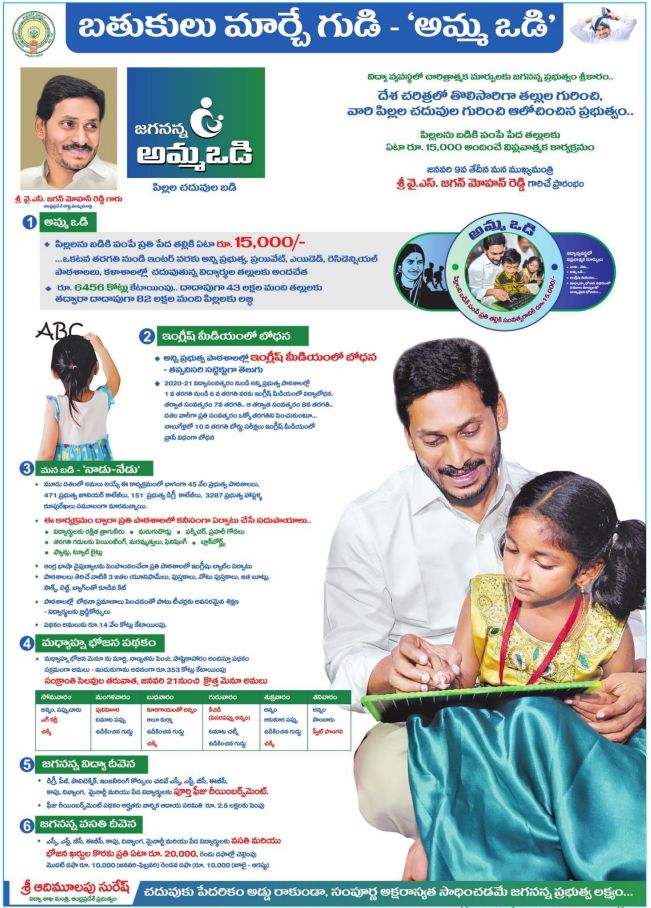 Jagananna Amma Vodi Payment Status, Final Eligibility List Download PDF – Important Details
Scheme Offered By
CM YS Jagan Mohan Reddy
Name Of The Scheme
Jagananna Amma Vodi (అమ్మఒడి)
Scheme Will Be Supervised by
AP Education Department
Amma Vodi Scheme Launch Date
11th January 2021
Category
Amma Vodi Payment Status
Jagananna Vidya Deevena & Vasathi Deevena Scheme
Status Check
Scheme Launched In
Andhra Pradesh
Scheme Was Granted To
Poor Children of Private / Government Schools

Amma Vodi Eligible List Status

Amma vodi Payment Status Check Online Link

Available now

Available from 11th January

Official Website
jaganannaammavodi.ap.gov.in
Amma Vodi Payment Status List Check Online 2021 @ jaganannaammavodi.ap.gov.in
As soon as the Amma Vodi scheme has got announced, AP State Government received lakhs of applications who are studying in various Government/Private schools of AP. Lakhs of students who lie under the below poverty line have applied for the amma vodi scheme. The Amma Vodi scheme will offer benefits for SC, ST, BC, EBC, and Minority category students. After announcing the scheme, the AP State Government has mentioned that schools having 100 to 300 students have to register their applications before 26th November and schools having more than 300 students can register before 27th November. While few of the schools in AP state have requested the authorities to extend the application date and the government considered their request and extended the submission date to 30th November. Hence the school management has submitted the eligible student's list for the concerned authorities. By scrutinizing all the application forms submitted by the schools the concerned department will soon issue the beneficiaries list. Probably, the AP Jagananna Amma Vodi beneficiaries list 2020-21 is going to be announced in the first half of January 2021. Hence the applicants can wait for the updates regarding the beneficiaries list.
Jagananna Amma Vodi Status &
List Check Online
AMMA VODI Mothers Eligibility Status – Children Provisionally for Mother Status Check SEARCH CHILD DETAILS FOR AMMAVODI SCHEME జగనన్న అమ్మ ఒడి అర్హత ను తల్లి దండ్రులు చెక్ చేసుకోవచ్చు. దీనికి గాను క్రింది లింక్ లో తల్లి ఆధార్ నంబర్ ను ఎంటర్ చేసి, వెరిఫికేషన్ కోడ్ ఎంటర్ చేసి అర్హత స్థితి ని పొందవచ్చు.
AMMA VODI Mothers Payment Status – Children Provisionally Selected Status List Check Online With Aadhar Card
SEARCH CHILD DETAILS FOR AMMAVODI SCHEME(2020-21) | Link -2 | Link-3| Link -4  – Available Now
Amma Vodi Payment Status Check Link Online – Activate Today
How to Check Amma Vodi Payment Status Vis SMS
అమ్మఒడి డబ్బు తల్లుల అకౌంట్లలో జమ అయిత తర్వాత ఎస్ఎంఎస్ (SMS) వస్తుంది. ఒకవేళ రాకపోతే.. స్టేటస్ SMS రూపంలో తెలుసుకోటానికి ప్రభుత్వం ఆయా బ్యాంకుల కాల్ సెంటర్ల నంబర్లు ఇచ్చింది. ఈ నంబర్లకు వారి బ్యాంకు అకౌంట్‌కు లింక్ అయిన ఫోన్‌ నంబర్ నుంచి మిస్డ్ కాల్ ఇస్తే.. అకౌంట్‌లో ఉన్న బ్యాలెన్స్ SMS రూపంలో వస్తుంది.
బ్యాంకుల కాల్ సెంటర్ నంబర్లు:
Axis Bank- 18004195959
Andhra Bank- 09223011300
Allahabad Bank- 09224150150
Bank of Baroda (BoB)- 09223011311
Bharatiya Mahila Bank (BMB)- 09212438888
Dhanlaxmi Bank- 08067747700
IDBI Bank- 18008431122
Kotak Mahindra Bank- 18002740110
Syndicate Bank- 09664552255 or 08067006979
Punjab National Bank (PNB)- 18001802222 or 01202490000
ICICI Bank- 02230256767
HDFC Bank- 18002703333
Bank of India (BoI)- 09015135135
Canara Bank- 09015483483
Central Bank of India- 09222250000
Karnataka Bank-18004251445
Indian Bank- 09289592895
State Bank of India (SBI)- 09223766666
Union Bank of India- 09223008586
UCO Bank- 09278792787
Vijaya Bank- 18002665555
Yes Bank- 09223920000
Karur Vysya Bank (KVB)- 09266292666
Federal Bank- 8431900900
Indian Overseas Bank- 04442220004
South Indian Bank- 09223008488
Sara swat Bank- 9223040000
Corporation Bank- 09289792897
Punjab Sind Bank- 1800221908
Banks merged with SBI (SBH, SBP, SBT, SBM & SBBJ)- 09223766666
United Bank of India- 09015431345 or 09223008586
Dena Bank- 09289356677
Bandhan Bank- 18002588181
RBL Bank- 18004190610
DCB Bank- 7506660011
Catholic Syrian Bank- 09895923000
Kerala Gramin Bank- 9015800400
Tamilnad Mercantile Bank- 09211937373
Citibank- 9880752484
Deutsche Bank- 18602666601
IDFC First Bank- 18002700720
Bank of Maharashtra- 18002334526
Oriental Bank of Commerce- 08067205757
Lakshmi Vilas Bank- 8882441155
The City Union Bank- 9278177444
IndusInd Bank- 18002741000
Indian Post Payments Bank (IPPB)- 8424026886
AU Small Finance Bank- 1800120258
Ujjivan Small Finance Bank- 9243012121
Odisha Gramya Bank- 8448290045
Baroda Gujarat Gramin Bank- 7829977711
Karnataka Gramin Bank- 9015800700
Andhra Pragathi Grameen Bank(APGB) – 09266921358
Andhra Pradesh Grameena Vikas Bank(APGVB) -9289222024
Saptagiri Grameena Bank (SGB) – 08572233598
Steps to Check Jagananna Amma Vodi Status Check 2021
Visit the AP Jagananna Amma Vodi Official website, jaganannaammavodi.ap.gov.in.
On the homepage, you can find, "SEARCH CHILD DETAILS FOR AMMAVODI SCHEME".
Enter Mother Aadhaar Number and Verification Code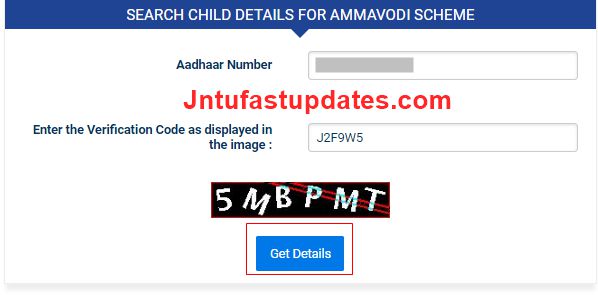 Amma Vodi Eligible Status will be visible on the screen.

FAQs
How to Check Jagananna Amma Vodi Payment Status Online?
Amma Vodi payment status will be Available at jagananna amma vodi official website.
When Will Rs 15000 amount to be credited into Mothers Account?
 జనవరి 11న 'జగనన్న అమ్మఒడి' రెండో విడత నగదును ఖాతాల్లో జమ చేయనుంది. ఈ విషయాన్ని విద్యాశాఖ మంత్రి ఆదిమూలపు సురేశ్‌ తెలిపారు.
When Will be Released Amma vodi Beneficiary/Eligibility List?
ఈ నెల 16-19 వరకు లబ్ధిదారుల ప్రైమరీ లిస్ట్ విడుదల చేస్తామని, 20-24 మధ్య జాబితాలో తప్పుల సవరణకు అవకాశం కల్పిస్తున్నామని చెప్పారు. 26న అమ్మఒడి లబ్ధిదారుల ఫైనల్ లిస్ట్‌ను రిలీజ్ చేస్తామన్నారు.
How can I check the Amma Vodi Status (Mother Eligible Status)?
You can check it on the official website of Amma Vodi Scheme. For your assistance we are also provided the links on this page.
What is the website for Amma Vodi Scheme?
The official website of Jagananna Amma vodi Scheme is "jaganannaammavodi.ap.gov.in"
Amma Vodi Eligible list District Wise – Available Soon
Srikakulam – Download Here
Vizianagaram – Download Here
Visakhapatnam – Download Here
East Godavari – Download Here
West Godavari – Download Here
Krishna – Download Here
Guntur – Download Here
Prakasam – Download Here
Nellore – Download Here
Kadapa – Download Here
Kurnool – Download Here
Anantapur – Download Here
Chittoor – Download Here