ANU B.Tech 3-1, 4-1 Semester Results May 2015 released, anu b.tech 3-1 sem results 2015, anu b.tech 4-1 sem results 2015, www.anu.ac.in official website

ANU B.Tech 3-1, 4-1 Semester Results May 2015 released
acharya nagarjuna university Releassed B.tech 3-1 & 4-1 semester examination results 2015 on 23-06-2015 at official website. Students check your results by using your Roll Number from below links.
Official news Regarding Results :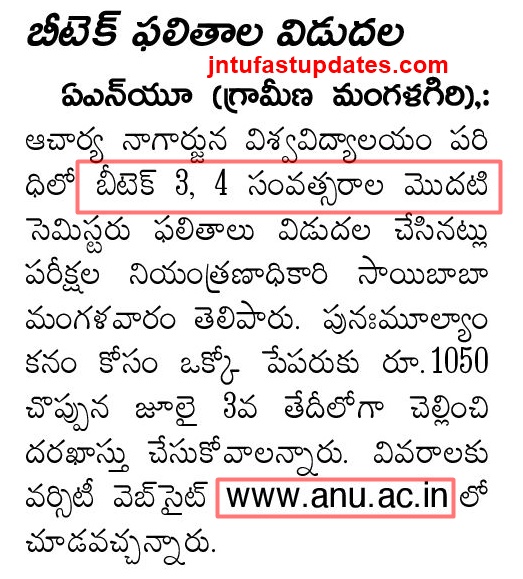 Anu Controller of Examinations Sai baba sir told b.tech III & IV year I semester Examination results released at official website i.e., www.anu.ac.in on 23-06-2015.
Last Date For Revaluation/ Recounting is – July 3rd, 2015
Fee : 1050 (each paper)
Official Website : http://anu.ac.in/ or http://www.nagarjunauniversity.ac.in/
The Following Examination Results released by ANU.
Anu 3rd year 1 semester examination results 2015
Anu 4th year 1 semester examination results 2015
Your results From Below  :
Anu 3rd year 1 semester examination results 2015 
Anu 4th year 1 semester examination results 2015
Like This page For More Latest Updates Regarding ANU – Click Here