ANU Degree 5th & 6th Sem Advanced Supply Exams Notification Nov 2020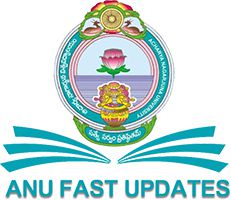 Sub:- ANU – Degree Exams – U.G. 5th & 6th Semesters Supplementary Examinations November, 2020 — Date of Commencement and Schedule for payment Of Examination fee – Communicated — Reg.
I am by direction, of the Vice-Chancellor's announcing the following schedule for the 5th & 6th U.G. Advanced Supplementary Degree Examinations of B.Sc./B.Com./B.A./B.C.A./BAOL/BHM/BBM/BBM (Hons.)/B.Sc (ASLP)/B.Sc. (HS) Examinations of November, 2020.
Last date for Payment of Examination fee and submission of Application forms for 5th & 6th Semester students: 19.11.2020
Last date for submission of gallies by colleges in to the A.C.E. of the A.N.U. on : 21.11.2020
Date of commencement Of theory examinations: 28.11.2020
Fee for 5th & 6th Semesters Advanced Supplementary Students:
Exam Fee for Single Paper appearance: Rs. 300-00
Two Papers appearance : 400-00
Three papers appearance : 450-00
Four or more papers (whole) : 710-00
II) Bachelor of Hotel Management For 5th Semester
For single: Rs 320
For two papers: Rs 420
For three papers: Rs 560
For four : Rs 670
For five papers : Rs 860
For six Or more papers : Rs 1160
The above are the examination particulars for payment of fee for November, 2020 Advancæd Supplementary Examinations of 5th & 6th Semesters through Online Challan in Fee A/C No. Of Acharya Nagarjuna University.
The Principals Of all the affiliated Degree Colleges of ANU area are requested to arrange to pay the exams fees course wise, semester wise fee i.e. B.Sc./ B.Com./ B.A./ B.C.A./ BAOL/ BHM/ BBM/ BBM (Hons.)/B.Sc (ASIF)/ B.Sc. (HS)/ BHM 5th and 6th Semesters, on a separate online challans for each course along with detailed list Of students with the Registered Nos.
Download the Official Notification Here