ANU Degree Advanced Supply Time Tables 2018: Acharya Nagarjuna University has announced Time tables of Degree 5th & 6th Sem Advanced Supplementary examinations June 2018 for BA, B.Sc, B.Com, BBA, BCA Groups. Students can download their ANU degree 5th, 6th Semester time tables from links given below.
ANU Degree 5th, 6th Sem Advanced Supply Exam Time Tables June 2018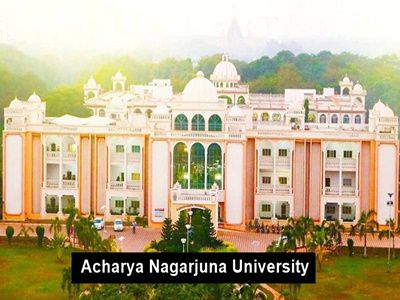 Acharya Nagarjuna University, an affiliating University established in 1976, started with only 10 post-graduate courses in the University College. Since then, it has achieved tremendous progress through quantitative expansion and qualitative improvements on various academic fronts. This has been possible by the efforts of its dedicated faculty, an efficient team of supporting staff and high quality student input. The Acharya Nagarjuna University at present offers post-graduate education in 47 courses (39 on the University campus, 4 at University PG Campus at Nuzvid and 5 at University PG Campus at Ongole) besides Post-graduate courses in affiliated colleges.
Download the Time tables From links given below:
Time table for B.Sc and B.Sc. (ASLP) V SEMESTER Degree Advanced Supplementary Examinations, JUNE, 2018
Time table for B.Sc. and B.Sc. (ASLP) VI SEMESTER Degree Advanced Supplementary Examinations, JUNE 2018
Time table for B.A V SEMESTER Degree Advanced Supplementary Examinations, JUNE, 2018
Time table for B.A VI SEMESTER Degree Advanced Supplementary Examinations, JUNE , 2018
Time table for B.A.O.L V SEMESTER. Advanced Supplementary EXAMINATIONS, JUNE, 2018
Time table for B.A.O.L VI SEMESTER. Advanced Supplementary EXAMINATIONS, JUNE, 2018
Time table for BBA V SEMESTER and B.H.M. V SEMESTER Degree Advanced Supplementary Examinations, JUNE 2018
Time table for BBA VI SEMESTER Degree Advanced Supplementary Examinations, JUNE 2018
Time table for B.C.A. V SEMESTER Degree Advanced Supplementary Examinations, JUNE, 2018
Time table for B.C.A. VI SEMESTER Degree Advanced Supplementary Examinations, JUNE , 2018
Time table for B.Com.(General) V SEMESTER Degree Advanced Supplementary Examinations, JUNE, 2018
Time table for B.Com.(General) VI SEMESTER Degree Advanced Supplementary Examinations, JUNE, 2018
Time table for B.Com.(Restructured) V SEMESTER Degree Advanced Supplementary Examinations, JUNE 2018
Time table for B.Com.(Restructured) VI SEMESTER Degree Advanced Supplementary Examinations, JUNE , 2018