ANU Degree 5th & 6th Sem Instant Exams Notification Nov 2020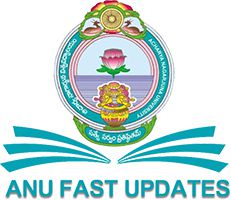 Applications are invited to appear for Instant Examination from the students of B.A., B.Com. (Res. /Voc.)., B.Sc., B.B.M and B.C.A. Courses under Semester System of CBCS pattern for those who have passed all the subjects in all years except one theory paper in V Semester and one paper in VI Semester examinations of 2017-2020 batch only (Y17 batch).
SCHEDULE OF DEGREE INSTANT EXAMINATION (2020)
Date of Degree Instant Examination for 5th Semester: 17.11.2020
Date of Degree Instant Examination for 6th Semester 17.11.2020
Time of Examination for 6th Semester: 09.00 A.M. to 12.00 Noon
Time of Examination for 5th Semester: 02.00 P.M. to 5.00 P.M.
Fees for Instant Examination for each paper:
a) BA/B.Com/BBM
b) B.Sc
c) B.C.A
Last date for payment of Instant Examination Fee: 13.1 1.2020
The candidates shall Collect their Hall Tickets from the Examination Centres at the respecuve Instant Examination Centres one day before the conduct of Instant Examination i.e. 16.11.2020 from 11.00 A.M. onwards.
Note : 1) Instant Examination is not a Supplementary Examination
2) There is no revaluation for Instant Examinations
Download the Official Notitifcation here