ANU Results – Nagarjuna University Degree, PG Results: Here We will Update Acharya Nagarjuna University Results for all Examinations of all UG and PG programs. Students can check their Nagarjuna University Results for Degree, PG  and B.Tech/ M.Tech / MBA /MCA all years results at anu.ac.in.
ANU Results – Nagarjuna University Degree, PG Results @ anu.ac.in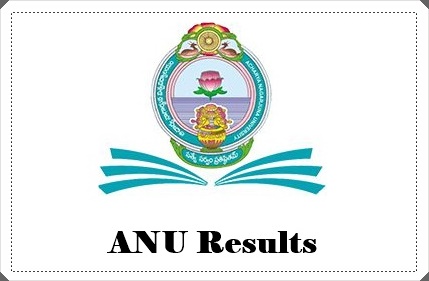 Acharya Nagarjuna University (ANU University) Every Year Conducting the Regular and Supplementary Examinations for Degree and PG Courses. Huge number of students are appeared for these anu exams and they are Confusing to Find the anu exam results in Internet or online. So, For Students Easily Purpose we wrote this Article To download the ANU Results updates Fastly and Get the anu.ac.in all Results at one place. Here we are providing the ANU Degree Results, ANU PG Results, all anu results for Regular/Supply examinations.
ANU Degree Results
Through this article, we had provided complete information about Acharya Nagarjuna University UG Results. Students Can get all the latest information about the ANU Degree Results for the B.A, B.Com, B.Sc, BCA, BBA all Semester Examinations. You can check your ANU UG Result online by providing your registration number/roll number.
ANU PG Results
Students can check the ANU PG Results from this page. Nagarjuna University PG Results for the candidates who had appeared for the M.Tech, M.Pharmacy, MBA, MCA, B.Ed, LLB, B.P.ed, M.P.Ed, M.A, M.Com, M.Sc Exams. For any other information regarding ANU PG Results etc can check the official site of the Acharya Nagarjuna University, anu.ac.in or nagarjunauniversity.ac.in.
Degree Results
PG Results
B.Tech and B.Arch
M.Tech
Pharmacy
07/01/2021
M.Sc. NANO-TECHNOLOGY I/V REGULAR EXAMINATIONS OCTOBER-2020 RESULTS
07/01/2021
M.Sc. NANO-TECHNOLOGY II/V II SEMESTER REGULAR EXAMINATIONS OCTOBER-2020 RESULTS
07/01/2021
M.Sc. NANO-TECHNOLOGY III/V II SEMESTER REGULAR EXAMINATIONS SEPTEMBER-2020 RESULTS
07/01/2021
M.Sc. NANO-TECHNOLOGY IV/V II SEMESTER REGULAR EXAMINATIONS SEPTEMBER-2020 RESULTS
30/12/2020
M.P.Ed., IV SEMESTER REGULAR EXAMINATIONS SEPTEMBER-2020 RESULTS
29/12/2020
D.P.Ed., IV SEMESTER REGULAR EXAMINATIONS SEPTEMBER-2020 RESULTS
29/12/2020
B.P.Ed., IV SEMESTER REGULAR EXAMINATIONS SEPTEMBER-2020 RESULTS
23/12/2020
D.P.Ed., II SEMESTER REGULAR EXAMINATIONS OCTOBER-2020 RESULTS
23/12/2020
M.P.Ed., II SEMESTER REGULAR EXAMINATIONS OCTOBER-2020 RESULTS
22/12/2020
M.Phil./Ph.D. PART – I EXAMINATIONS – MARCH 2020
22/12/2020
B.P.Ed., II SEMESTER REGULAR EXAMINATIONS OCTOBER-2020 RESULTS
18/12/2020
L.L.B 3 YEARS 6th & 5 YEARS 10th SEMESTER REGULAR EXAMINATIONS SEPTEMBER-2020 RESULTS
12/12/2020
L.L.B. 5 YEARS 4th SEMESTER REGULAR EXAMINATIONS SEPTEMBER-2020 RESULTS
12/12/2020
L.L.B. 3 YEARS 4th & 5 YEARS 8th SEMESTER REGULAR EXAMINATIONS SEPTEMBER-2020 RESULTS
10/12/2020
L.L.B V YEARS 2nd SEM ONE-TIME EXAMINATION OCTOBER-2020 RESULTS
10/12/2020
L.L.B III YEARS 6th SEM & V YEARS 10th SEM ONE-TIME EXAMINATION OCTOBER-2020 RESULTS
10/12/2020
L.L.B III YEARS 5th SEM & V YEARS 9th SEM ONE-TIME EXAMINATION OCTOBER-2020 RESULTS
10/12/2020
L.L.B III YEARS 4th SEM & V YEARS 8th SEM ONE-TIME EXAMINATION OCTOBER-2020 RESULTS
10/12/2020
L.L.B III YEARS 3rd SEM & V YEARS 7th SEM ONE-TIME EXAMINATION OCTOBER-2020 RESULTS
10/12/2020
LLB III YEARS 1st & V YEARS 5th SEMESTERS REGULAR EXAMINATION MARCH-2020 RESULTS
10/12/2020
L.L.B V YEARS 3rd SEM ONE-TIME EXAMINATION OCTOBER-2020 RESULTS
10/12/2020
L.L.B V YEARS 4th SEM ONE-TIME EXAMINATION OCTOBER-2020 RESULTS
10/12/2020
L.L.B III YEARS 2nd SEM & V YEARS 6th SEM ONE-TIME EXAMINATION OCTOBER-2020 RESULTS
10/12/2020
L.L.B III YEARS 1st SEM & V YEARS 5th SEM ONE-TIME EXAMINATION OCTOBER-2020 RESULTS
08/12/2020
B.P.Ed., I SEMESTER REGULAR EXAMINATIONS FEBRUARY-2020 RESULTS
08/12/2020
D.P.Ed., I SEMESTER REGULAR EXAMINATIONS FEBRUARY-2020 RESULTS
08/12/2020
M.P.Ed., I SEMESTER REGULAR EXAMINATIONS JANUARY-2020 RESULTS
08/12/2020
M.SC. CHEMISTRY II SEMESTER REGULAR EXAMINATIONS OCTOBER-2020 RESULTS
03/12/2020
M.COM II SEMESTER REGULAR EXAMINATIONS OCTOBER-2020 RESULTS
03/12/2020
LLB V YEARS 1st SEMESTER REGULAR EXAMINATION MARCH-2020 RESULTS
03/12/2020
M.SC. PHYSICS II SEMESTER REGULAR EXAMINATIONS OCTOBER-2020 RESULTS
25/11/2020
M.SC. ZOOLOGY II SEMESTER REGULAR EXAMINATIONS OCTOBER-2020 RESULTS
24/11/2020
M.SC. OILS & FATS II SEMESTER SEMESTER REGULAR EXAMINATIONS OCTOBER-2020 RESULTS
24/11/2020
M.SC. NANO-BIOTECHNOLOGY II REGULAR EXAMINATIONS OCTOBER-2020 RESULTS
24/11/2020
M.SC. STATISTICS II SEMESTER REGULAR EXAMINATIONS OCTOBER-2020 RESULTS
21/11/2020
M.A. ENGLISH II SEMESTER REGULAR EXAMINATIONS OCTOBER-2020 RESULTS
21/11/2020
M.A. SANSKRIT II SEMESTER REGULAR EXAMINATIONS OCTOBER-2020 RESULTS
21/11/2020
M.SC. COMPUTER SCIENCE II SEMESTER REGULAR EXAMINATIONS OCTOBER-2020 RESULTS
21/11/2020
M.SC. ENVIRONMENTAL SCIENCE II REGULAR EXAMINATIONS OCTOBER-2020 RESULTS
21/11/2020
M.SC. FORENSIC CHEMISTRY II SEMESTER REGULAR EXAMINATIONS OCTOBER-2020 RESULTS
21/11/2020
M.Sc. MATHEMATICS II SEMESTER REGULAR EXAMINATIONS OCTOBER-2020 RESULTS
17/11/2020
M.A. ARCHAEOLOGY II SEMESTER REGULAR EXAMINATIONS OCTOBER-2020 RESULTS
17/11/2020
M.A. HISTORY II SEMESTER REGULAR EXAMINATIONS OCTOBER-2020 RESULTS
17/11/2020
M.C.A II SEMESTER REGULAR EXAMINATIONS OCTOBER-2020 RESULTS
17/11/2020
M.SC. AQUACULTURE II SEMESTER REGULAR EXAMINATIONS OCTOBER-2020 RESULTS
17/11/2020
M.SC. BIO-TECHNOLOGY II SEMESTER REGULAR EXAMINATIONS OCTOBER-2020 RESULTS
17/11/2020
M.SC. ELECTRONICS & INSTRUMENTATION TECHNOLOGY II SEMESTER REGULAR EXAMINATIONS OCTOBER-2020 RESULTS
13/11/2020
M.A ECONOMICS II SEMESTER REGULAR EXAMINATIONS OCTOBER-2020 RESULTS
13/11/2020
M.A JOURNALISM & MASS COMMUNICATION II SEMESTER REGULAR EXAMINATIONS OCTOBER-2020 RESULTS
13/11/2020
M.A. POLITICAL SCIENCE II SEMESTER REGULAR EXAMINATIONS OCTOBER-2020 RESULTS
13/11/2020
M.A. PUBLIC ADMINISTRATION II SEMESTER REGULAR EXAMINATIONS OCTOBER-2020 RESULTS
13/11/2020
M.SC. BOTANY II SEMESTER REGULAR EXAMINATIONS OCTOBER-2020 RESULTS
13/11/2020
M.SC. FOODS & NUTRITIONAL SCIENCES II SEMESTER REGULAR EXAMINATIONS OCTOBER-2020 RESULTS
13/11/2020
M.SC. GEOLOGY II SEMESTER REGULAR EXAMINATIONS OCTOBER-2020 RESULTS
13/11/2020
M.SC. MICROBIOLOGY II SEMESTER REGULAR EXAMINATIONS OCTOBER-2020 RESULTS
12/11/2020
M.SC. BIO-CHEMISTRY II SEMESTER REGULAR EXAMINATIONS OCTOBER-2020 RESULTS
12/11/2020
MASTER OF SOCIAL WORK II SEMESTER REGULAR EXAMINATIONS OCTOBER-2020 RESULTS
12/11/2020
M.B.A. HOSPITAL ADMINISTRATION II SEMESTER REGULAR EXAMINATIONS OCTOBER-2020 RESULTS
11/11/2020
M.A. RURAL DEVELOPMENT II SEMESTER REGULAR EXAMINATIONS OCTOBER-2020 RESULTS
11/11/2020
M.B.A. (TTM) II SEMESTER REGULAR EXAMINATIONS OCTOBER-2020 RESULTS
11/11/2020
MASTER LIBRARY & INFORMATION SCIENCE II SEMESTER REGULAR EXAMINATIONS OCTOBER-2020 RESULTS
11/11/2020
M.A. MAHAYANA BUDDHIST STUDIES II SEMESTER REGULAR EXAMINATIONS OCTOBER-2020 RESULTS
11/11/2020
M.H.R.M. II SEMESTER REGULAR EXAMINATIONS OCTOBER-2020 RESULTS
07/11/2020
M.Sc. CHEMISTRY IV SEMESTER REGULAR EXAMINATIONS SEPTEMBER-2020 RESULTS
05/11/2020
M.Sc., YOGA FOR HUMAN EXECELLENCE I YEAR REGULAR EXAMINATIONS SEPTEMBER-2020 RESULTS
05/11/2020
P.G DIPLOMA IN YOGA FOR HUMAN EXECELLANCE REGULAR EXAMINATIONS SEPTEMBER-2020 RESULTS
04/11/2020
M.C.A. VI SEMESTER REGULAR DEGREE EXAMINATIONS SEPTEMBER-2020 RESULTS
29/10/2020
M.A. ARCHAEOLOGY IV SEMESTER REGULAR EXAMINATIONS SEPTEMBER-2020 RESULTS
29/10/2020
L.L.B. II/III 3rd & IV/V 7th SEMESTER REGULAR EXAMINATIONS NOVEMBER-2019 REVALUATION RESULTS
29/10/2020
L.L.B. II/V 3rd SEMESTER REGULAR EXAMINATIONS NOVEMBER-2019 REVALUATION RESULTS
29/10/2020
L.L.B. III/III 5th & V/V 9th SEMESTER REGULAR EXAMINATIONS NOVEMBER-2019 REVALUATION RESULTS
29/10/2020
M.A. HISTORY IV SEMESTER REGULAR EXAMINATIONS SEPTEMBER-2020 RESULTS
29/10/2020
M.C.A IV SEMESTER REGULAR EXAMINATIONS SEPTEMBER-2020 RESULTS
29/10/2020
M.COM IV SEMESTER REGULAR EXAMINATIONS SEPTEMBER-2020 RESULTS
29/10/2020
M.SC. PHYSICS IV SEMESTER REGULAR EXAMINATIONS SEPTEMBER-2020 RESULTS
26/10/2020
M.SC. COMPUTER SCIENCE IV SEMESTER REGULAR EXAMINATIONS SEPTEMBER-2020 RESULTS
23/10/2020
M.Sc. MATHEMATICS IV SEMESTER REGULAR EXAMINATIONS SEPTEMBER-2020 RESULTS
23/10/2020
M.Sc., YOGA FOR HYMAN EXECELLENCE II YEAR REGULAR EXAMINATIONS SEPTEMBER-2020 RESULTS
23/10/2020
M.SC. ZOOLOGY IV SEMESTER REGULAR EXAMINATIONS SEPTEMBER-2020 RESULTS
19/10/2020
CERTIFICATE COURSE IN SUSTAINABLE AQUACULTURE MANAGEMENT EXAMINATIONS SEPTEMBER-2020 RESULTS
19/10/2020
M.A. SANSKRIT IV SEMESTER REGULAR EXAMINATIONS SEPTEMBER-2020 RESULTS
19/10/2020
M.A TELUGU IV SEMESTER REGULAR EXAMINATIONS SEPTEMBER-2020 RESULTS
19/10/2020
PG DIPLOMA IN ADVANCED AQUACULTURE MANAGEMENT EXAMINATIONS SEPTEMBER-2020 RESULTS
16/10/2020
M.SC. ELECTRONICS & INSTRUMENTATION TECHNOLOGY IV SEMESTER REGULAR EXAMINATIONS SEPTEMBER-2020 RESULTS
16/10/2020
M.SC. BOTANY IV SEMESTER REGULAR EXAMINATIONS SEPTEMBER-2020 RESULTS
16/10/2020
M.A JOURNALISM & MASS COMMUNICATION IV SEMESTER REGULAR EXAMINATIONS SEPTEMBER-2020 RESULTS
16/10/2020
M.SC. OILS & FATS IV SEMESTER REGULAR EXAMINATIONS SEPTEMBER-2020 RESULTS
14/10/2020
LLM IV SEMESTER REGULAR EXAMINATIONS SEPTEMBER-2020 RESULTS
14/10/2020
M.A ENGLISH IV SEMESTER REGULAR EXAMINATIONS SEPTEMBER-2020 RESULTS
14/10/2020
MASTER OF SOCIAL WORK IV SEMESTER REGULAR EXAMINATIONS SEPTEMBER-2020 RESULTS
14/10/2020
M.SC. FOOD SCIENCE , NUTRITION & DIETETICS IV SEMESTER REGULAR EXAMINATIONS SEPTEMBER-2020 RESULTS
10/10/2020
M.A. SOCIOLOGY IV SEMESTER REGULAR EXAMINATIONS SEPTEMBER-2020 RESULTS
10/10/2020
M.B.A. HOSPITAL ADMINISTRATION IV SEMESTER REGULAR EXAMINATIONS SEPTEMBER-2020 RESULTS
10/10/2020
M.SC. AQUACULTURE IV SEMESTER REGULAR EXAMINATIONS SEPTEMBER-2020 RESULTS
10/10/2020
M.SC. NANO-BIOTECHNOLOGY IV REGULAR EXAMINATIONS SEPTEMBER-2020 RESULTS
07/10/2020
M.SC. ENVIRONMENTAL SCIENCE IV REGULAR EXAMINATIONS SEPTEMBER-2020 RESULTS
07/10/2020
M.SC. MICROBIOLOGY IV SEMESTER REGULAR EXAMINATIONS SEPTEMBER-2020 RESULTS
03/10/2020
M.SC. STATISTICS IV SEMESTER REGULAR EXAMINATIONS SEPTEMBER-2020 RESULTS
03/10/2020
M.A. RURAL DEVELOPMENT IV SEMESTER REGULAR EXAMINATIONS SEPTEMBER-2020 RESULTS
03/10/2020
M.H.R.M. IV SEMESTER REGULAR EXAMINATIONS SEPTEMBER-2020 RESULTS
03/10/2020
M.A HINDI IV SEMESTER REGULAR EXAMINATIONS SEPTEMBER-2020 RESULTS
03/10/2020
M.SC. GEOLOGY IV SEMESTER REGULAR EXAMINATIONS SEPTEMBER-2020 RESULTS
03/10/2020
M.A ECONOMICS IV SEMESTER REGULAR EXAMINATIONS SEPTEMBER-2020 RESULTS
25/09/2020
M.Ed. I SEMESTER REGULAR EXAMINATIONS OCTOBER-2019 REVALUATION RESULTS
25/09/2020
M.Ed. III SEMESTER REGULAR EXAMINATIONS OCTOBER-2019 REVALUATION RESULTS
12/09/2020
LLB III/III 6th SEMESTER & V/V 10th SEMESTER ONE-TIME EXAMINATIONS AUGUST-2019 REVALUATION RESULTS
12/09/2020
LLB III/III 5th SEMESTER & V/V 9th SEMESTER ONE-TIME EXAMINATIONS AUGUST-2019 REVALUATION RESULTS
12/09/2020
LLB II/III 4th SEMESTER & IV/V 8th SEMESTER ONE-TIME EXAMINATIONS AUGUST-2019 REVALUATION RESULTS
12/09/2020
LLB II/III 3rd SEMESTER & IV/V 7th SEMESTER ONE-TIME EXAMINATIONS AUGUST-2019 REVALUATION RESULTS
12/09/2020
LLB I/III 2nd SEMESTER & III/V 6th SEMESTER ONE-TIME EXAMINATIONS AUGUST-2019 REVALUATION RESULTS
12/09/2020
LLB I/III 1st SEMESTER & III/V 5th SEMESTER ONE-TIME EXAMINATIONS AUGUST-2019 REVALUATION RESULTS
12/09/2020
LLB II/V 4th SEMESTER ONE-TIME EXAMINATIONS AUGUST-2019 REVALUATION RESULTS
12/09/2020
LLB II/V 3rd SEMESTER ONE-TIME EXAMINATIONS AUGUST-2019 REVALUATION RESULTS
12/09/2020
LLB I/V 2nd SEMESTER ONE-TIME EXAMINATIONS AUGUST-2019 REVALUATION RESULTS
03/09/2020
M.SC. STATISTICS I SEMESTER REGULAR EXAMINATIONS OCTOBER-2019 REVALUATION RESULTS
03/09/2020
M.SC. STATISTICS III SEMESTER REGULAR EXAMINATIONS OCTOBER-2019 REVALUATION RESULTS
03/07/2020
M.SC. BIO-CHEMISTRY III SEMESTER REGULAR EXAMINATION OCTOBER-2019 REVALUATION RESULTS
01/07/2020
L.L.B. II/III 3rd & IV/V 7th SEMESTER REGULAR EXAMINATIONS NOVEMBER-2019 RESULTS
01/07/2020
L.L.B. II/V 3rd SEMESTER DEGREE REGULAR EXAMINATIONS NOVEMBER-2019 RESULTS
01/07/2020
L.L.B. III/III 5th & V/V 9th SEMESTER REGULAR EXAMINATIONS NOVEMBER-2019 RESULTS
01/07/2020
M.SC. BIO-CHEMISTRY III SEMESTER REGULAR EXAMINATION OCTOBER-2019 REVALUATION RESULTS
01/07/2020
M.SC. BIO-CHEMISTRY I SEMESTER REGULAR EXAMINATION OCTOBER-2019 REVALUATION RESULTS
01/07/2020
M.SC. BOTANY III SEMESTER REGULAR EXAMINATIONS OCTOBER-2019 REVALUATION RESULTS
01/07/2020
M.SC. BOTANY I SEMESTER REGULAR EXAMINATIONS OCTOBER-2019 REVALUATION RESULTS
01/07/2020
M.SC. CHEMISTRY I SEMESTER REGULAR EXAMINATIONS OCTOBER-2019 REVALUATION RESULTS
01/07/2020
M.SC. CHEMISTRY III SEMESTER REGULAR EXAMINATIONS OCTOBER-2019 REVALUATION RESULTS
01/07/2020
M.SC. COMPUTER SCIENCE I SEMESTER REGULAR EXAMINATIONS OCTOBER-2019 REVALUATION RESULTS
01/07/2020
M.SC. COMPUTER SCIENCE III SEMESTER REGULAR EXAMINATIONS OCTOBER-2019 REVALUATION RESULTS
01/07/2020
M.SC. MATHEMATICS I SEMESTER REGULAR EXAMINATIONS OCTOBER-2019 REVALUATION RESULTS
01/07/2020
M.SC. MATHEMATICS III SEMESTER REGULAR EXAMINATIONS OCTOBER-2019 REVALUATION RESULTS
01/07/2020
M.SC. PHYSICS I SEMESTER REGULAR EXAMINATIONS OCTOBER-2019 REVALUATION RESULTS
01/07/2020
M.SC. PHYSICS III SEMESTER REGULAR EXAMINATIONS OCTOBER-2019 REVALUATION RESULTS
26/06/2020
M.C.A. VI SEMESTER REGULAR EXAMINATIONS JULY-2019 RESULTS
23/06/2020
II SEM. – LL.M. – JULY 2019
20/03/2020
M.Ed. I SEMESTER REGULAR EXAMINATIONS OCTOBER-2019 RESULTS
20/03/2020
M.Ed. III SEMESTER REGULAR EXAMINATIONS OCTOBER-2019 RESULTS
07/03/2020
M.C.A I SEMESTER REGULAR EXAMS DECEMBER-2019 RESULTS
07/03/2020
M.C.A III SEMESTER REGULAR EXAMINATIONS OCTOBER-2019 RESULTS
07/03/2020
M.C.A V SEMESTER REGULAR EXAMINATIONS OCTOBER-2019 RESULTS