AP EAMCET Answer Key 2018 (Response Sheet): Andhra Pradesh EAMCET 2018 Response Sheets are Released with Question papers and Answers of Morning, afternoon Sessions at sche.ap.gov.in. Students can check AP EAMCET Response Sheet 2018 for Mathematics, Physics, Chemistry subjects.
AP EAMCET Answer Key 2018 Download For Engineering With Question Papers @ sche.ap.gov.in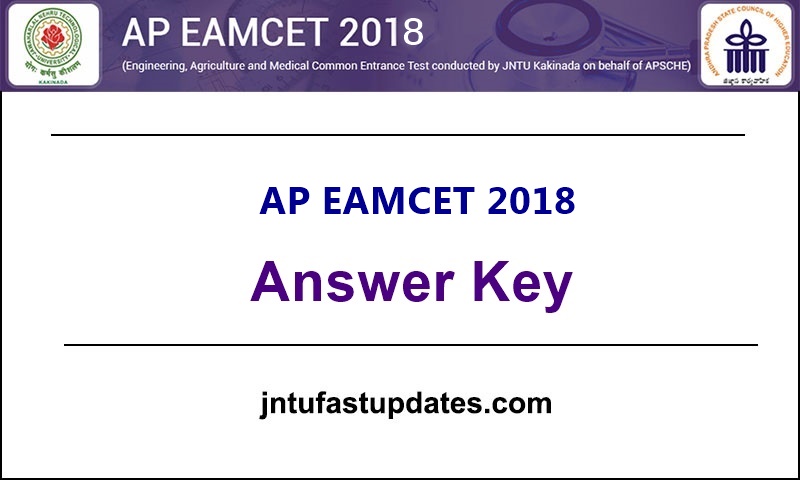 Engineering, Agriculture and Medical Common Entrance Test (EAMCET) is conducted by Jawaharlal Nehru Technological University Kakinada on behalf of APSCHE. This examination is the prerequisite for admission into various professional courses offered in University/ Private Colleges in the state of Andhra Pradesh.
Jawaharlal Nehru Technological University Kakinada (JNTUK) is scheduled the AP EAMCET exam time table 2018. As per the schedule AP EAMCET Examination for Engineering will be held on 22nd, 23rd, 24th April 2018 and AP EAMCET agriculture & medical examination will be held on 25th 2018. Lakhs of candidates have applied for the Engineering, Agriculture and Medical Common Entrance Test (EAMCET) examination this year aspiring to get admission in various Engineering / B. Pharmacy and MBBS courses.
Also Check : AP EAMCET Results 2018
Andhra Pradesh EAMCET Answer Key 2018
Totally 2 Lakh+ People are going to Attend for the Exam today in 148 Centers in AP. Jammers has kept for avoid Mobile Network signal for eradication of mass copying. Officials will not allowed a student with one minute late also. People should attend before the time of exam into the exam centers/ hall. After completion of Exam, Students Can Check For AP EAMCET 2018 Question papers, OMR Sheets, Answer Key Download Information From Below.
AP EAMCET Answer Key 2018: Are You Searching For the Andhra Pradesh (AP) EAMCET Answer Key for the exam that has been conducted on 22nd, 23rd, 24th, 25th April 2018? Jawaharlal Nehru Technological University Kakinada on behalf of APSCHE which has conducted the AP EAMCET (Engineering Agricultural and Medical Common Entrance Test) for the year 2018 for giving the eligible candidates admission in to the respective UG courses in Engineering, Medical and Agricultural programs.
Details of the AP EAMCET Answer Key 2018
| | |
| --- | --- |
| Name of the University |  Jawaharlal Nehru Technological University Kakinada on behalf of APSCHE |
| Category | AP EAMCET Answer key 2018 |
| Name of the Exam | AP Engineering Agricultural and Medical Common Entrance Test (EAMCET) 2018 |
| Official Website to Download AP EAMCET 2018 Key |  sche.ap.gov.in |
Check AP EAMCET 2018 Key Solutions/ OMR Answer Sheets for Engineering Exam
The board has taken decision to display answer key of AP EAMCET 2018 officially. The candidates who are eager to verify their answers and calculate the score can log in to the official website. They have to get the answers code wise. In the website two segments of AP EAMCET 2018 Engineering and Medical have been displayed. The official URL of the site is sche.ap.gov.in.
All those candidates who have appeared in the AP EAMCET 2018 respective course paper. Meanwhile, if you are eager to check the answer sheets, you can check the unofficial solution sheets that will be prepared and issued by the some of the top EMACET coaching centers of the Andhra Pradesh. But, it is better for you to check the official AP EAMCET Answer Keys 2018 that will be issued by the conducting body soon in the official portal and analyse your performance in the exam. Soon, we will update the information here as soon as the availability of the AP EAMCET Answer Sheets for the year 2018. So, please be patient till then.
QUALIFYING MARKS FOR AP EAMCET 2018 – Pass Marks
The qualifying percentage of marks for the AP EAMCET-2018 is 25% of the maximum marks considered for ranking. However, for candidates belonging to Scheduled Caste and Scheduled Tribe, no minimum qualifying mark is prescribed. But their admission will be limited to the extent of seats reserved for such categories (vide G.O.Ms. No. 179, LEN&TE, dated 16.06.1986). As per 25%, AP EAMCET Pass mark is 40 out of 160.
Download AP EAMCET Online Exam 2018 Answer Key for Engineering
Here, Jntufastupdates.com is providing the exclusive question papers and Answer key with solutions for MPC, Bipc (Medical), Agricultural streams. So wait till Update the Links and Share the Answer keys with your Friends.
Response Sheet for AP EAMCET – 2018 are Available Now.
AP EAMCET 2018 Official Answer Key (Response Sheet)  – Available Now
Master Question Papers & Preliminary Keys for AP EAMCET – 2018
Objections Format
Computer Based Entrance Examination of AP EAMCET-2018 is conducted during 22nd to 24th April 2018 for Engineering Stream and on 25th April for Agriculture & Medical Stream.
Respective candidate specific Question Paper, responses submitted by the student and the corresponding answers (as per preliminary key) are sent to individual mail ids (as per the mail id submitted in on line application form).
The Master copy (before jumbling) of Question Paper along with its Preliminary Key is placed in the website. The individual candidates have to compare their questions and responses (Answers) with respect to Master copy of Question Paper and its Preliminary Key. The students have to submit their objections in the below format corresponding to Master copy of the Question Paper and Preliminary Key (as placed in the web site).
The objections if any, on the preliminary key can be sent on or before 5 pm on 27-04-2018 to Email id: apeamcet2018objections@gmail.com

Note: (i) The objections submitted in the above format only will be considered.
(ii) The objections submitted in any other format will not be considered and no correspondence in this respect will be entertained.
(iii) The Final Key will be placed along with results (ranks) and no more requests on the Final Key will be entertained.
AP EAMCET 2018 RESULTS
The results for AP EAMCET exam 2018 will be announced on 5th May 2018. The counselling will start after declaration of results and rank cards.
1. Evaluation: Every care will be taken to avoid errors in the evaluation, checking, scrutiny, tabulation and ranking.
2. Ranking:
a. Candidates shall be ranked in the order of merit as explained in the Annexure-IV.
b. Rank obtained in AP EAMCET-2018 is valid for admission to the courses mentioned in the application form for the academic year 2018-2019 only.
c. Rank card shall be downloaded from the website www.sche.ap.gov.in/eamcet
d. Rank obtained with the benefit of relaxation of the minimum qualifying marks at AP EAMCET-2018 by any candidate claiming as SC/ST Category will be cancelled in case the claim is found to be invalid at the time of admission to any course of study in any participating University / Institution.
How to Download AP EAMCET Answer Key 2018 with Solutions and Questions
Open AP EAMCET Official Website http://sche.ap.gov.in/EAMCET or click on Above Links.
Search for the Eamcet Answer Keys 2018 Link on Home Page.
Click on Which You want for Like Engineering Stream or Medical Stream.
Select Stream (MPC/ Bipc)
Download the Answer Keys and Evaluate the Answer sheet which u had attempted in the exam.
Estimate the Approximate score while checking the Multiple Choices.
Stay Here and Press (Ctrl+D) to Bookmark this Page to get updates about AP EAMCET 2018 Results, Rank Card etc.