AP ECET 2017 Answer key Download: Jawaharlal Nehru Technological University (JNTU), Anantapur has announced preliminary answer key for its ECET 2017 examination. The Andhra Pradesh ECET 2017 was held on 3rd May. The candidates who took the examination can check the answer key on the official website of the exam sche.ap.gov.in. The answer key link will be available download from below links.
The students can download the question papers and Preliminary Keys from below. The response sheets (answer papers) also can be downloaded by the students.
AP ECET 2017 Answer key Download with Q.P Branch Wise PDF @ sche.ap.gov.in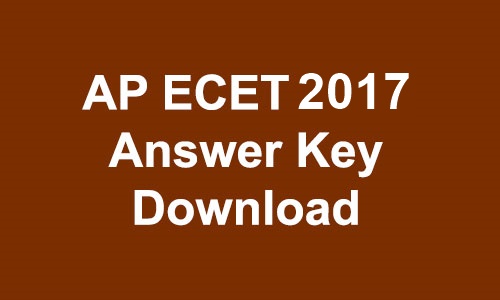 Andhra Pradesh Engineering Common Entrance Test APECET- 2017 will be conducted through computer based Test by JNTUA, Ananthapuramu on behalf of Andhra Pradesh State Council of Higher Education (APSCHE), in accordance with G.O. Ms No.57 HE(EC.2) dt:12.05.2008 and G.O.Ms No.43 dt:25.05.2011 for Diploma Holders of Engineering Technology/ Pharmacy and B.Sc. Graduates (with Mathematics) for admission through lateral entry at 2nd year level into B.E./ B.Tech./ B.Pharmacy Programmes offered in Universities and AICTE/PCI approved Institutions in A.P. for the academic year 2017-18.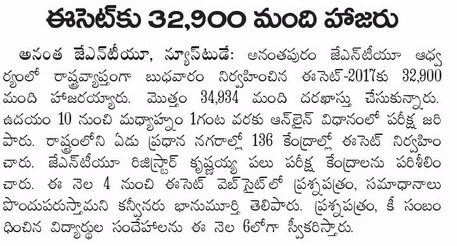 Andhra Pradesh ECET Answer key 2017 Download Branch wise
The students can also check their answers with the answer which is now provided online for all the branches. Andhra Pradesh ECET answer key will be available for all the students. Candidates can check on the official Website or direct links given below.
Name of the exam: AP ECET 2017
Name of the organizing board: Jawaharlal Nehru Technological University (JNTU), Anantapur
Date of the exam: 3rd May 2017
Official Website: sche.ap.gov.in
Category: AP ECET Answer Key 2017
AP ECET 2017 Exam Preliminary Answer Key Download PDF
AP government is making all the necessary arrangements to release ECET answer key on its official website. Here we have given direct link to download the answer key and we keep update ECET entrance further information.
AP ECET – 2017 Exam Paper & Key
Procedure: Please go through the Question paper and the Preliminary Key provided. If any objections are there on any specific answer, the same shall be represented in the following format and the format shall be sent to the mail id apecet2017keyobjections@gmail.com on or before 6.5.2017 5.00 pm. The objections received after the due date and time or the objections not in the required format will not be entertained.
Q.P & Preliminary Keys Updated for the Following branches:
BIO – BIOTECHNOLOGY
CER – CERAMIC TECHNOLOGY
CHE – CHEMICAL ENGINEERING
CIV – CIVIL ENGINEERING
CSE – COMPUTER SCIENCE AND ENGINEERING
ECE – ELECTRONICS AND COMMUNICATION ENGINEERING
EEE – ELECTRICAL AND ELECTRONICS ENGINEERING
EIE – ELECTRONICS AND INSTRUMENTATION ENGINEERING
MEC – MECHANICAL ENGINEERING
MET – METALLURGICAL ENGINEERING
MIN – MINING ENGINEERING
MPC – BSC-MATHEMATICS
PHM – PHARMACY