AP Govt Dasara Holidays 2021: AP Government has Declared Vijaya dashami or Dasara (Dussehra) Holidays 2021 to Schools and Colleges From 11th October to 16th October. Total 6 days Vacations Holidays Announced on the Eve of Dussehra.
AP Govt Dasara Holidays 2021 (దసరా సెలవులు) For Schools, Colleges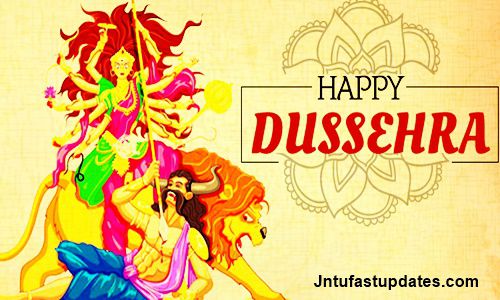 Vijayadashami also known as Dasara, Dusshera or Dussehra is a major Hindu festival celebrated at the end of Navratri every year. It is observed on the tenth day in the Hindu calendar month of Ashvin, the seventh month of the Hindu Luni-Solar Calendar, which typically falls in the Gregorian months of September and October. This year Dasara Celebrates on Friday, 15th October 2021.
ఏపీ రాష్ట్రంలోని అన్ని యాజమాన్యాల్లోని పాఠశాలల విద్యార్థులకు ఈనెల 11వ తేదీనుంచి దసరా సెలవులు ప్రారంభం కానున్నాయి. ఈసారి రెండో శనివారం, ఆదివారాలు కలసి రావడంతో సెలవు రోజుల సంఖ్య పెరగనుంది. 11వ తేదీనుంచి 16వ తేదీ వరకు ఆరు రోజుల పాటు దసరా సెలవులుగా పాఠశాల విద్యా క్యాలెండర్‌లో పొందుపరిచారు.
అయితే ఈనెల 9వ తేదీ రెండో శనివారం, ఆ తరువాత 10వ తేదీ ఆదివారం కావడంతో పాఠశాలలు 8వ తేదీ వరకే పనిచేయనున్నాయి. ఇక 17వ తేదీ ఆదివారం రావడంతో పాఠశాలలు 18వ తేదీనుంచి పునఃప్రారంభం కానున్నాయి. దసరాకు మొత్తంగా 9 రోజులు సెలవులు కలసి రానున్నాయి.
Andhra Pradesh Dasara Holidays 2021 For Schools & Colleges:
| | |
| --- | --- |
| Observances | Putting tika on forehead, prayers, religious rituals like burning an effigy of Ravana |
| Type of holiday | Religious celebration |
| Featured in religions | Hinduism |
| Celebrations | Marks the end of Durga Puja or Ramlila |
| Festival Date | 15th October, 2021 |
| Significance | Celebrates the victory of good over evil |
Also Check: Telangana Govt Dasara Holidays 2021
AP Inter Dussehra festival holidays for Junior colleges
All the Principals of the Government / Private Aided / Private Unaided / Co-operative / A.P. Residential / Social Welfare Residential / Tribal Welfare Residential / Incentive / A.P. Model Junior Colleges and Composite Degree Colleges offering Two Year Intermediate Course in General & Vocational streams are hereby informed that the term holidays will be declared from 10.10.2021(Sunday) to 17.10.2021(Sunday) in view of Dussehra festival and all the Colleges will be re-opened on 18-10-2021(Monday).
Further, all the Principals of Private Junior Colleges in the State should not conduct any classes during Holidays. Any deviation from the instructions will be viewed seriously.
Andhra Pradesh Goverment Dasara Holidays 2021
Andhra Pradesh State Education Board has declared that Dussehra Holidays for all the private and Government Schools will be starting from 11th October onwards. The holidays will be extended until 16th October. The schools will reopen on 18th October, Monday. Dussehra holidays will be applicable for all the CBSE, SSC, and ICSE schools in the state of Andhra Pradesh.
While the Dussehra holidays for Government and Private Junior Colleges will be given from 11th October to 16th October. Colleges will be reopened from 18th October onwards. Hence the college students of Intermediate, Degree, PG, and various other courses can make a note of this.
Note : The Holidays are declared by Andhra Pradesh Government to All Educational Institutions Which are in AP. JNTUK, JNTUH, JNTUA, Andhra, ANU, Krishna Universities Not Yet Announced Dasara Holidays. So, Stay Tuned For Official Notifications.