AP Intermediate 1st Year Hall Tickets 2021 Name Wise – Andhra Pradesh Board of Intermediate Education (BSEAP) is to conduct inter 1st year public exams from 7th to 25th July 2021 for the students studying under it in thousands of colleges all across the state. All the intermediate pursuing students are getting ready to take up the exams which will be held shortly in the July 2021. BSEAP has published the exam time table for ap inter 1st year exams May 2021. In compliance with the exam schedule, the exams will be organized from 7th july for first year intermediate students.
BIEAP has already announced the AP Intermediate Public Examination dates for July 2021 examinations. This year the board examinations are going to be held from july 7th. AP Intermediate first and Second year examinations are scheduled to be held from 7th, 8th july 2021 respectively. Students going to appear for the AP Intermediate Examinations 2021 can check the exact dates of examinations from the time table.
AP Inter 1st year Hall Tickets 2021 Download – Manabadi Junior Intermediate first year Hall Ticket
Ap Intermediate Hall Tickets 2021: The exams for inter 1st and 2nd years will be held on alternative dates in morning sessions. The AP intermediate board will organize the exams stream wise for distinguished streams like M.P.C, Bi.P.C, C.E,C. M.E.C. Students will appear for the exams with respect to their streams. As the exams are at the horizon, AP board is all set to release the hall tickets for the exams. The hall tickets will be made available for both inter first and second year students separately. Students need to download them from the official website of AP intermediate board by providing their details like registration number and password. The official website to download hall tickets is bieap.gov.in/ jnanabhumi.ap.gov.in.
AP Inter 1st Year Hall Tickets 2021 Name Wise – Important Details
Name of the Board
Board of Secondary Education Andhra Pradesh (BIEAP)
Official Website
bie.ap.gov.in
Name of the Examinations
AP Intermediate Exams May 2021
Exam Dates
7th to 25th July 2021
Category
Hall tickets
Release date Status
 

Release in June 4th week
BIEAP Manabadi AP Intermediate 1st Year Hall Tickets 2021 Download
The AP Intermediate Hall Ticket for 1st year and 2nd year examinations will be accessible to download from 2 weeks before the examination. Students can download AP Intermediate Hall tickets 2021 from the BIEAP Official website, bie.ap.gov.in. The hall ticket link will be activated on BIEAP official page on in july 2021. Hence students can keep visiting the portal regularly to check the availability of hall tickets.
Also Check: TS Inter 1st year Hall Tickets 2021 | TS Inter 2nd Year Hall Tickets 2021
After downloading the hall ticket, once check through it for more details such as examination hall, venue, dates and timings of the examinations from it. Also, student's name, father's/mother's name. hall ticket number, date of birth, signature, photograph details will be printed on hall tickets. Students can verify all the details once after downloading the hall ticket. The AP Intermediate Hall Ticket 2021 for 1st Year and 2nd Year will be accessible to download from june 2021 (Tentatively). Students can follow up the BIEAP portal regularly for more details.
Students must carry their hall tickets, and any of the valid identity proof copy while going to the examination. Students will not be allowed to the examination without showing the hall ticket at the examination centre. Hence do not forget to carry. Check once or twice before leaving to the examination hall.
Important Key Points to Students
1) Candidates are instructed to verify their exam centre well in advance.
2) Candidates are instructed to occupy their seats before 8.45. A.M.
The details of the student and attendance eligibility are confirmed by the Principal. Hence signature of the Principal is not required
Also Check : AP Inter 1st year Time Table 2021
AP Inter 1st Year Hall Tickets/Admit Card 2021 Download
Manabadi AP Intermediate 1st Year Hall tickets: Students of inter 1st year need to download their hall tickets to take up the exams without any issues. There won't be any stream wise hall tickets. Just go to the official web portal of AP board and give your details to download the hall ticket Inter first year, as the name says is the first year in intermediate and students will be appearing for inter board exams for the first time. So, don't rush and don't feel nervous. Just prepare your best and give your best in the exams. Make sure to carry your hall tickets to the exam hall as it is mandatory to take the exam.
Manabadi AP Inter 1st Year Hall Tickets 2021?
Board of Intermediate Education, Andhra Pradesh: AP Inter 1st, 2nd Year Hall tickets 2021 Will be released in June Last week. Due to high number of visitors, official website down/loading slowly. please refresh below page and Download from given links
I.P.E. May-2021 Hall-Tickets Download
AP Inter 1st Year Hall tickets 2021 – Available Soon
Also Download: AP Intermediate 2nd Year Hall Tickets 2021
Note : 1) IPE March 2021 Roll No is available with the Principal of your college .Please Contact Your Principal
2) You can also download the Hall-Ticket using First Year Hall-Ticket Number or Aadhar No.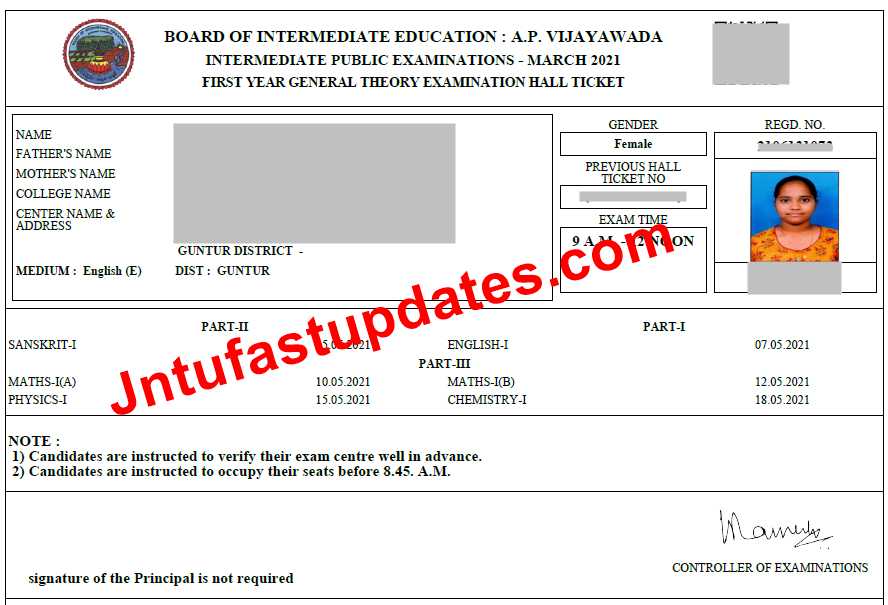 Steps to Download BIEAP Intermediate 1st year Hall tickets 2021 Online
1. Students who are appearing in AP Intermediate exams visit the website i.e. Bie.ap.gov.in.
2. Click on the link "IPE March-2021 Hall Tickets Download"

3. I.P.E. MARCH-2021 Hall-Tickets Download links will be appeared for First Year and Second Year
4. Enter required info like Registration Number/Roll no and Date of Birth or Name.
6. Click on Download hall Ticket Button. Hall Ticket/Admit Card will appear on your device.

7. Save and take print of your Hall Ticket. Keep a copy of AP Intermediate Hall Ticket 2021 for future reference.
INSTRUCTIONS TO CANDIDATES
1. Candidates should verify the entries printed in the Hall Ticket carefully. Any discrepancy should be brought to the notice of the principal of their college for rectification.
2. Candidates should read carefully the instructions printed on the answer book. The Regd. No. Noted in the hall-ticket should tally with the Regd. No. printed on the OMR barcoded sheet supplied. It is the responsibility of the candidate to collect the correct OMR sheet from the Invigilator. Pinning of wrong barcoded sheet will lead to wrong declaration of results.
3. Candidates should occupy the seats allotted to them in the examination hall 15 minutes before the commencement of the examination. After that no student will be allowed to enter into the examination hall.
4. Candidates should carry their Hall Ticket ready with them for inspection by the Chief/ Asst. Superintendent/ Departmental Officer of the examination center or any officer authorised for this purpose at any time during the examination.
5. Candidates should recieve the correct question paper from the invigilator concerned.
6. Candidates should not write their names / Regd. Nos. in any part of the answer book.
7. Questions of very short answer type should be answered at one place in the same order given in the question paper.
8. Strict silence should be maintained in the examination hall.
9. Candidates are liable to be booked under malpractices Act, if they indulge in;
– a) Bringing any kind of written / printed material / books into the examination hall.
– b) Noting down the answers on the question papers / hall ticket.
– c) Copying from the others.
– d) Possession of cell phone and other electronic gadgets.
– They are also punishable under AP Public Examinations Act No. 25 of 1997.
10. Candidates writing the examination at a center other than the allotted one are liable for cancellation of their performance.
Precautions To Candidates in view of COVID
1. All candidates should carry pocket hand sanitizer (50ml) in transparent bottle.
2. Candidates should cover their nose and mouth with mask.
3. Candidates are allowed to wear gloves only on hands.
4. Candidates should carry their own drinking Water in a transparent water bottle.
5. Candidates should follow Physical distancing norms strictly.
6. Candidates should not exchange or loan articles from other candidates in the examination hall.
7. Candidates should use safe mode of transportation for coming to the examination center and returning back home.
8. Candidates should try to avoid contact with unknown persons.
9. Candidates should not shake hands or hug at any cost while greeting. In case of COVID symptoms or any inconvenience in the Examination hall, candidate is advised to contact the COVID Protocol Officer/ Chief Superintendent/ Departmental Officer/ Invigilator in the examination center for assistance.
IS Released AP Inter Hall Tickets 2021 for 1st year & 2nd Year?
No, Not Yet Released for New Schedule.
When will Starts AP Inter first year Exams 2021?
Starts from 7th to 25th July 2021 (Tentative).
How Can We Download AP Intermediate 1st year Hall Ticket 2021?
We will be given direct link of hall ticket website. You should enter Application number or SSC/10th Class Hall ticket number and Date of birth or Name in the required fields and click on submit.
How Can i Check My AP Inter Exam Center College Name details?
Exam Center Name and Address will be printed on your hall ticket.