AP Inter Online Admission 2020-21: The Board of Intermediate Education, Andhra Pradesh announces the Admissions into Two year Intermediate Courses in General and Væational Streams in various colleges for the academic session 2020-2021. All the students are informed that the registration of Two year Intermediate couræs will completely online for all and for all quotas. The details of the registration process and subsequent is available in the website of Board of Intermediate Education, Andhra Pradesh i.e., https://bie.ap.gov.in as "Online Admissions 2020-21 (APOASIS) user manual".
AP Inter Online Admission 2020-21 – Apply Online Process, Application, Fee Payment
Andhra Pradesh Online Admissions System For Intermediate Stream (APOASIS). From the Academic year 2020-21 onwards, the Board of Intermediate (BIEAP) is going to follow the online process to conduct admissions. Government, Private, corporate Junior colleges are going to follow this online process for admissions. The online process will be the same as the Engineering admission process. School Education Regulatory and Monitoring Committee will fix a specific fee. Based on this fee, students can select the college. Based on the merit the admission will be given. The Intermediate Board is planning to create awareness in students about this new online admission process.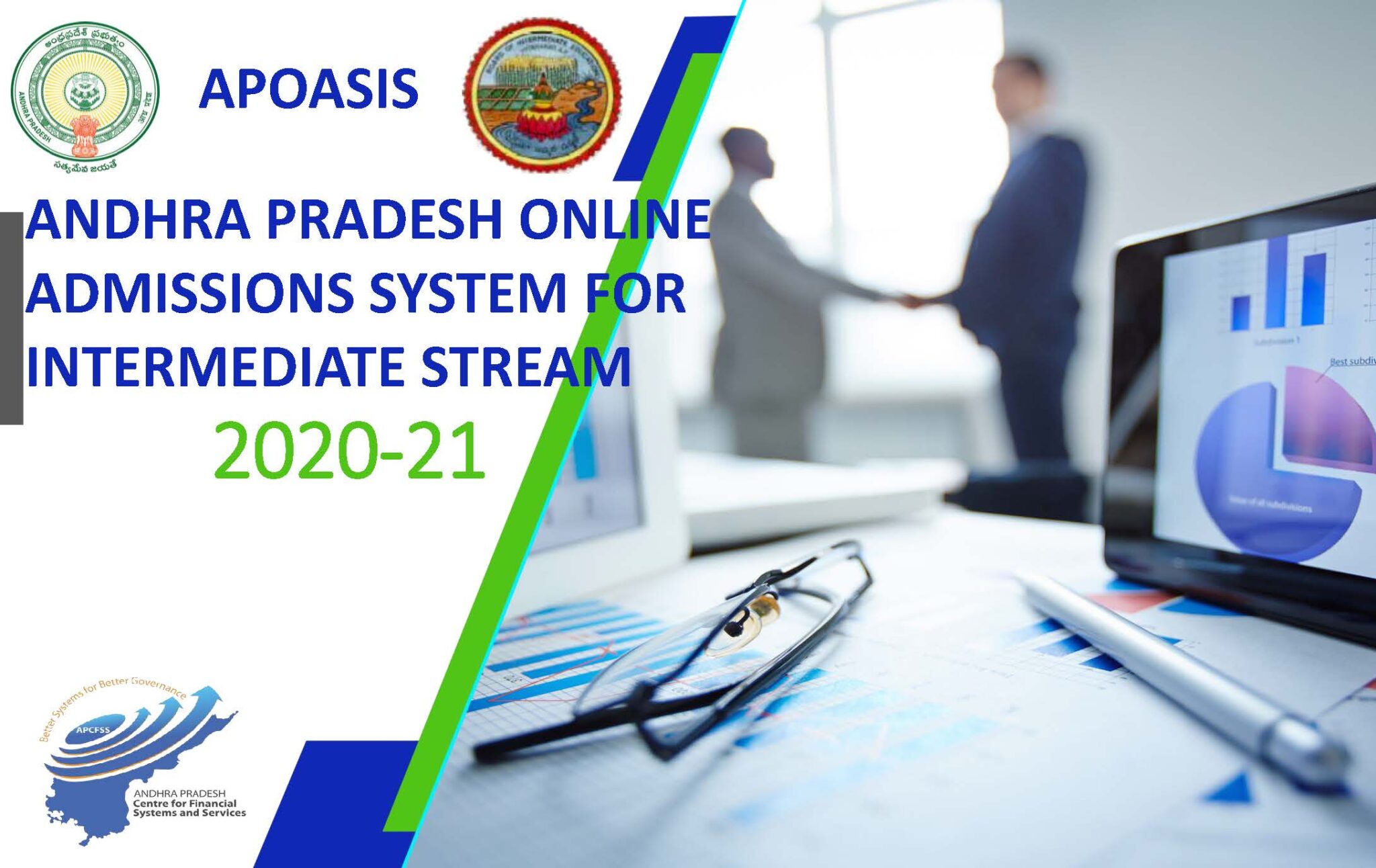 AP Inter Online Admission 2020-21 – Important Dates
The of online registration for Two year Intermediate courses of the of Intermediate Education, Andhra Pradesh is as shown below:
All Two year Intermediate Courses in General and Vocational streams
Important Dates
Online Admission Starts From
21-10-2020
Conclude

06-11-2020 (5.00 PM)

– Extended
Official Website
https://bie.ap.gov.in
Fee Details:
The Online application for and processing fee is as follows:
For OC / BC – Rs 200/- Per student.
For SC & ST – Rs.100/- per student.
Also Check: AP Intermediate Syllabus 2020-21 (30% Reduction)
AP Intermediate Online Admission 2020-21 Process
AP intermediate Admission 2020-21 Online registration Process Contains 3 steps.
Registration Process
Student's Login (Application form filling process)
Web options (Choosing 'web options' of colleges)
Here, we are providing AP Intermediate Admission Online Registration 2020-21 step by step procedure along with screenshots. So Students Can follow the following process to make registration easily.
The Following Details/Certificates are Required for AP Inter Admission 2020-21 Online:
AP 10th Class/SSC Marks Memo – To Enter 10th Public Exam Hall Ticket No.
Student Aadhar Number – To Enter Aadhar No
Student colour 'Passport size Photo'
Parent/Guardian Mobile Number
Income Certificate' if applicable
'Caste Certificate', for Reservation category students
PH, NCC, NSS, Sports, Ex-servicemen certificate… if applicable
1. Registration Process:
Click Here For Online Admission 2020-21 (APOASIS) – Apply Here
Click on New Registration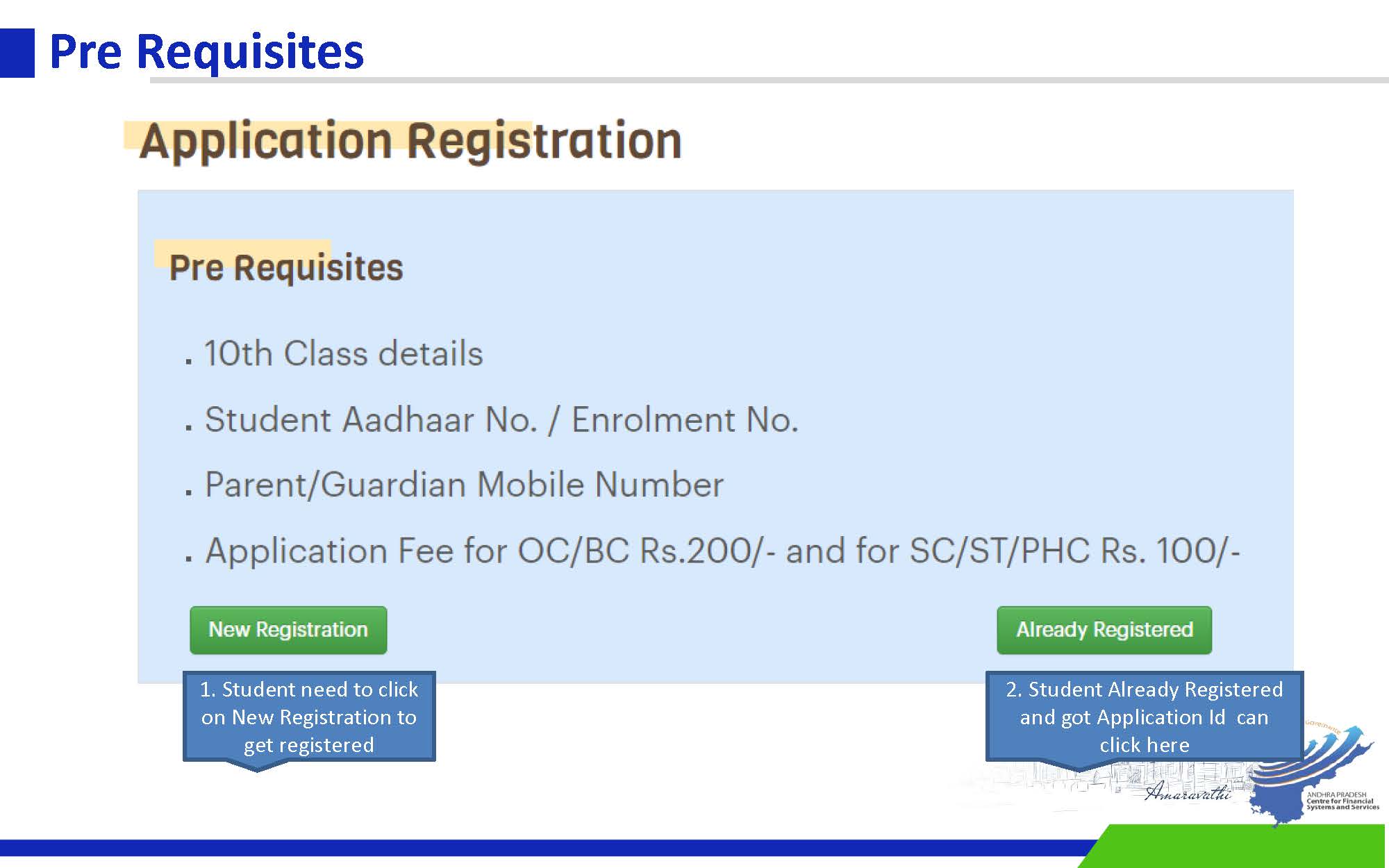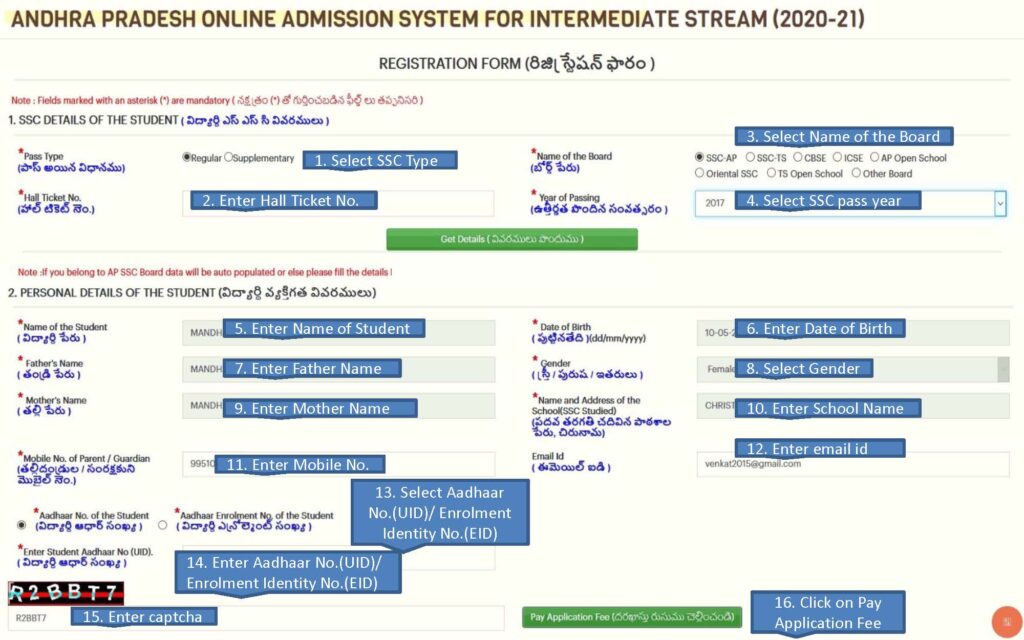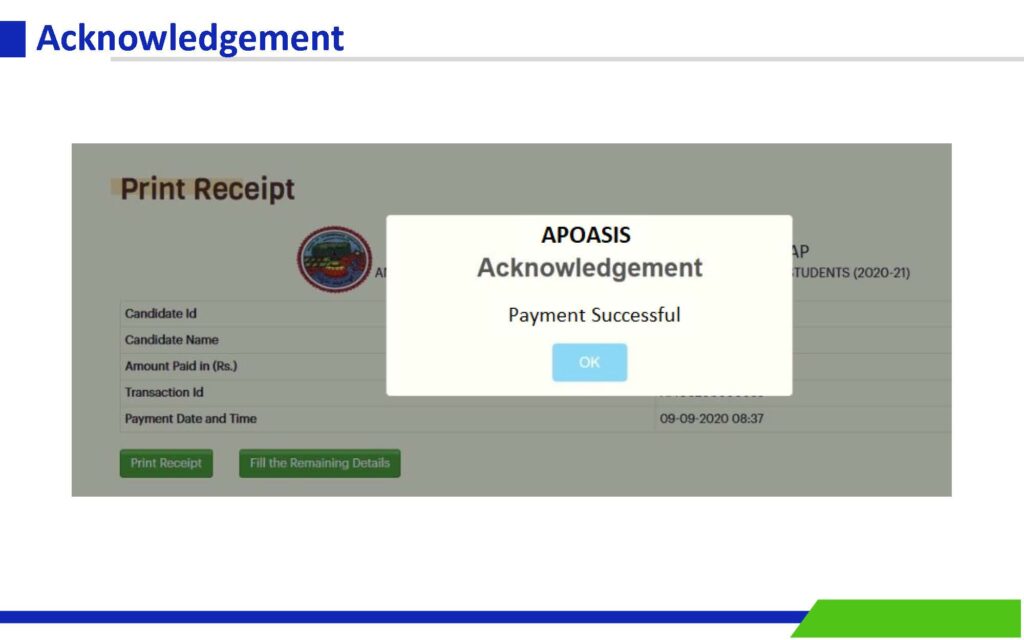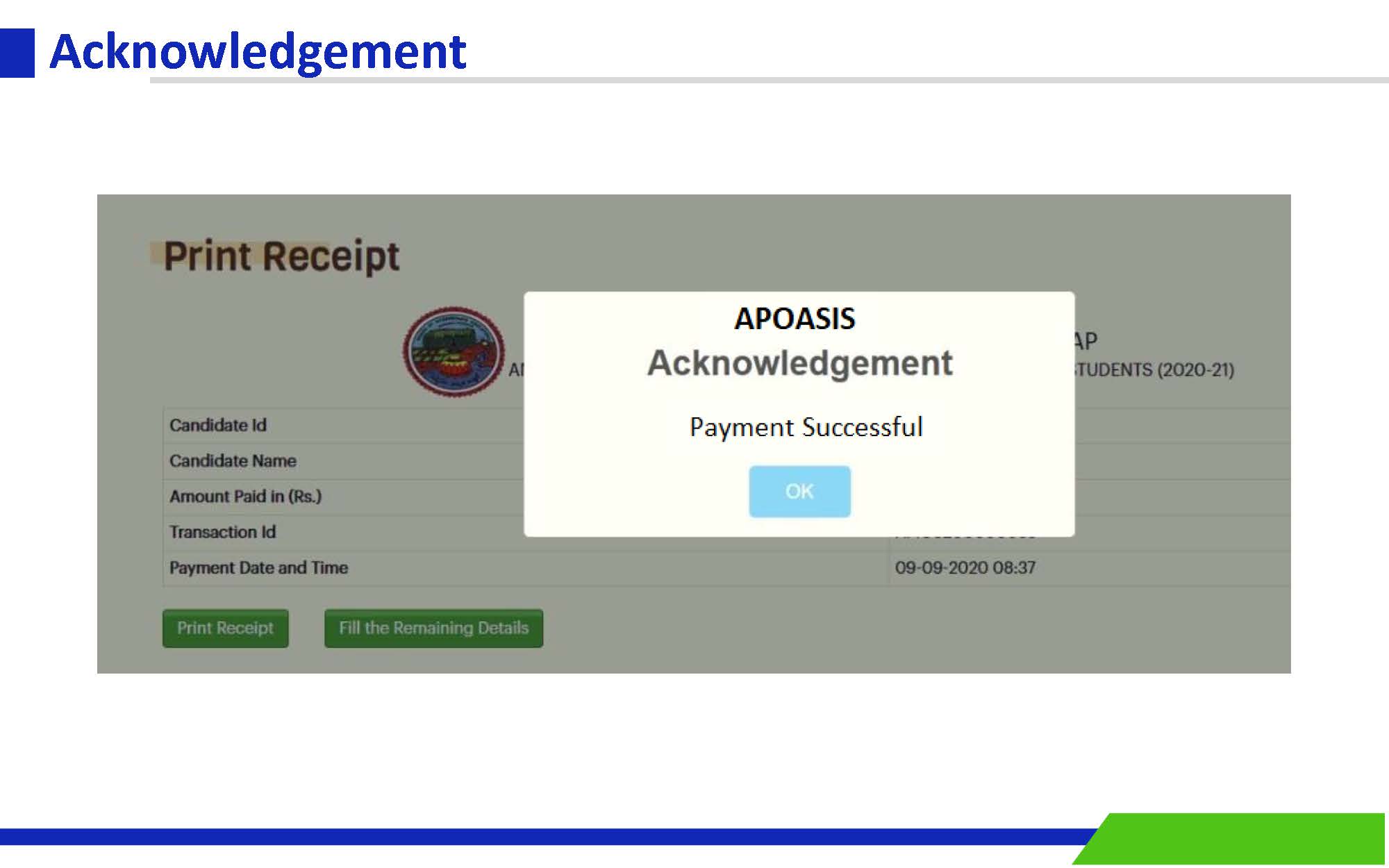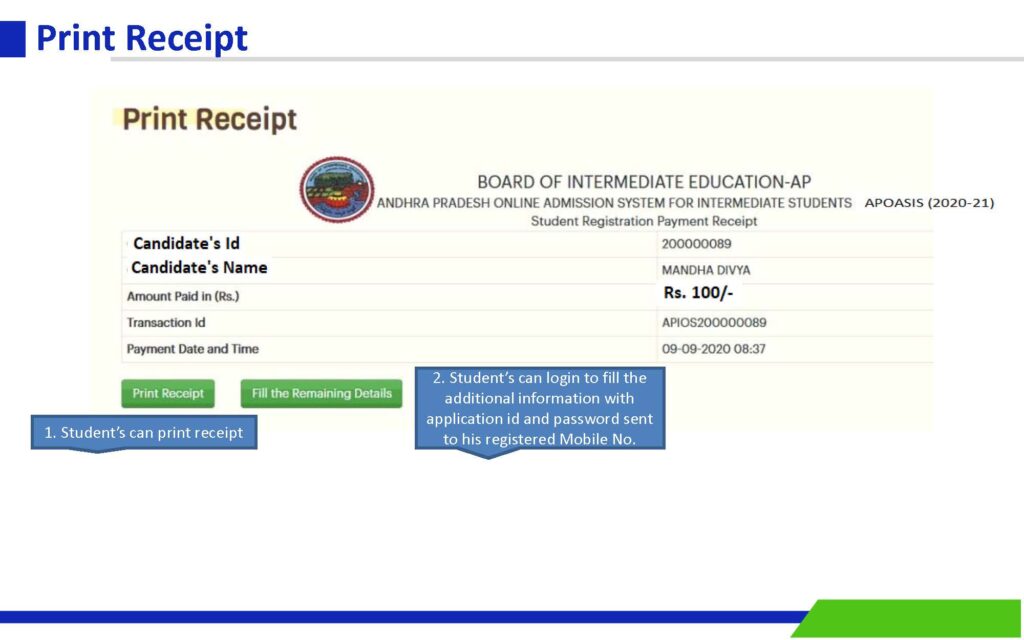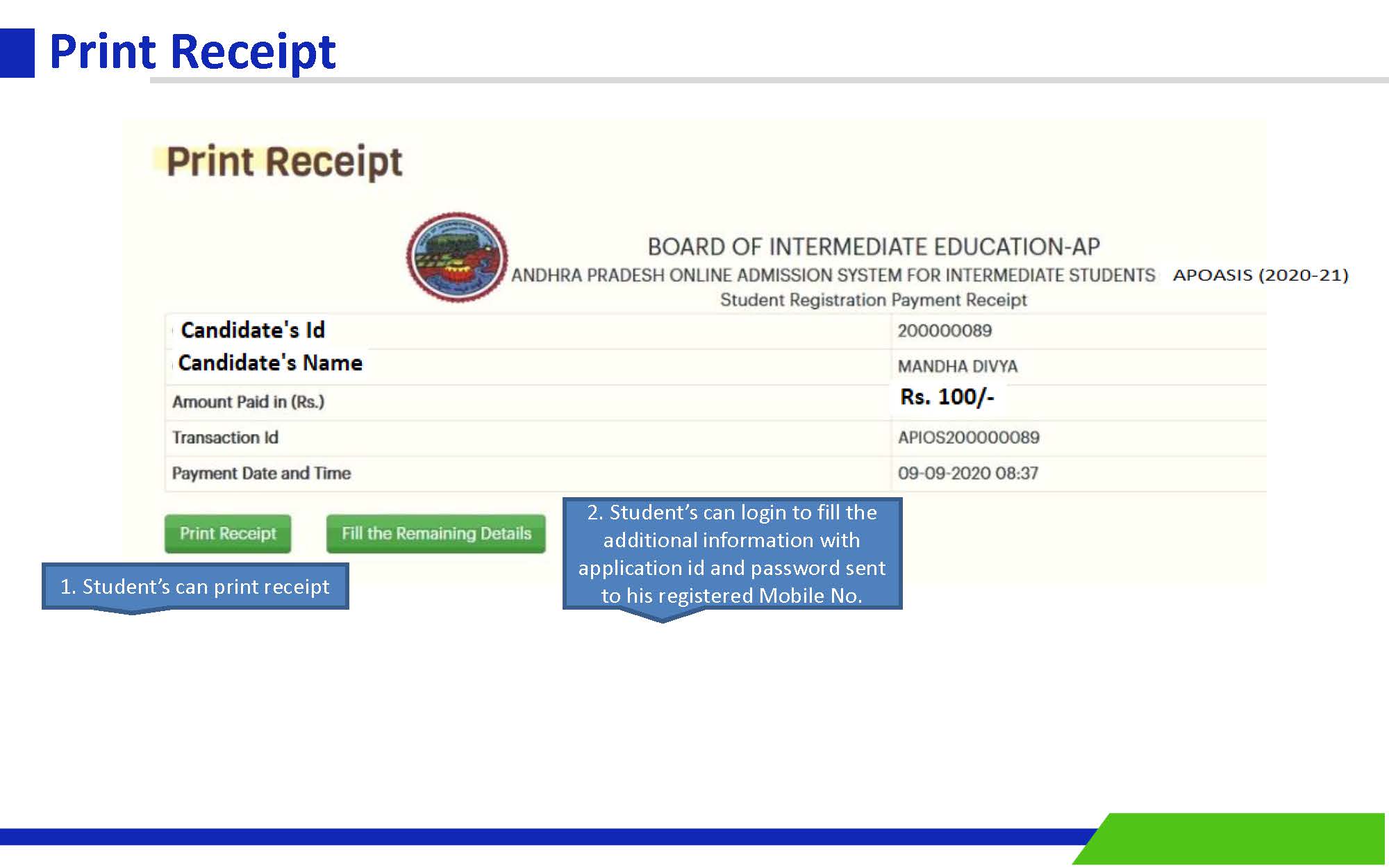 Candidate's Id and password will be sent to registered mobile no.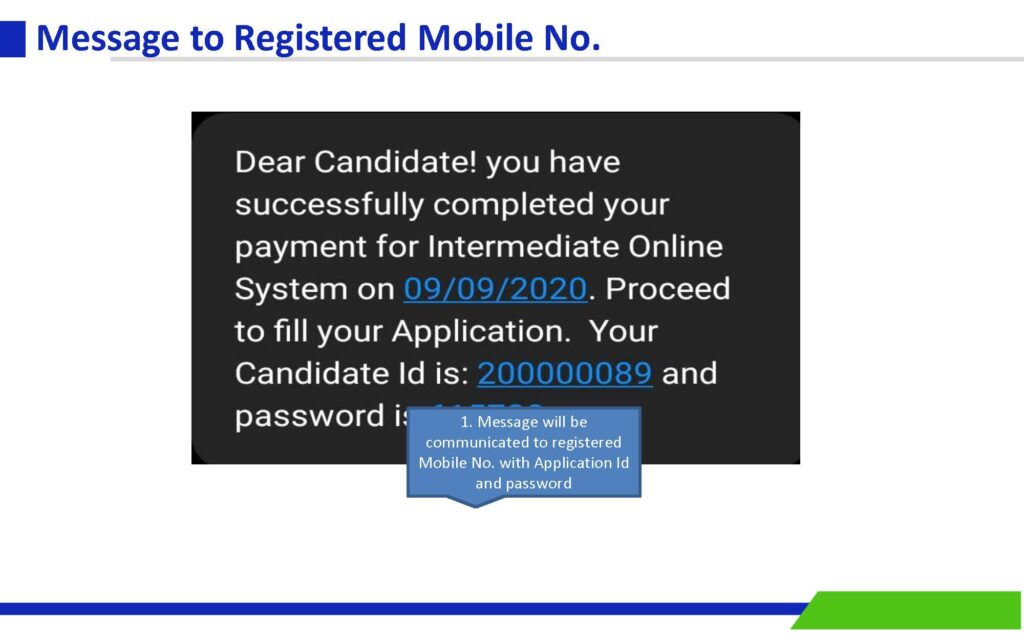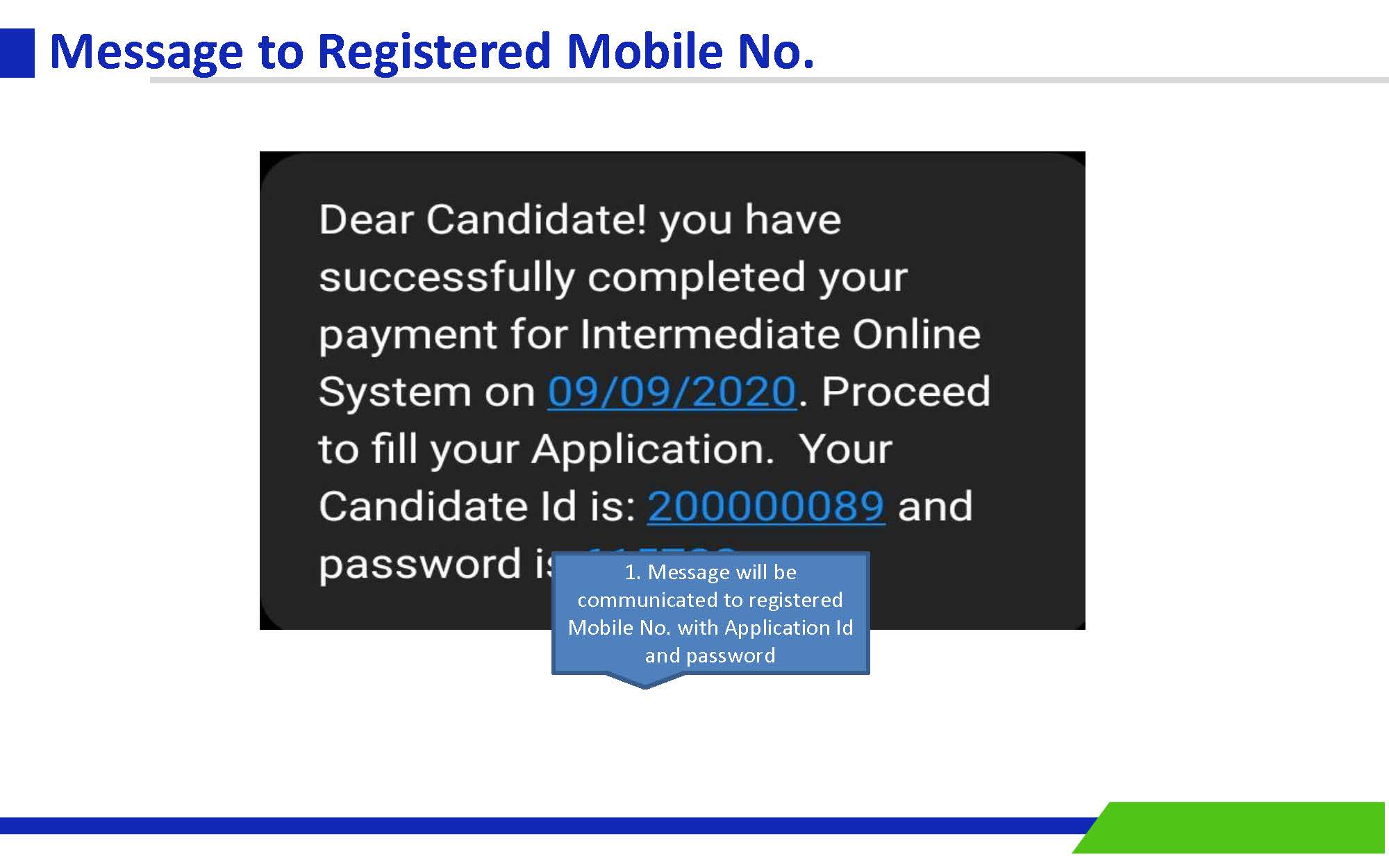 2. Student's Login
Click on Already Registered
Enter candidate's id, password and captcha and click on sign-in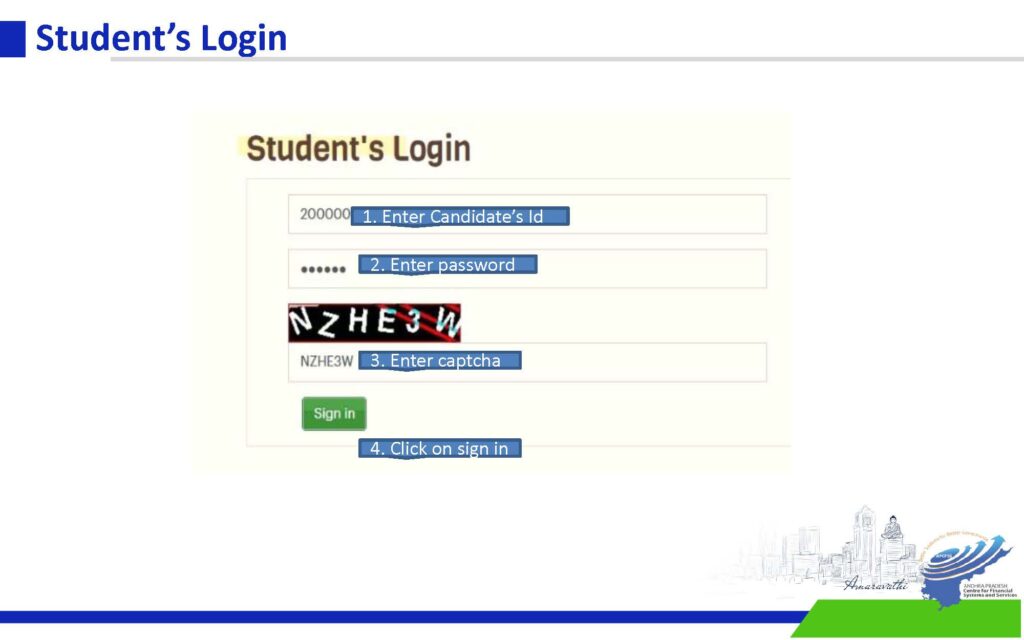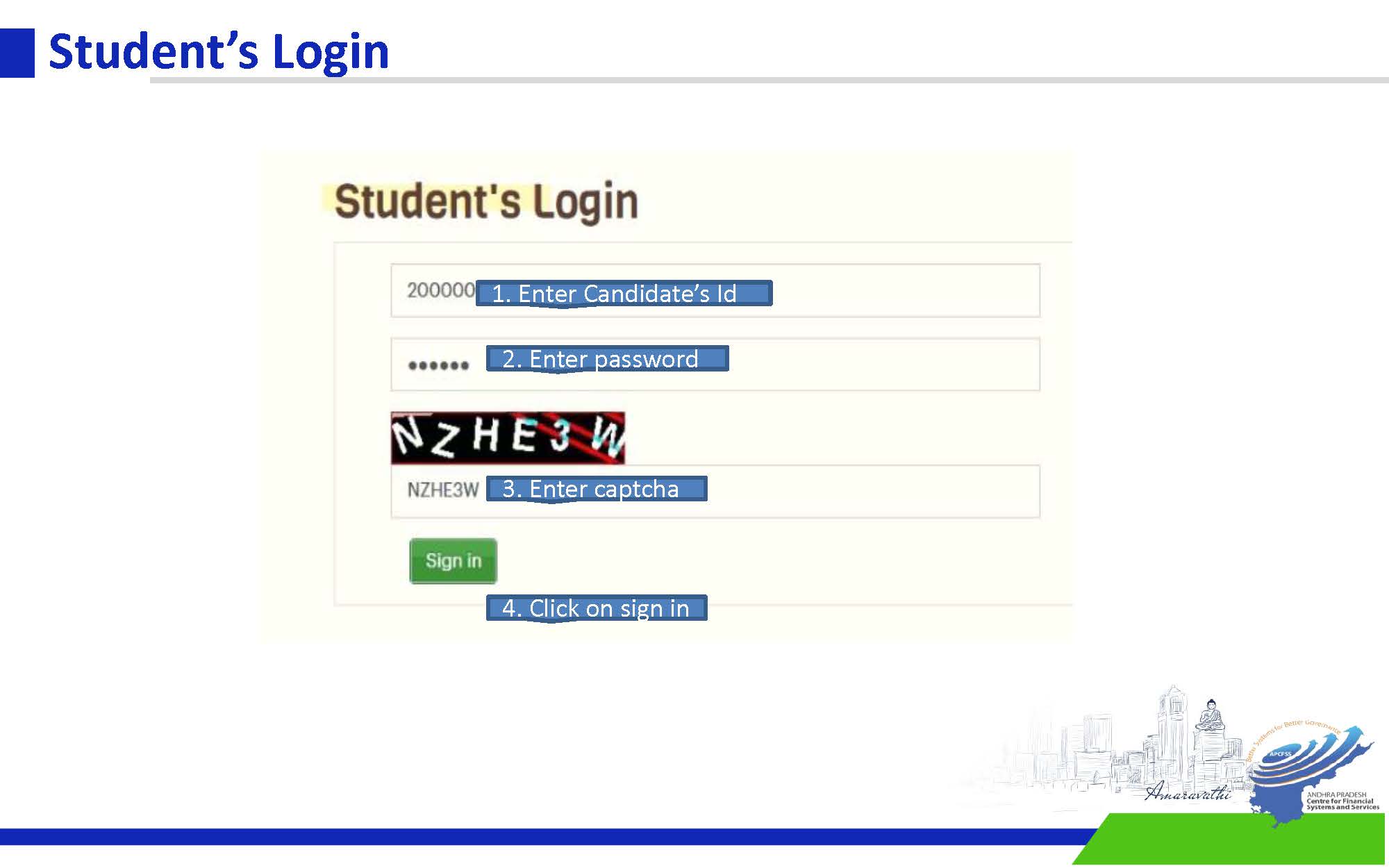 Fill the Additional Details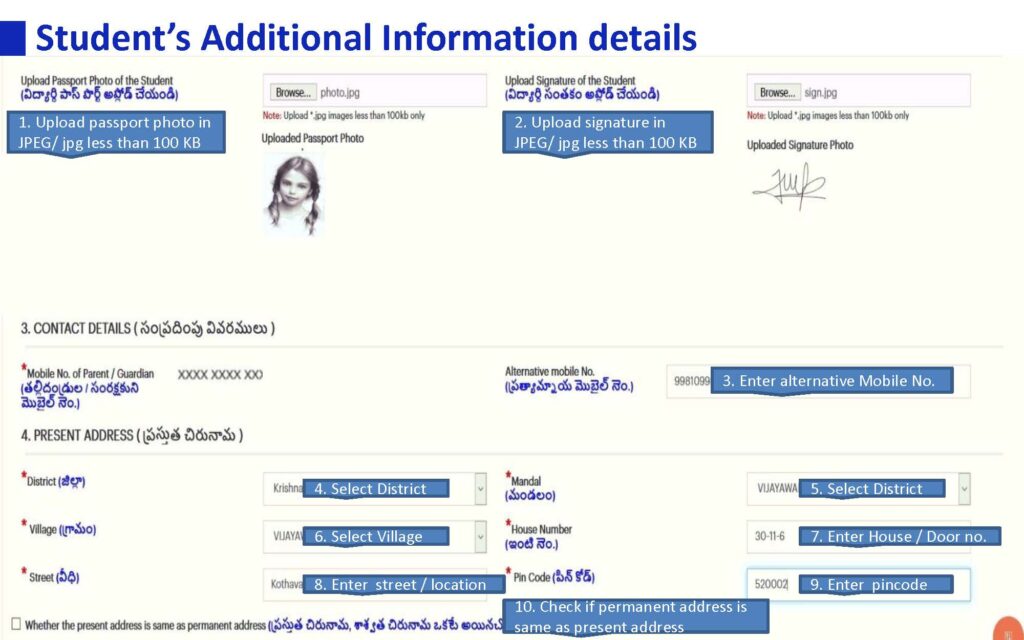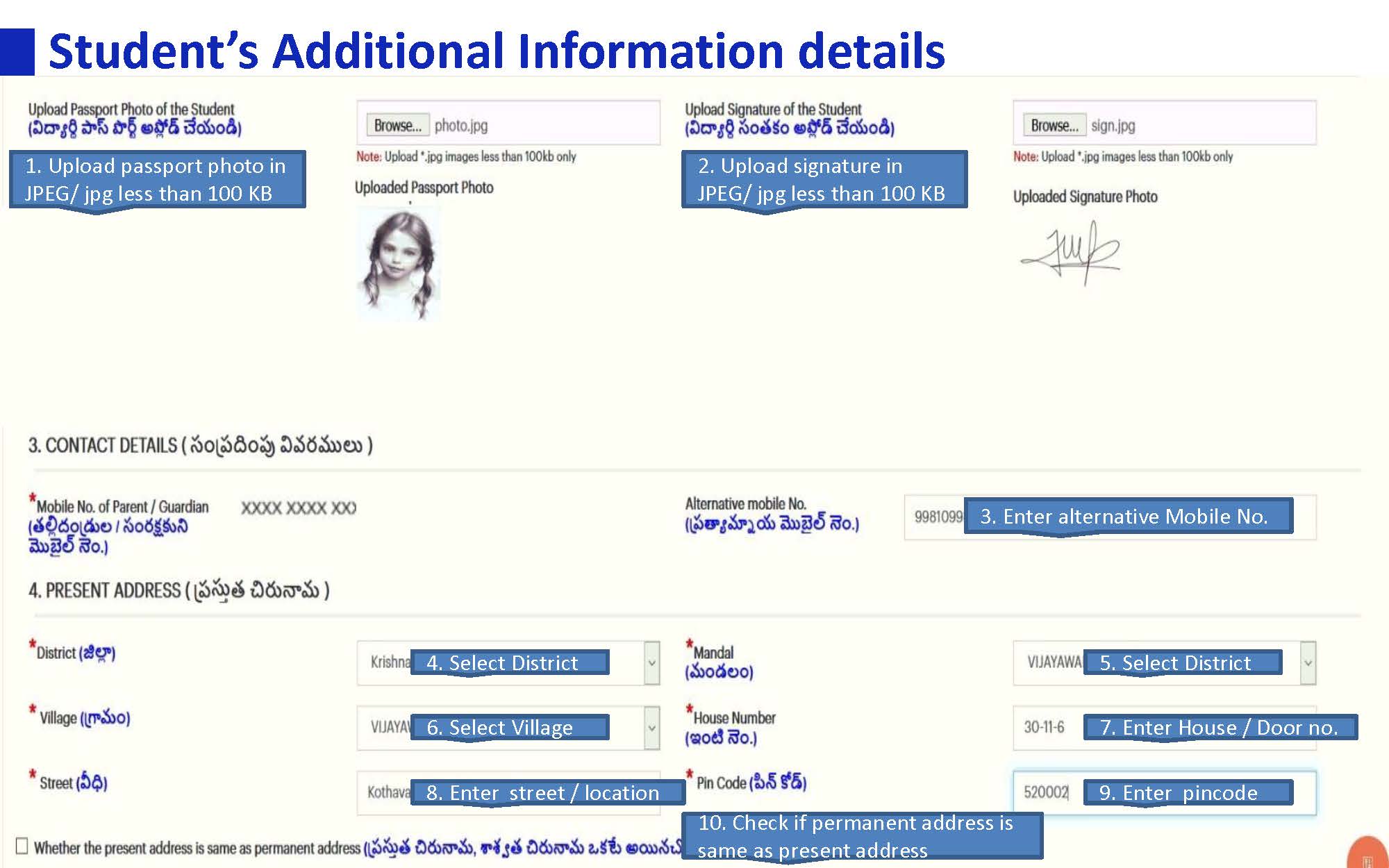 Preview details and click on Edit if data found incorrect else click Submit Application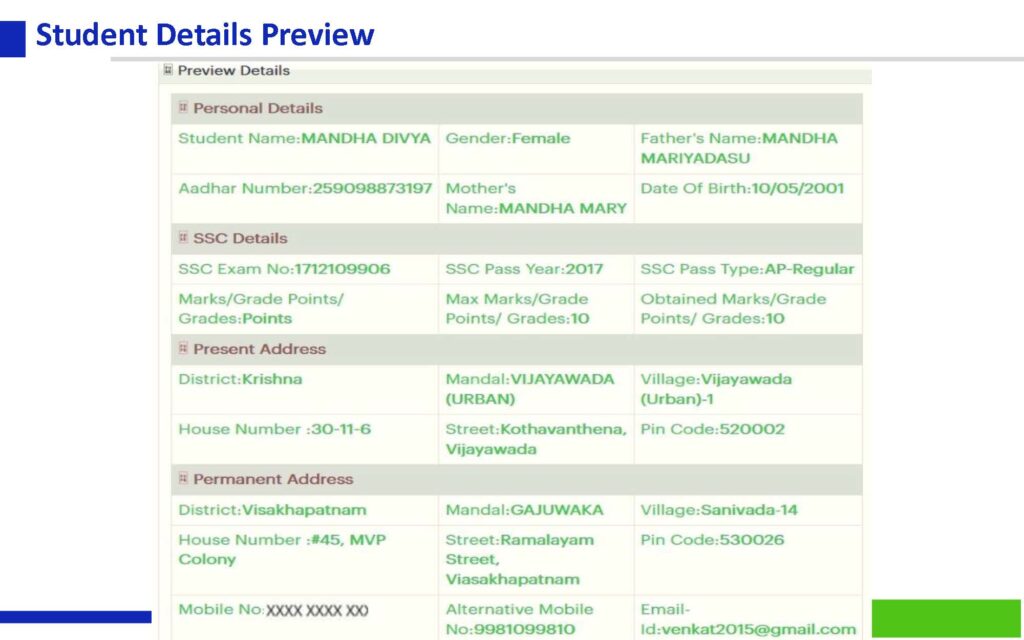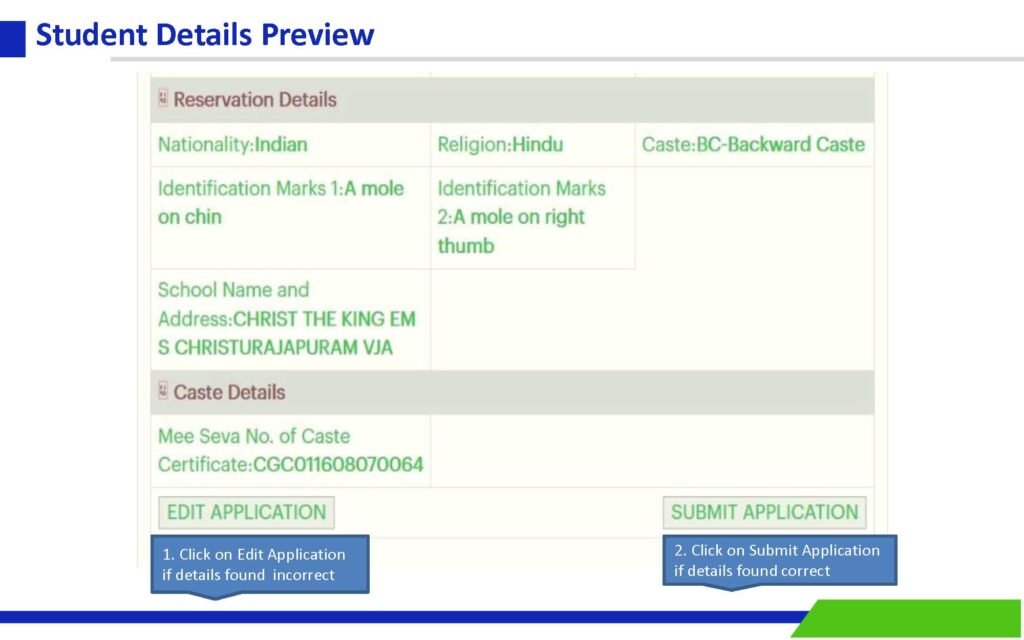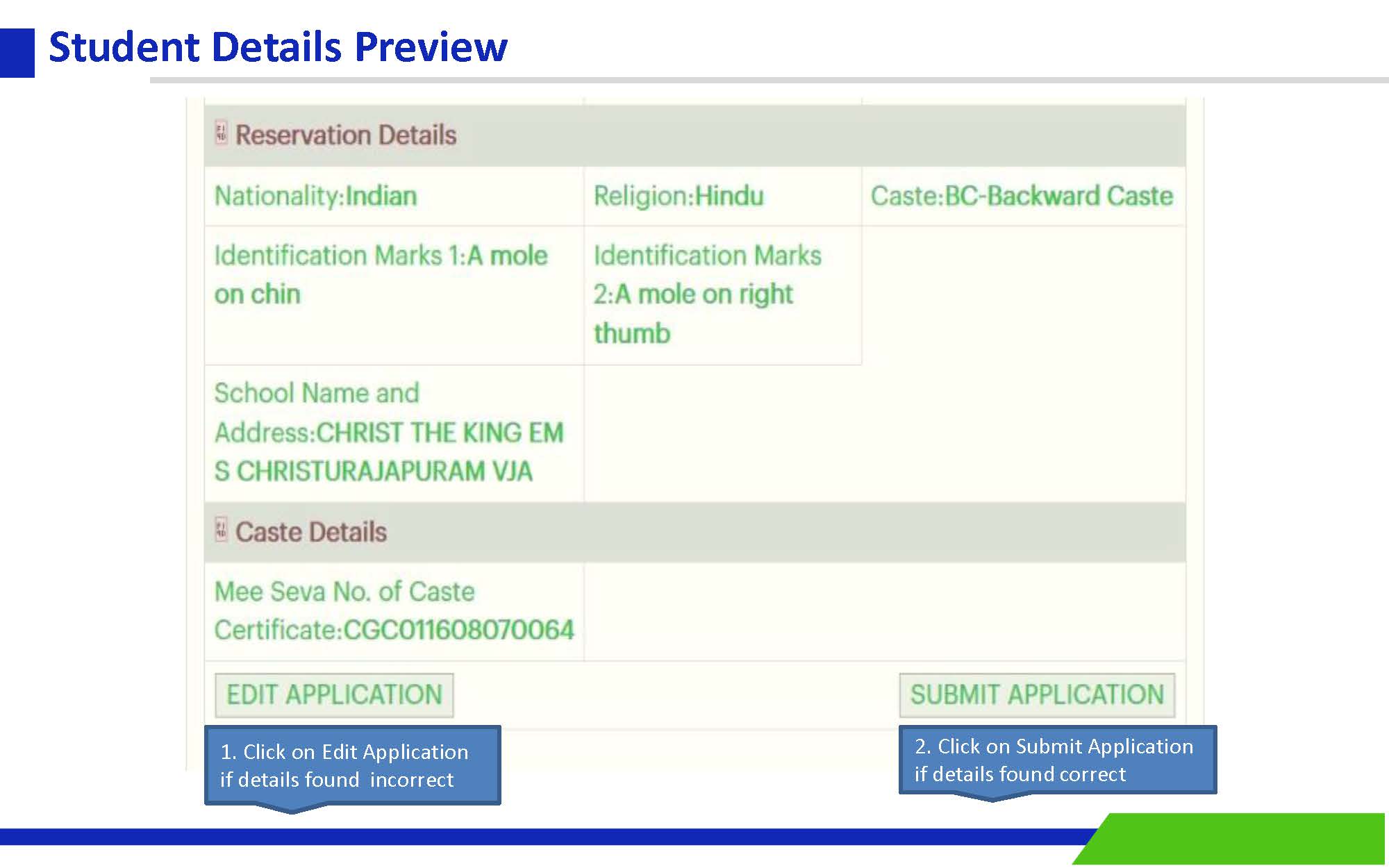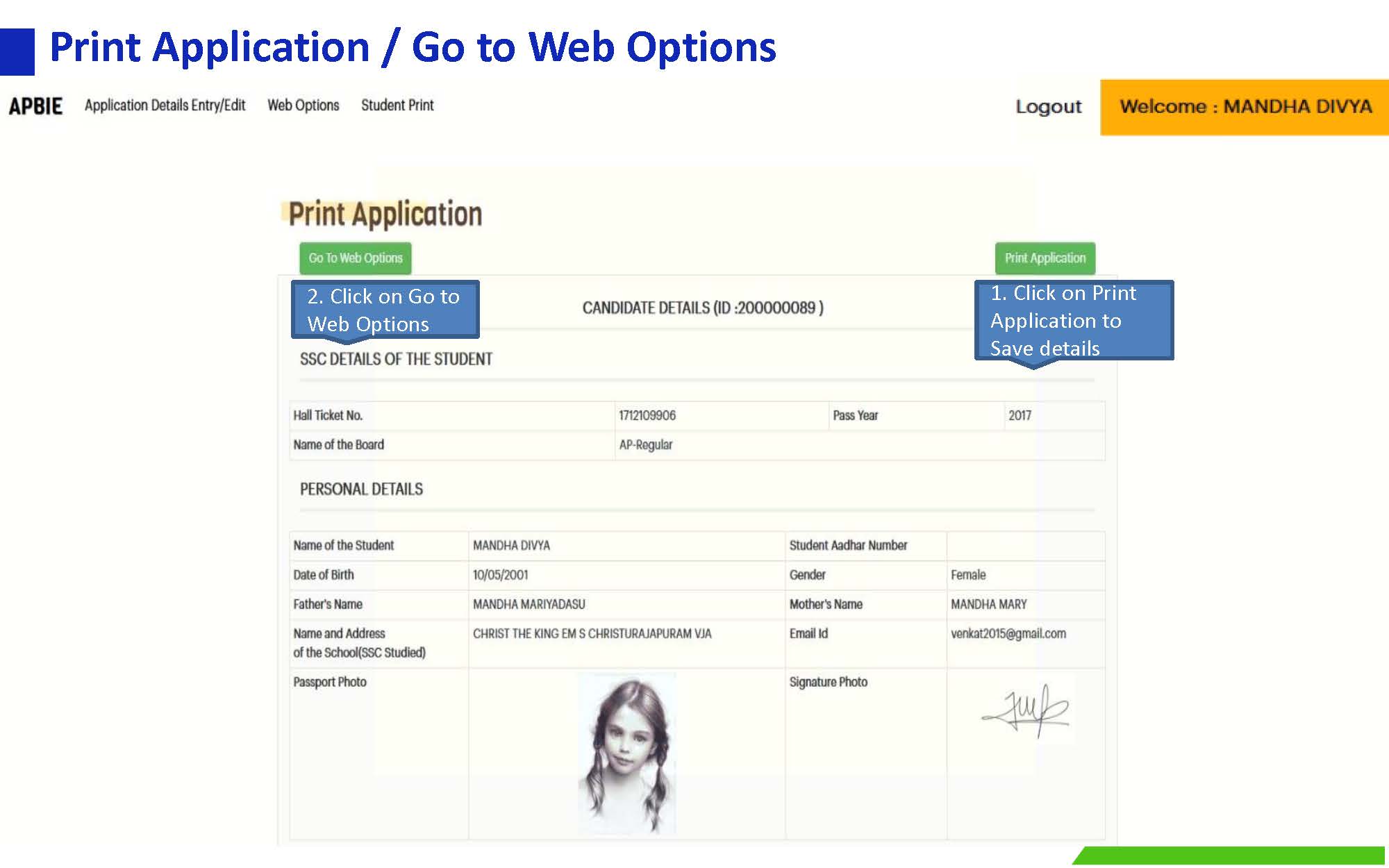 3. Web options
Select option by college / course and enter required details in the dropdown list and click on show colleges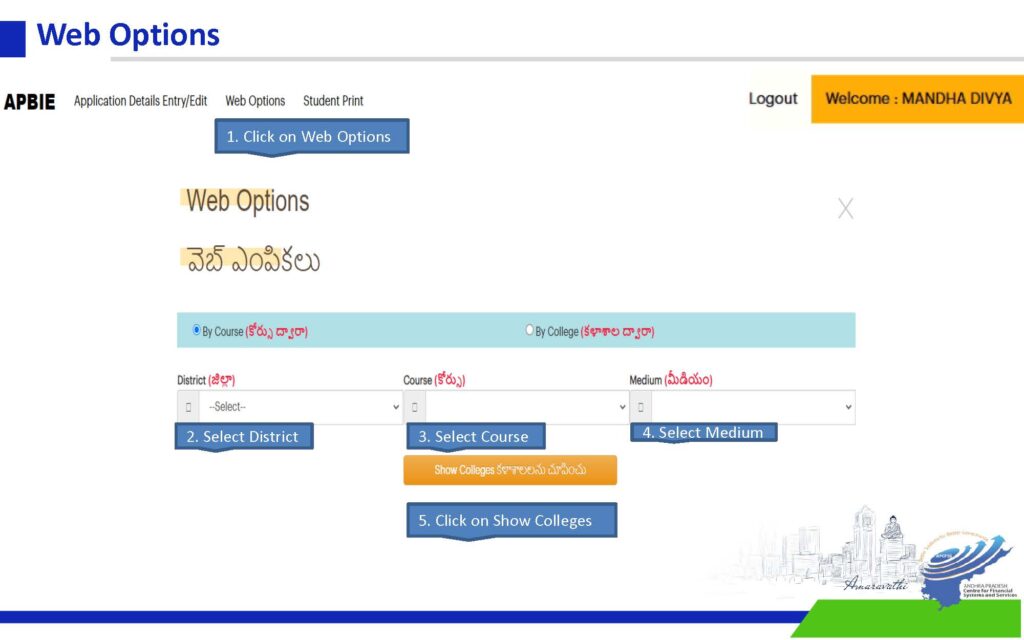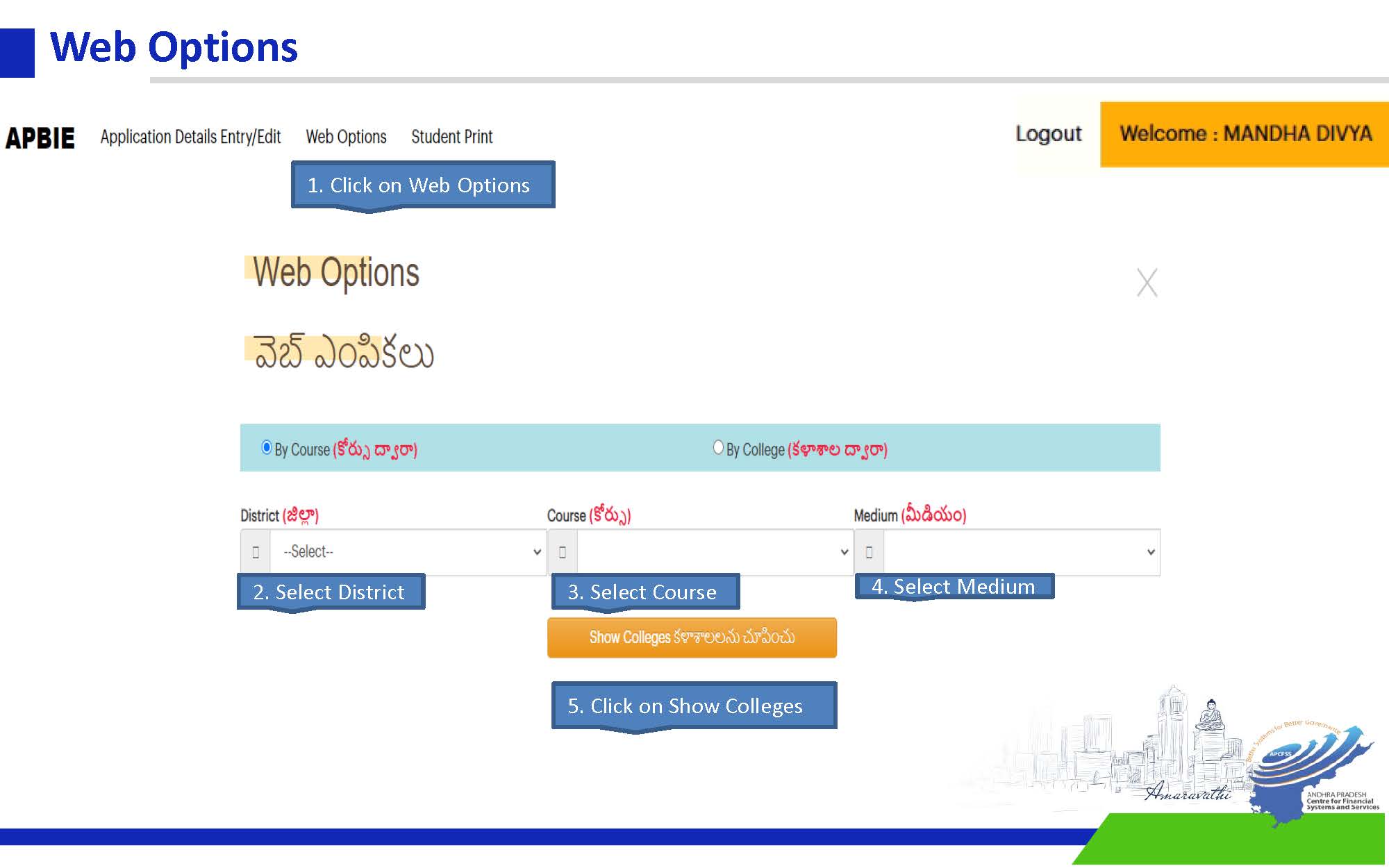 Click on View to know about a particular College
Select Colleges with Priority numbers and second language (Any number of Colleges )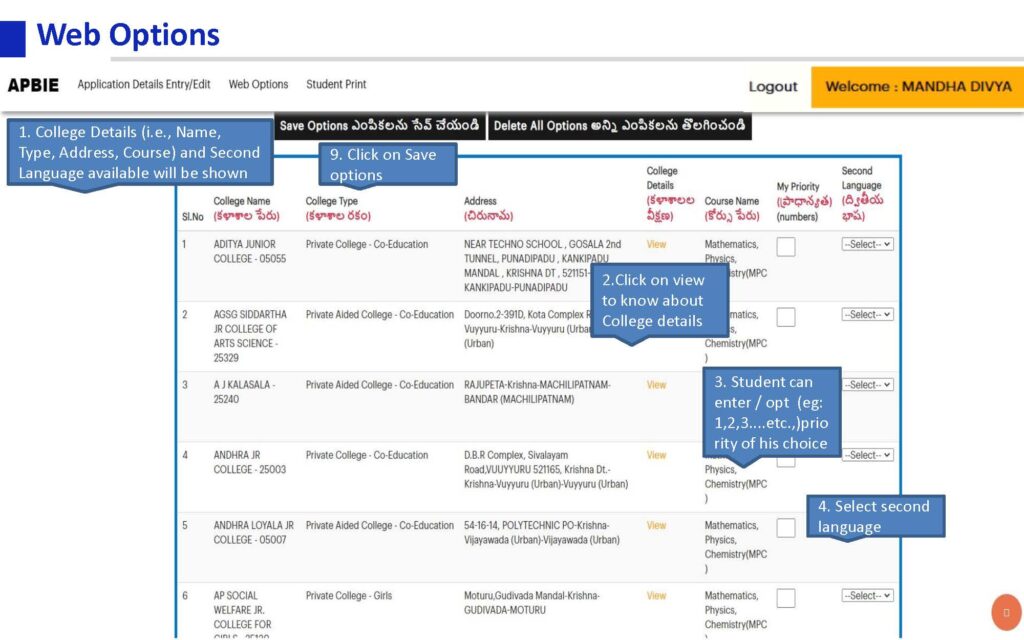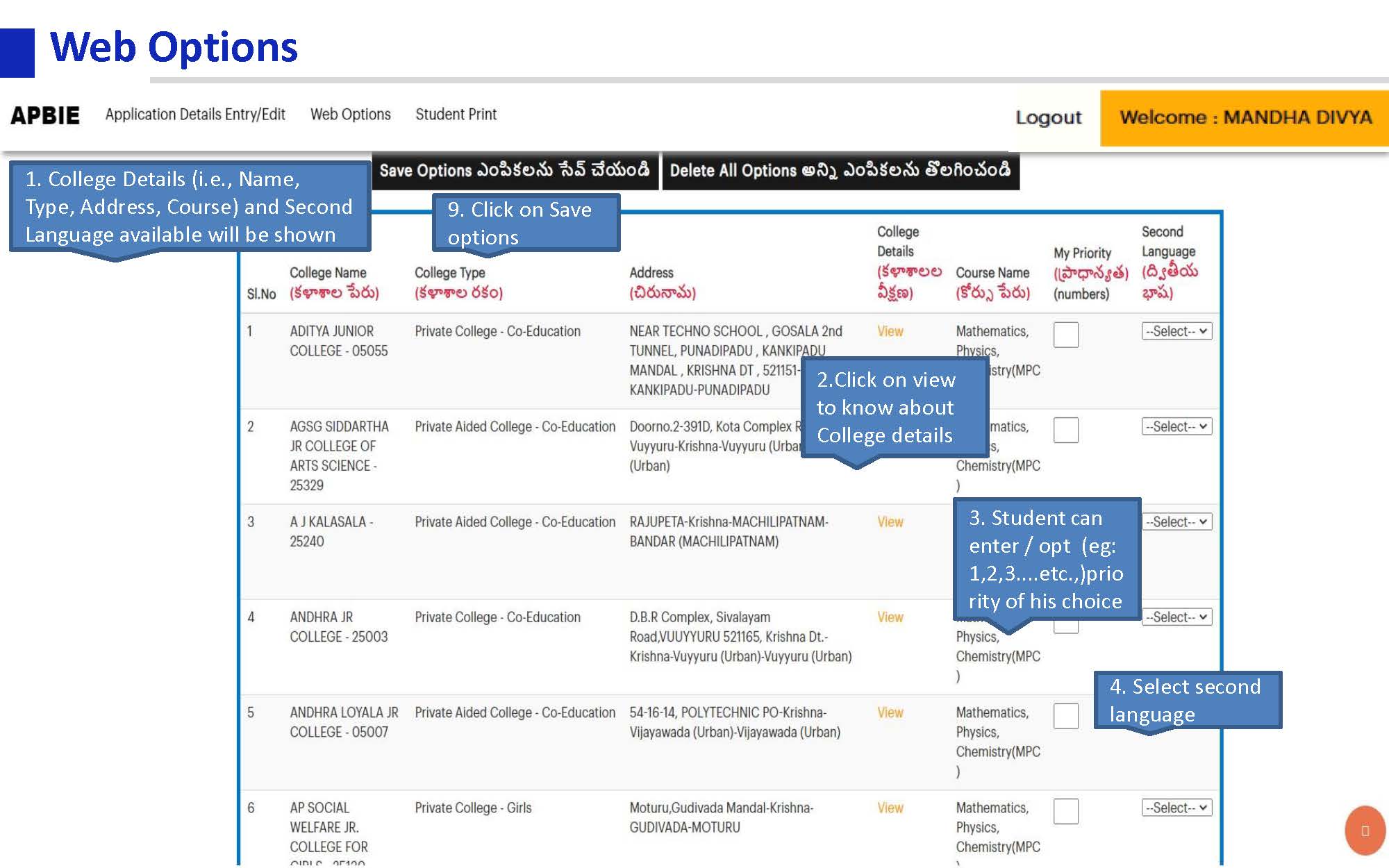 If you need any corrections, delete the selected options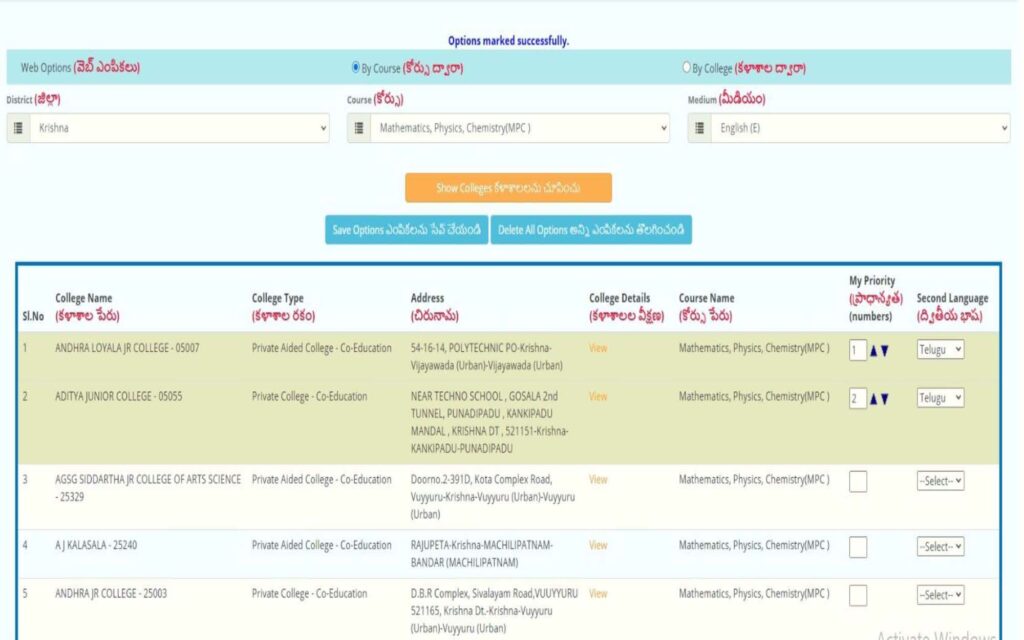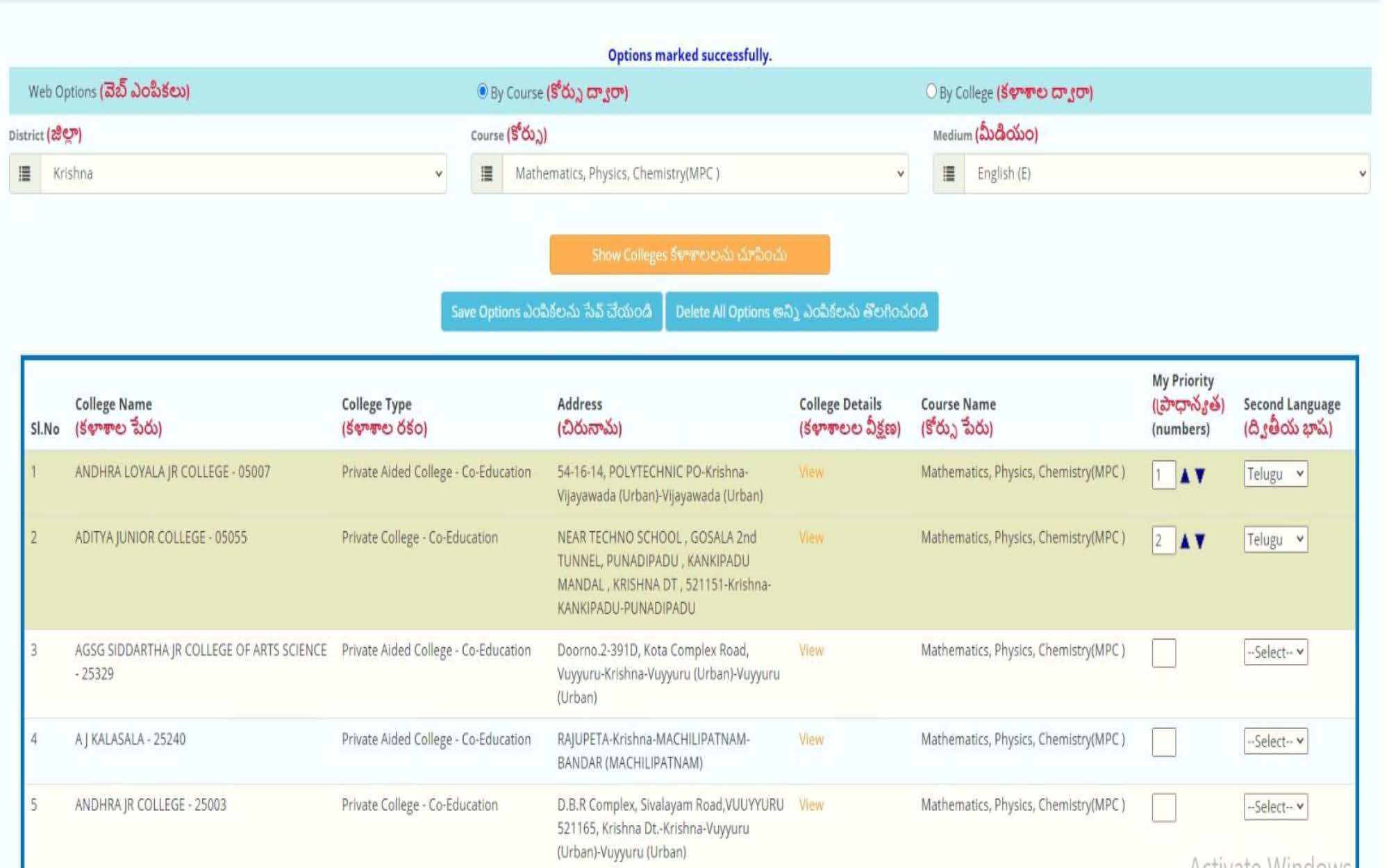 Save Web Options and Print Application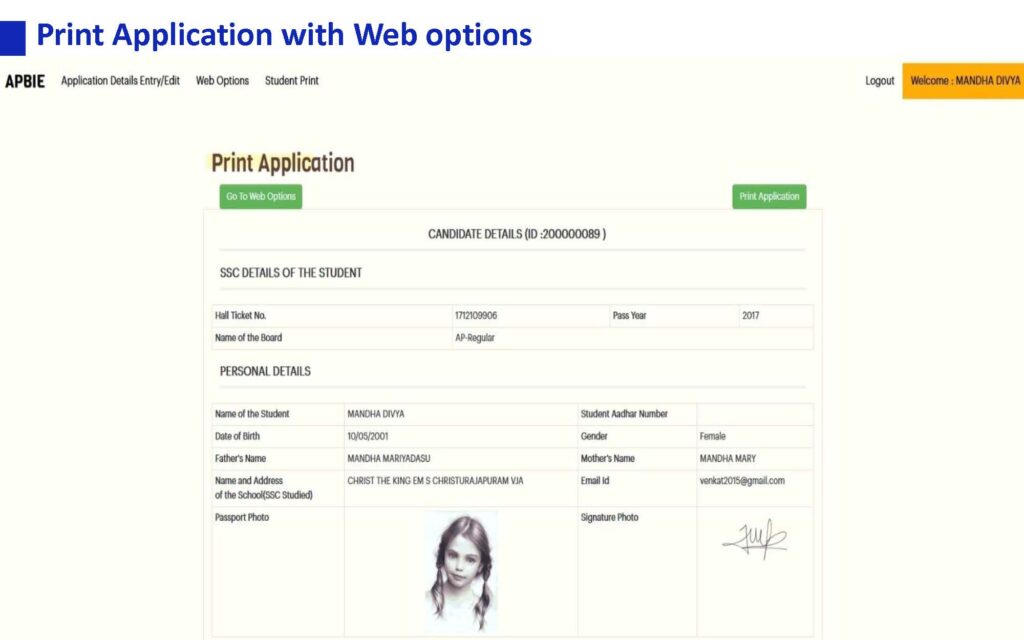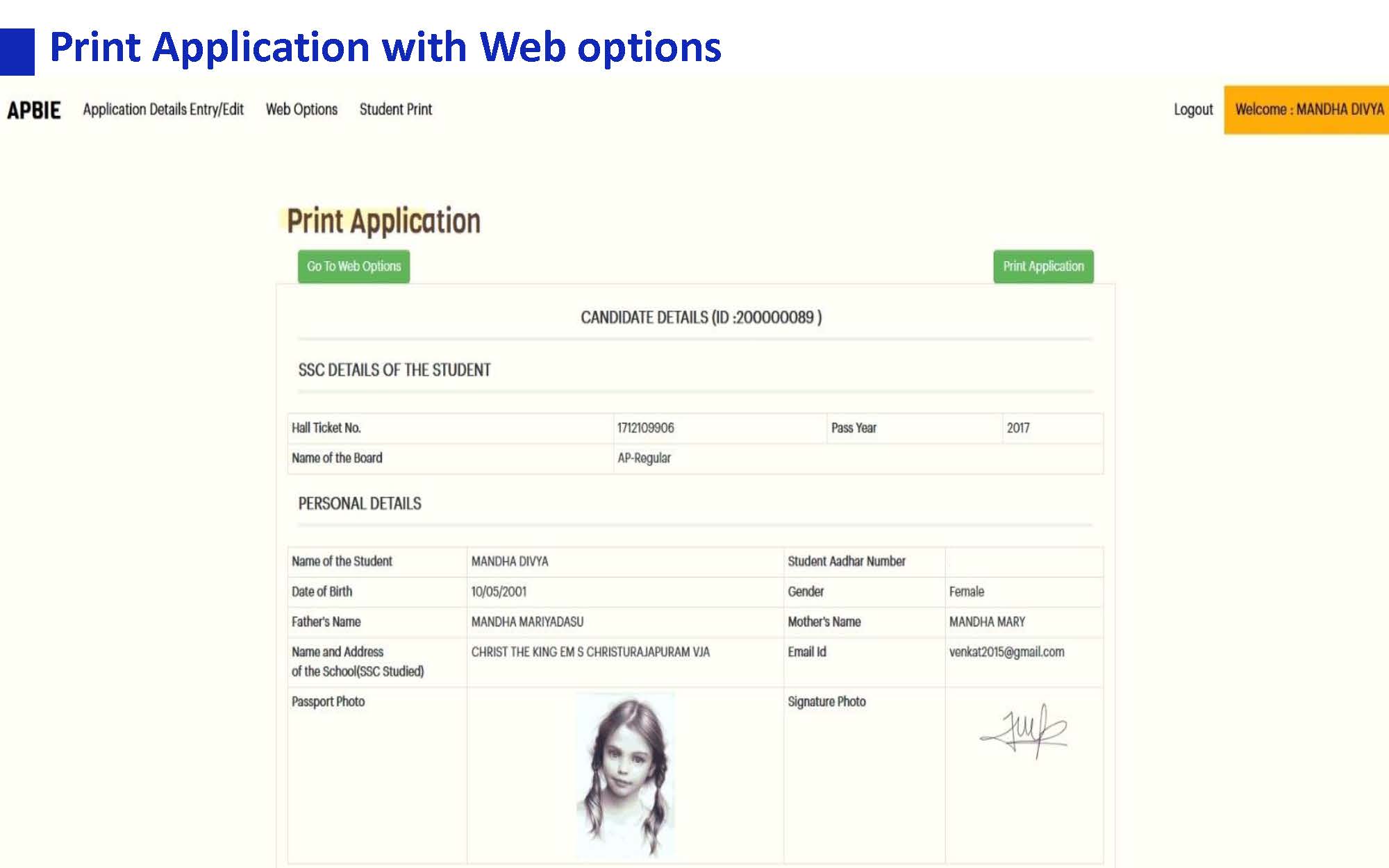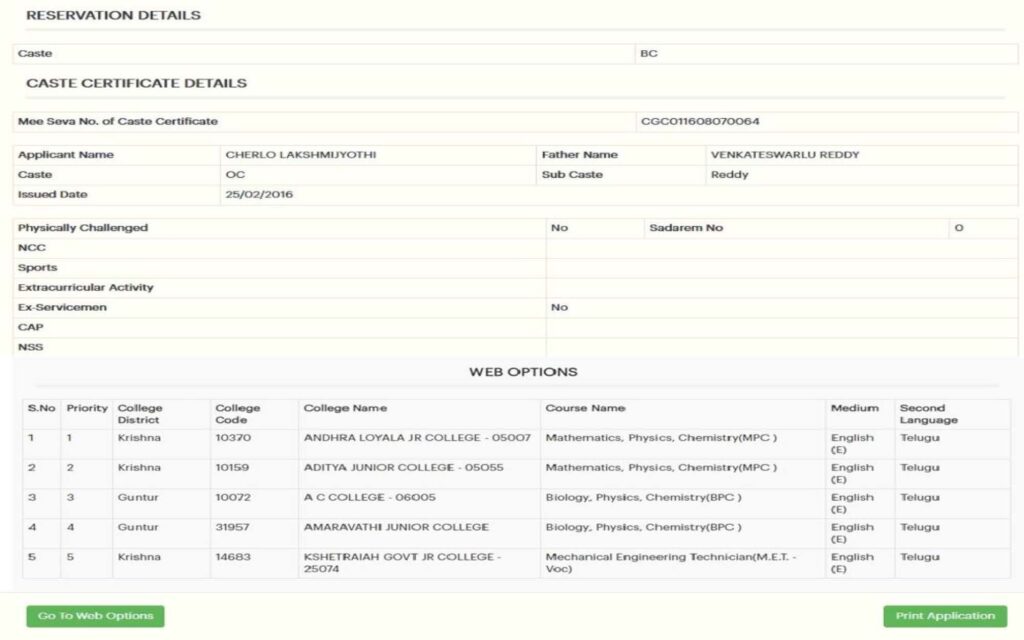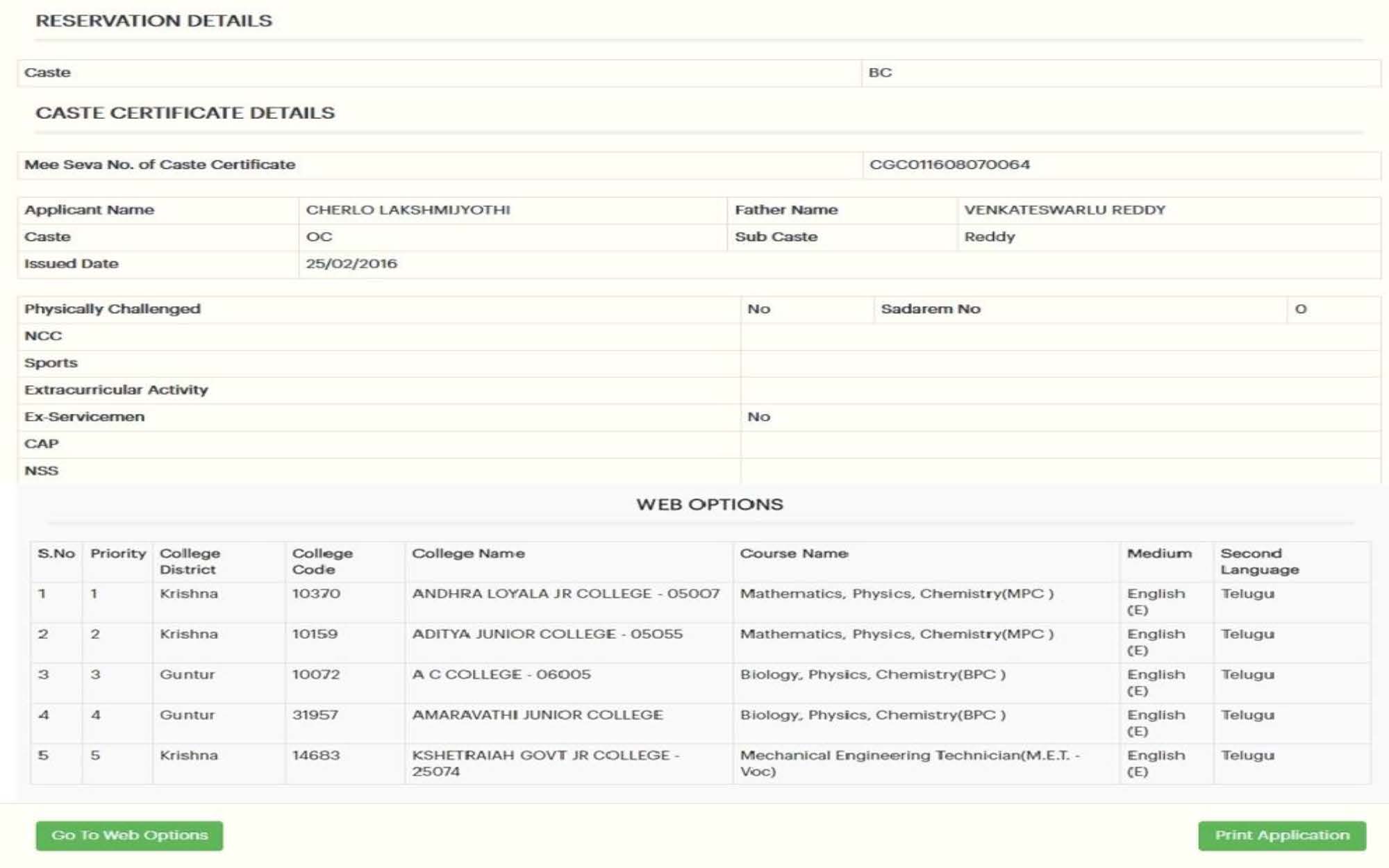 Allotment Letter will be available in your Login as per schedule
visit College with Allotment Letter, Pay Fee(online/offline /challan) to join
If you didn't get Allotment in Phase I, you can check Allotment for next Phases as per schedule.
Student's 10th class marks will be collected from the Department of Government Examinations and it will be linked. Full particulars of the student's that were registered using hall ticket or Aadhar card number will be displayed on the computer screen.
Form village, ward secretariats students can apply online. Education Welfare Officer from the village/ward secretariat will assist the students in the application process.
Based on the marks of students the admissions will be given. In any of the college, if seats are less and the number of applications received is more, then based on the student's marks the admission will be given.
A student can select 5-6 colleges based on their priority.
The examination fee, which belongs to the Inter Education Council will be collected in advance from the students at the time of application. Few of the private colleges are insisting the students pay the extra charges for examinations and creating trouble for the students. To avoid this type of consequence, the board has decided to collect the examination fee directly from the students.
Based on the available seats in each college, the reservation criteria will be decided.
Students can check the fee of concerned colleges at the time of the application process.
The online admissions will be conducted in 2-3 shifts.
Download AP Inter Online Admission 2020-21(APOASIS) – User Manual
Allotment of Seat:
(i) Seat allotment letter will be available in your login, on the scheduled dates.
(ii) Take a printout of "Allotment Letter".
(iii) Go to your allotted college along with Allotment Letter
(iv) Pay Fee through Online / Online / Challan at the college
(v) Then you get seat in Phase-I Admissions.
(vi) You have to submit TC, SC, CC of 10th Class in the college.
(vii) If you didn't get seat in Phase-I as per 'Rule of Reservations' and 'available number of seats' in the college, you have to wait for Phase-II admission schedule.
AP Inter Online Admissions 2020-21 Toll Free number
The Parents / Students can clarify the issues relating to Online Admissions through Toll free no.1800 274 9868.