AP Polycet Results 2017: Andhra Pradesh Polytechnic Entrance Exam Result, Rank Card, Score available at manabadi.com. Students can check their AP polytechnic result 2017 with ranks and Marks Secured in Maths, Physics, Chemistry in official website Polycetap.nic.in.
AP Polycet 2017 Counselling Notification
AP Polycet Results 2017 Manabadi – Polytechnic Entrance Exam Result, Rank Card, Score @ Polycetap.nic.in
State Board of Technical Education and Training, Andhra Pradesh, Vijayawada informs that the results of Common Entrance Examination for admission into Polytechnic (POLYCET-2017) which was held on 28-04-2017 is scheduled to be released on 08-05-2017 at 11.00 am by Hon'ble Human Resources Development Minister Sri Ganta Srinivasarao garu.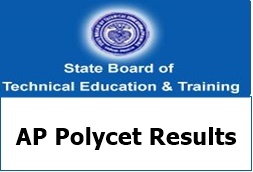 The Common Entrance Examination for admission into Polytechnics (POLYCET- 2017) was held on 28-04-2017 the results were declared on 08-05-2017. Out of 131044 (One lakh Thirty One Thousand and Forty four only) candidates registered, 1,28,107 ( One Lakh Twenty Eight Thousand One Hundred and Seven only) have appeared for the examination. Further 1,09,058 (One Lakh Nine thousand and Fifty Eight only) candidates have qualified representing 85.13%. Out of 79,041 boys appeared for the examination 65,622 qualified, indicating 83.02 %. Similarly out of 49,066 Girls appeared for the examinations 43,436 have qualified representing a pass percentage of 88.53%. Details of the candidates Registered/Appeared/Qualified from each District, Gender wise along with other statistical data of POLYCET-2017 are enclosed.
Manabadi AP Polycet Results 2017
AP polycet result will be release at official site Polycetap.nic.in. The answer key for the AP POLYCET 2017 was already released. Candidates have already checked answers for all sets A, B, C and D.
Results of AP Polycet 2017 Examination & Ranking
The minimum qualifying marks at POLYCET-2017 is 30% i.e. 36 marks out of 120 for all category candidates, except SC and ST for whom there is no minimum qualifying marks, All the SC / ST candidates who have appeared for the POLYCET examination have qualified and have been assigned ranks based on their performance.
Candidates belonging to Scheduled castes or Scheduled Tribes shall be assigned ranking irrespective of the marks obtained in the entrance test. Such candidates even less than 30% marks in POLYCET-2017 shall be eligible to compete for their category of seats during the admission.
Ranking has been assigned to candidates based on total marks secured at POLYCET- 2017. In case of tie in the total marks secured, the same has been resolved by awarding a better rank to candidate who secured higher marks in mathematics, and in case of the tie still persisting, by taking marks secured in physics into consideration. Candidates have been awarded the same rank on non resolution of tic based on the above criterion. Resolution of tie will be taken up based on Date of birth and total marks secured in SSC examination at the time of verification of certificates during web counseling when the data will be available.
Andhra Pradesh CEEP Results name wise 2017
The result of AP Polytechnic Entrance Exam is going to be announced in the month of May 2017. The AP Polycet 2017 result will be declared on www.sbtet.gov.in and Polycetap.nic.in. After declaration of AP Polycet Results by State Board of Technical Education and Training (SBTET), students may check AP Polycet 2017 results by using their registration number, roll number and name.
AP Polytechnic Entrance Exam Result, Rank Card, Score
Rank Cards of POLYCET-2017 shall be available on the following websites
polycetap.nic.in,
sbtetap.gov.in,
schools9.com,
www.manabadi.com,
eenadupratibha.net
www.vidyavision.com,
www.indiaresults.com.
The students after the completion of their Polytechnic will continue their B.Tech in their respective colleges only; where they pursued the Polytechnic. That's why POLYCET results are so important that the students 6 years of life will be decided on their exam. They can't make a step backward after this. So Andhra Pradesh POLYCET Results will plays a key role in the students life.
AP Polycet result 2017 are released
Check your AP polycet 2017 results or AP CEEP results With State Ranks here

Check Here: AP POLYCET Results 2017 – Available Here
The Rank secured by the candidates will be intimated through SMS to the registered mobile numbers. The scanned copies of OMR sheets of candidates will be placed on the web site polycetap.nic.in.
How to check the AP Polycet result 2017 @ Manabadi
The students who have written the Polycet exam are waiting for the AP Polycet results 2017. The students can check their AP polycet 2017 results by following the below guidelines.
Go to the official website: polycetap.nic.in
Click on the link "AP Polycet results 2017".
Enter your Hall ticket number.
Click on Submit.
Your Polycet results will be displayed on the screen.
Save your result for future use.
AP Polycet 2017 Rank Card Download
AP Polycet rank card / Score, Merit list, cut off marks caste wise to get seat in different engineering colleges or polytechnic colleges info to be published here.