AP/TS Inter 1st & 2nd Year Model Papers 2019: AP and Telangana Intermediate 1st and 2nd Year Model papers 2019 pdfs for Telugu and English Medium are available to download here. So, Students can Download Inter Model Papers 2019 of eenadu, sakshi from below links.
AP/TS Inter 1st & 2nd Year Model Papers 2019 Download (Guess Papers)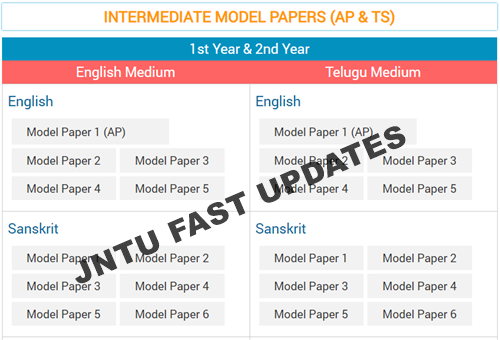 AP/TS Junior Inter & Senior Inter Telugu & English Medium Model papers 2019
AP Inter 1st year, 2nd year Model Guess Papers 2019/ Important Questions: Here, We are Given AP/TS Inter 1st & 2nd year model papers 2019 as per the new syllabus and exam pattern. Students can access the Inter Model papers/Previous papers by just clicking on the links provided here. By downloading the Model papers students can enhance their preparation in examination point of view. The previous papers / model papers will ensure the students about the pattern of the examination, type of questions asked in the examination, approximate time taking to answer the questions and many important things about the Intermediate Public examinations 2019.
Download Intermediate Model Papers 2019 For 1st/2nd Years
TS Inter 1st year, 2nd year Model papers 2019: By clicking the below links, students can straight obtain the model papers PDF of the AP, Telangana Inter 1st year and 2nd year. The Intermediate 1st year and 2nd year previous question papers 2019, are accessible for the normal and development candidates. The AP, TS board of intermediate 1st year and 2nd year model papers are obtainable subjects wise. Comment under for extra subjects question papers.
AP/TS Inter 1st Year Model Papers 2019 (English/Telugu Medium)
English Medium
Telugu Medium

English

English

Sanskrit

Model Paper 1
Model Paper 2
Model Paper 3

Sanskrit

Model Paper 1
Model Paper 2
Model Paper 3

Mathematics IA

Model Paper 2
Model Paper 3
Model Paper 4

Mathematics IA

Model Paper 2
Model Paper 3
Model Paper 4

Mathematics IB

Model Paper 2
Model Paper 3

Mathematics IB

Model Paper 2
Model Paper 3

Physics

Model Paper 2
Model Paper 3

Physics

Model Paper 2
Model Paper 3

Chemistry

Model Paper 2
Model Paper 3

Chemistry

Model Paper 2
Model Paper 3

Botany

Botany

Zoology

Zoology

Economics

Model Paper 1
Model Paper 2

Economics

Civics

Civics

Commerce

Commerce
AP/TS Inter 2nd Year Model Papers 2019 (English/Telugu Medium)
English Medium
Telugu Medium

English

English

Sanskrit

Model Paper 1
Model Paper 2
Model Paper 3

Sanskrit

Model Paper 1
Model Paper 2
Model Paper 3

Mathematics IIA

Model Paper 2
Model Paper 3
Model Paper 4

Mathematics IIA

Model Paper 2
Model Paper 3
Model Paper 4

Mathematics IIB

Model Paper 2
Model Paper 3

Mathematics IIB

Model Paper 2
Model Paper 3

Physics

Model Paper 2
Model Paper 3

Physics

Model Paper 1
Model Paper 2
Model Paper 3

Chemistry

Model Paper 2
Model Paper 3

Chemistry

Model Paper 1
Model Paper 2
Model Paper 3

Botany

Botany

Zoology

Zoology

Economics

Model Paper 1
Model Paper 2

Economics

Civics

Civics

Commerce

Commerce