AP Ward Volunteer Notification Apply Online link: Government is committed to revamp delivery systems in the State with an aim to improve living standards of the people through the concept of NAVARATHNALU as core theme of governance. In order to operationalize Navarathnalu, Government intends to deploy Volunteers in rural/urban areas for delivering Government Services at door step of all eligible households irrespective of Caste/Creed/Religion/Gender and political affiliation.
AP Ward Volunteer Notification Apply Online Link, Application Form 2019 @ wardvolunteer.ap.gov.in
This system will ensure leak proof implementation of Government Programmes/Schemes. The objective of positioning Village Volunteers is to ensure timely and transparent services, to eliminate the corruption at all levels of administration. Village Volunteers will identify the problems being faced by anybody in his jurisdiction and the same will be brought to the notice of Gram Panchayat and then get them resolved.
Also Check: Apply For AP Grama Volunteer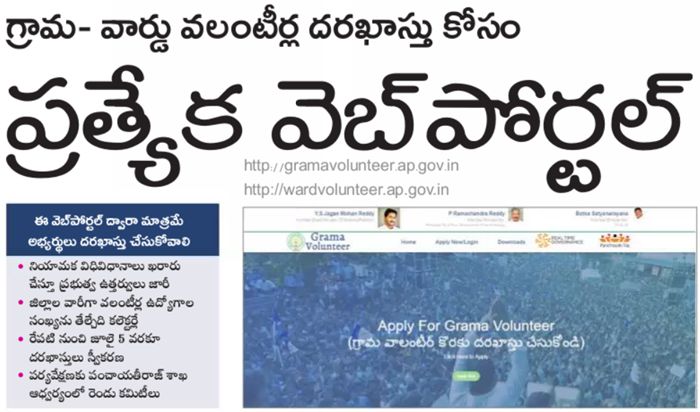 అర్బన్‌ వలంటీర్ల నియామకానికి శ్రీకారం
నవరత్నాల పథకాలను పట్టణ ప్రాంతాల్లోని ప్రజలకు చేరవేయడానికి వార్డు వలంటీర్ల నియామకానికి ప్రభుత్వం శ్రీకారం చుట్టింది. ఇందుకోసం అర్హులైన అభ్యర్థుల నుంచి దరఖాస్తులు స్వీకరించడానికి అనుమతి ఇస్తూ పురపాలక, పట్టణాభివృద్ధి శాఖ ఉత్తర్వులు జారీ చేసింది. ప్రతి 50 కుటుంబాలకు ఒక వార్డు వలంటీర్‌ను నియమించనున్నారు. నియామక ప్రవేశ పరీక్షల కోసం రూ.63.50 లక్షలను, శిక్షణ కార్యక్రమాలకు రూ.6.88 కోట్లను మంజూరు చేయాలని పురపాలక, పట్టణాభివృద్ధి శాఖ కోరింది. వలంటీర్లకు ప్రతినెలా గౌరవ వేతనంగా రూ.5 వేల చొప్పున చెల్లించేందుకు ఏడాదికి రూ.486 కోట్లు ఖర్చవుతాయని అంచనా వేసింది. వార్డు వలంటీర్‌ పోస్టులకు దరఖాస్తు చేసే అభ్యర్థి డిగ్రీ పాసై, స్థానికుడై ఉండాలి. వీరి ఎంపిక కోసం మున్సిపల్‌ కమిషనర్, తహసీల్దార్, మెప్మా సభ్యులతో కమిటీ ఏర్పాటైంది. ఆసక్తి గల అభ్యర్థులు ఆన్‌లైన్‌లో  http:// wardvolunteer.ap.gov.in దరఖాస్తు చేసుకోవాలి. గ్రామ వలంటీర్లకు సంబంధించిన షరుతులే వీరికీ వర్తిస్తాయి.
Procedure To Apply For AP Ward Volunteer Posts
AP Ward Volunteer Application Form Link – Registrations Started
AP Ward Volunteer Notification 2019 Schedule – Important Dates:
| | |
| --- | --- |
| Event | Dates |
| Notification Release Date (నోటిఫికేషన్ జారీ ) | 24th June 2019 |
| Online Application starts from (దరఖాస్తుల స్వీకరణ ప్రారంభం) | 24th June 2019 |
| Last date of submitting the online application form (దరఖాస్తుల స్వీకరణకు చివరి తేదీ ) | 05th July 2019 |
| Scrutiny of applications (దరఖాస్తుల పరిశీలన) | 10th July 2019 |
| Interviews by Selection Committee (మండల , పట్టణ స్థాయిలో ఇంటర్వ్యూలు) | 11th to 25th July 2019 |
| Intimation letters to selected Volunteers (ఎంపికైన వారి జాబితా వెల్లడి ) | 01st August  2019 |
| Induction and training programme (ఎంపికైన వారికి శిక్షణ) | 5th to 10th August 2019 |
| Positioning of volunteers (విధుల్లో చేరాల్సిన తేదీ) | 15th  August 2019 |
| Mode of Application | Online |
| Application Fee | Rs 0 |
| Minimum Education Qualification | Degree |
| Age Limit | 18 years to 35 Years as on 30.06.2019 |
| Official website | wardvolunteer.ap.gov.in |