Calicut University Third Allotment Results 2020 (UGCAP 3rd Allotment 2020) – CU Degree 3rd Allotment Letter Released on 23rd October at ugcap.uoc.ac.in. The Calicut University to be published the third allotment results 2020 on its official website ugcap.uoc.ac.in. Hence candidates can hurry up to check the CU UG Degree 3rd allotment result. Candidates can go through the article to know the details about the Calicut University Third allotment, Payment Fee, commencement of classes and other important information from the following article.
Also Check : Kannur University fourth Allotment 2020
Calicut University Degree Third Allotment 2020 Results Admission List @ ugcap.uoc.ac.in, Cuonline.ac.in
The Calicut University (CU) has opened the Second allotment results for UG courses. Students have submitted their applications for Centralized Admission Process (CAP) / Re arrangement option during September. As per reports, nearly 1 lakh aspirants have sent their applications for admissions.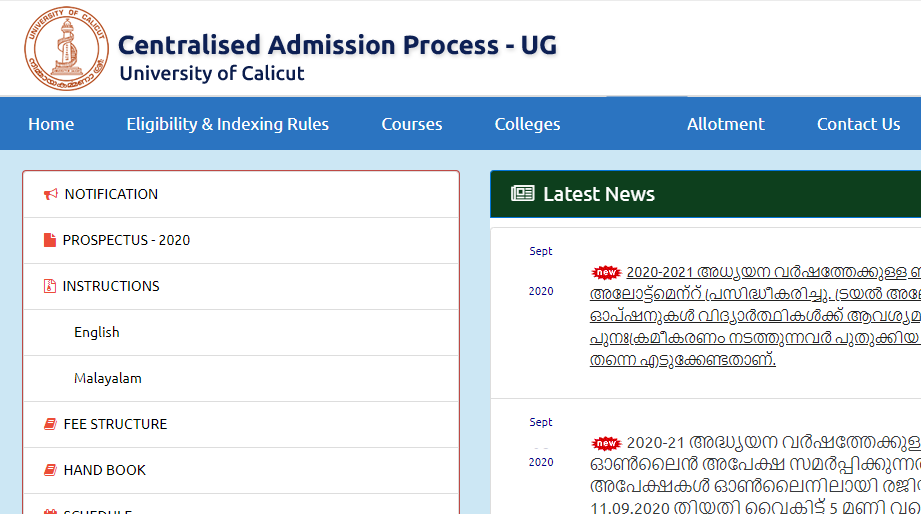 Students those have applied for CU can now check the UGCAP Third allotment result from any of the CU official portal, cuonline.ac.in and ugcap.uoc.ac.in. Students can check the 3rd allotment result by logging into the official portal with Plus 2 registration number and CAP ID.
Calicut University Degree Third Allotment List Results 2020
Calicut University: The Calicut University was formed by the Government of Kerala in the year of 1968. The University is having 229 Government, Aided and Self-financing colleges working under it and it holds 65,997 seats in various courses. The University offers 114 Under Graduate courses for aspirants. 33,266 seats will be filled through CAP allotment system. The Directorate of Admissions (DoA) takes care of the admission process of CU.
CAP System for Admission into CU
The Centralised Admission Process (CAP) system was implemented by the Government of Kerala to get admission into college. Under this system, students submit one application form for admission into various colleges which are working under the university. Based on the merit students will be given admission into their preferable colleges. The admission will be given to Self-Financing Colleges and Self-financing programs/ courses in Aided Colleges.
Calicut University Degree Third/3rd Allotment 2020 –Details
| | |
| --- | --- |
| Name of the Organization |  Calicut University |
| Official Website | cuonline.ac.in and ugcap.uoc.ac.in |
| Name of the Exam |  UGCAP CU UG Degree Third Allotment |
| Category |  CU UG Allotment Results |
| Third/3rd allotment Status | Released  |
Calicut University UGCAP Admission 3rd Allotment Result for UG Courses 2020, Altering Choices, Available Colleges, Courses & Important Details
The Third allotment result consists the list of colleges and courses students can get admission. By referring to the Calicut University 3rd allotment list students can get an idea regarding their admissions. After visiting the Calicut First allotment candidates can rearrange their options using 'drag and drop' facility. To alter the choices or to view the allotment list candidates have to log in to the site with their CAP ID and Plus 2 Registration Number.
Students can choose 20 courses as per their interest in CU. However, they also can choose the colleges affiliated to the university. Also, after the third allotment list students can have the possibility to rearrange the options as per their priority.
UGCAP 3rd Allotment Result 2020 are released. Login with CAP ID, Security code From below Links
Check Here: Calicut University Degree Third Allotment Results 2020 (Available Here)
Last Index Mark | Waiting List
Note: Due to High number of users, Website was slowly working. Please wait and check.
Calicut University CAP 2020 Seat Allotment Scheduled Dates to Know
Calicut University Degree Trial Allotment 2020 : 18.09.2020 at 5PM

(Published)

Re-arrangement of Options : 18.09.2020 to 21.09.2020
First Allotment : 24.09.2020
Mandatory Fee Payment to confirm the allotment: 24.09.2020 to 29.09.2020
Second Allotment: 07.10.2020
Mandatory Fee Payment: 07.10.2020 to 15.10.2020
Temporary and Permanent Reporting at the College by all the candidates received allotment up to the Second allotment and uploading:
Forwarding of the Community Quota applied list by the University :
Publication of Sports Quota Rank List by the respective colleges :
Calicut University Third Allotment Allotment Release date : 
CU Seat Allotment 2020 – Category-wise
50% seats are to be filled under Open Quota (on the basis of merit)
20% seats are reserved for Socially and Educationally Backward Classes (SEBC)
10% for Economically Backward among forward communities (EBFC)
15% for SC
5% for ST candidates.
How to Check Calicut University UG Degree Third Allotment Results 2020
Visit CU Official website, cuonline.ac.in and ugcap.uoc.ac.in
Click on CU Degree Third Allotment Results 2020 or Login with details at right side "Centralized Admission Process Login" page.
Enter all the required details such as CAP ID, Plus 2 Register Number etc.
Click on submit button.
The results will appear on the screen.
Check the 3rd allotment results.
Download/ Take a printout for further reference.