Calicut University Admission 2019 Registration Online Application From: Calicut University has started the admission process and released the notification for UG and PG admissions. All the hopefuls seeking to get admission in Calicut University can apply from 13th May to 27th May 2019 (before 5PM) and the last date to pay the fee is 25th May (before 5 pm). The admission process is presently in progress,hence the applicants can hurry up to apply for Calicut University admissions 2019.  The University is going to release the trail allotment results 29th May. And the aspirants can re-arrange the options from 29th May to 31st May. And the first allotment list will be released on 3rd June. Students seeking to get admission in Calicut University can check the details of admission process, eligibility criteria, and other details from this article.
Calicut University Admission 2019 Registration UG & PG Application Form, Eligibility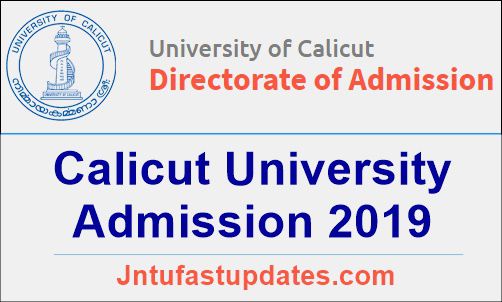 Calicut University is one of the best universities in Kerala. Calicut University offers education for various undergraduate and postgraduate courses. Many of the colleges in Kerala are affiliated to Calicut University. The university was established in 1968 and it is expanding the education sector from then. Calicut University has released the UG and PG results for BA, MA, B.Tech, B.Com, B.Sc, M.Tech, M.Sc, M.Phil, P.Hd, and other courses. Eligible candidates seeking to get admission in Calicut University can apply through the official website, cuonline.ac.in.
Calicut University Admission 2019 Registration Online – Important Details:
| | |
| --- | --- |
| University | Calicut University |
| Affiliation | UGC |
| Programs offered | UG, PG, M.Phil and Ph.D. programs |
| Academic session | 2019-20 |
| Admission procedure | Centralised Admission Procedure (CAP) and Entrance exams |
| Starting Date of Application | 13th May 2019 1 PM Onwards |
| Date of issue of online application | 27th May 2019 (Before 5 PM) |
| State | Kerala |
| Mode of Application | Online |
| Website | uoc.ac.in |
| Directorate of admission (Admission portal) | cuonline.ac.in |
Calicut University UG and PG Admission 2019 – Important Dates:
S.No
ACTIVITY
2019–2020
1.
Registration of CAP 2019
13 .05.2019, 1.00 PM
2.
Last date for payment of registration fee
25.05.2019, 5.00 PM
3.
Closing date of Registration

27.05.2019, 5.00 PM

4.
Trial Allotment
29.05.2019
5.
Re-arrangement of Options
29.05.2019 to 31.05.2019
6.
First Allotment
03.06.2019
7.
Mandatory Fee Payment to confirm the allotment
03.06.2019 to 07.06.2019
8.
Second Allotment
10.06.2019
9.
Mandatory Fee Payment
10.06.2019 to 13.06.2019
10.
Temporary and Permanent Reporting at the College by all the candidates received allotment up to the Second allotment and uploading.
10.06.2019 to 13.06.2019
11.
Forwarding of the Community Quota applied list by the University
15.06.2019
12.
Publication of Sports Quota Rank List by the respective colleges
15.06.2019
13.
Third Allotment
17.06.2019
14.
Mandatory fee payment after Third allotment
17.06.2019 to 21.06.2019
15.
Permanent Reporting and admission at the College by all the candidates received allotment up to the third allotment.
17.06.2019 to 21.06.2019
16.
Uploading of the details of Admitted students
17.06.2019 to 21.06.2019
17.
Publication of Community Quota applied List by the respective colleges
15.06.2019
18.
Admission to Management & Sports Quota
19.06.2019 to 21.06.2019
19.
Reporting for admission to Community Quota
17.06.2019 to 20.06.2019 before 01.00 PM
20.
Preparation of Community quota ranklist by the Aided colleges
20.06.2019, 02.00 PM
21.
Uploading of the Community Rank List by the Aided colleges in the Website
20.06.2019, 02.00 PM
22.
Admission to Community Quota
20.06.2019, 2.00 PM to 21.06.2019
23.
Mandatory Fee Payment by candidates admitted in Management, Community & Sports Quota
19.06.2019 to 21.06.2019
24.
Uploading of the details of Admitted to students Management, Community, Sports Quota and Special quota seats.
19.06.2019 to 21.06.2019
25.
Commencement of UG classes for the academic year 2019-19
24.06.2019
26.
Mode of filling of vacancies if any, arising after third allotment will be announced later.
27.
Reporting of vacant seat SC/ST,BPL position by Govt, Aided and Self Financing Colleges
Will be published later
28.
Registration of SAY Passed candidates
Will be published later
29.
First Special Allotment for SC/ST,BPL Category
Will be published later
30.
Second Special Allotment for SC/ST,BPL Category
Will be published later
31.
Last Date for Admissions
22.08.2019
Calicut University UG, PG Admissions 2019 – Eligibility Criteria
Candidates must have completed their 10+2/Intermediate/Higher Secondary Education to get admission in UG Courses
Educational qualification of Graduate Degree is required to get admission into PG Courses
And PG Degree is needed to get admission in M.Phil and P.HD Courses.
Applicants can check the details from the CU Official website for detailed information about each course.
Calicut University Admission Process 2019
Initially, candidates need to visit the CU official portal, where they can find the application form to apply online.
Applicants must have to fill up the registration form and select their preferred courses and colleges at the time of filing of applications.
The admission will be offered based on the preferences filled by the applicants.
Candidates have to undergo two phases, Fee Payment and Online registration.
Calicut University UGCAP Admission Online Registration 2019 – Apply Here
Registration Process
 I. Online Payment
 (e-Pay –  0494-2407179 or  epay@uoc.ac.in)
II. Online Registration
 (DOA –  0494-2407016,7017 or  cac@uoc.ac.in)
1. Registration
2. Finalisation (Verification print out available before finalisation)
3. Print Out
 Instructions to applicants:
Candidate must read the notification completely before applying online.
Candidate should scan their photograph. Photo resize available after login. Only JPEG files allowed.
Candidate must have a valid personal email id, which should be kept active till the completion of this round of examination process.
Candidate should give a valid phone number and its a personal one. If you don't have a mobile number then give your parent's mobile number.
Fee Payment
Candidates applying for UG and PG Courses will have to pay the requisite application fee through online.
The fee can be paid through "Instant Web Payment System"
Candidates have to give their email id, and phone number.
Candidates can select the mode of payment.
The payment receipt will be generated.
And the CAP ID, Password will be generated and will be sent to the applicant's registered mobile number and email.
Registration
Candidates have to initially visit the CU Online portal, cuonline.ac.in
Now, Click on "UG/PG-UG Entrance / PG Entrance" link.
Candidates have to log in with the Challan No. and password.
Select the entrance exam district/center.
Upload the passport sized photograph in the prescribed format.
Fill up the application form with the requisite information.
Enter the marks.
Select the centre/department / college (if required).
Click on the "final submit" button.
Once after the application process is completed, the admit cards will be available for the applicants. After downloading the admit cards, applicants can take a printout to carry to the examination.
CU UG and PG Application Fee
| | | |
| --- | --- | --- |
| Category | Undergraduate programs (UG) | Postgraduate programs (PG) |
| SC/ST | Rs.105/- | Rs.105/- |
| Others | Rs.265 | Rs.265/- |
The mode of payment of application fee includes the e-payment system (SBI online/ Nodal Offices/ Friends Janasevana Kendram/ Akshaya Centres)
Application fee once remitted will not be refunded.
UG Registration 2019-20 (UGCAP-2019): Started on 13th May 2019
UGCAP-2019 Fee Payment Last Date 25-05-2019
UGCAP-2019 Registration Last Date 27-05-2019
Calicut University Seat Allotment
The university allots admissions in various phases
Trail Allotment
First Allotment.
Second Allotment
Third Allotment
Fourth Allotment
Special Allotment
Calicut University Admissions – Required Documents
Challan/ Receipt of the fees paid.
Admit card/ allotment letter
A printed copy of filled in the application form. For all kinds of admission CAP, a hardcopy of the online application is compulsory to be produced at the time of admission.
All the qualifying certificates
Grade cards/ mark list of the qualifying examination
Certificate of conduct
Transfer certificate (TC) received from the institution last studied
Recognition/ equivalency certificate from the University of Calicut (if necessary)
SSLC
Candidates claiming for any reservation/weightage/bonus need to produce relevant certificates.
To Get Latest Updates Download JFU App
| Results | Time Tables | Notifications |