CGBSE 12th Time Table 2021 PDF Download: Chhattisgarh Board has announced the 12th Exam Date Sheet 2021 on the official website i.e., cgbse.nic.in. Students who enrolled for CGBSE 12th Class exams they will be able to download date sheet/time table 2021 through the official website of board. The board will conduct Higher Secondary exams from 3rd to 24th May 2021. The examinations will be held in a single shift from 9 am to 12.15 pm.
CGBSE 12th Time Table 2021 – Chhattisgarh Board 12th Date Sheet @ cgbse.nic.in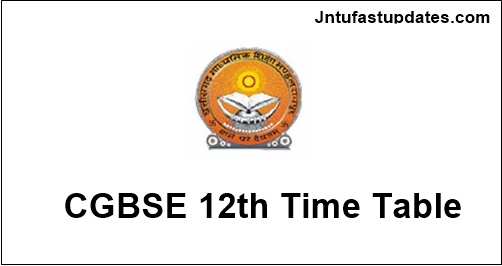 Chhattisgarh 12th class Exam Timetable 2021
Chhattisgarh board of secondary education is the board of school education in the state of Chhattisgarh. It is responsible for development of secondary education in Chhattisgarh. It was established 16 year ago on 11 November, 2000. Head quarter of this board is in Raipur, Chhattisgarh. On 20 September 2001, Chhattisgarh board of secondary education upgraded from Chhattisgarh government school education. The main objective of this board is to conduct higher secondary board, higher secondary school certificate exams, to recognize the high schools and higher secondary school located in the state.
Also Check: CGBSE 10th Time table 2021
Chhattisgarh 12th class Exam 2021 Details
| | |
| --- | --- |
| Name of Board | Chattisgarh Board of School Education |
| Name of Exam | CGBSE Higher Secondary Examinations, 2021 |
| Date of Exam | 3rd May to 24th May 2021 |
| Status | Released |
| Official web site | cgbse.nic.in |
Chhattisgarh 12th class Subjects:
First language-specific: Hindi (001), English (002), Marathi (004), Urdu (005)
Second Language General: Hindi (051), English (052), Sanskrit (053), Marathi (054), Urdu (055), Punjabi (056), Hindi (057), Bengali (058), Gujarati (059), Telugu (060), Tamil (061), Malayalam (062), Kannada (067), Odia (068)
Environment (098)
Economics (140), Biology (231 & 831), Book Keeping and Accountancy (320), Elements of Animal Husbandry and Poultry Farming (430), History of Indian Art (530), Elements of Science (631)
Indian Music (161), Drawing and Designing (162), Dancing (163), Steno-Typing (164), Agriculture (Art-Group) (165), Sociology (166), Psychology (167), Home Science Anatomy Physiology (168)
History (110), Physics (210), Elements of Commerce and Management (310), Elements of Science and Maths for Agricultural (410), Drawing and Painting (510), Food and Nutrition (610)
Geography (120)
Mathematics (150 & 850)
Computer Application (Art and Commercial ) (151)
Commercial Mathematics (169 & 869)
Political Science (130), Chemistry (220), Applied Economic and Commercial Geography (331), Industrial Organization (332), Crop Production and Horticulture (420), Still Life and Designing (520), Physiology and First Aid (620)
Sanskrit (Humanities Group) (171), Sanskrit Specific (First language) (003)
CGBSE 12th Date Sheet/Time table 2021 Download
CGBSE Higher Secondary/Higher Secondary (Vocational) Time table 2021 – Available Now
How to download CG Board 12th Exam Time Table 2021 Online
By following such steps you can get your exam routine after that students prepare as per schedule
First of all visit to official website i.e "www.cgbse.nic.in."
Visit to examination portal
Look for exam date sheet 2021
Click on CGBSE 12th time table 2021
Download the PDF
Print out the hard copy for further use.
Chhattisgarh Board 12th Date sheet 2021 PDF Download
Previous year Chhattisgarh board X and XII exam was conducted in the month of February, so It is expected this year as well. For the basic idea of the year 2021, the exams will start from March and is conducted in the morning session from 9.00 AM to 12.15 PM . Candidates will get duration of 3 hours to complete their whole paper. We will update on this page with subject wise date of 10th and 12th Exam 2021 as and when it is released.
As every year students are awaited for the exams to score for the best results and they initial career begins with the after 12th class examinations. They are several government jobs which is related with the secondary school examination results. last year also many of them secured best results . Many of them choose the higher studies and the remaining are interested in jobs. Get start prepared from today itself to get the best results.
We would like to greet "ALL THE BEST" to you for your bright future. We are very happy for you being here. Thanking you for visiting our site and reading our post. We ensure that we will update our site with more fine points regularly.
When Will be Conducted CGBSE 12th Class Exams 2021?
Exams Starts from 3rd May to 24th May 2021.
IS CG Board 12th Time Table 2021 PDF Released?
Yes, CGBSE Class 12th Time Table Subject wise PDF Released for Download.
Where Can We Download CGBSE 12th Time Table 2021?
Students can Click on Above time table pdf link to download simply or else check official website cgbse.nic.in