GATE 2018 Admit Card Download : The admit cards for GATE (Graduate Aptitude Test for Engineering) 2018 to be released on January 5th. Applicants Need to Download admit/Hall ticket From Gate 2018 official website that is http://appsgate.iitg.ac.in.
Also Check: GATE Results 2018
GATE 2018 Admit Card Download at appsgate.iitrgac.in
Candidates of GATE 2018 are waiting for their Admit cards since long. IITg had declares that the GATE 2018 Admit cards will be available from 5th January 2018 in their official portal. Candidates can get their admit cards from the official website of the department. GATE 2018 examinations will be conducted in the month of February. Exam will be held across India at various pre scheduled examination centres. GATE is a main examination for the selection of the candidates in post graduation courses in various IIT as well as IIS. GATE is also a selection criteria for various government organisations and PSUs etc.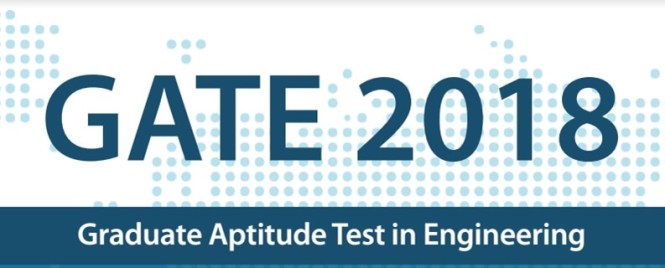 GATE Admit Card/Hall Ticket 2018  Download Name wise
This exam is the key to success for every engineering student those who participate in this exam. Large numbers of students is participating in this examination every year for determining their future. The importance of this examination is very much for every engineering graduate. Students from all over the country will compete in this exam to get the percentile marks. It is an online computer based exam.
GATE Admit Card 2018 Download
Graduate Aptitude Test in Engineering (GATE) exam is conducted every year as a gateway to all the postgraduate courses at Master's and the Doctoral level across country. The Indian Institute of Science and Indian Institutes of Technology such as IITs at Kharagpur, Madras, Bombay, Delhi, Guwahati, Roorkee and Kanpur jointly manage the conduct of GATE exam. Operations that related to the GATE in each of the 8 zones are managed by the zonal GATE office at IITs or IISc. GATE examination will be very tough competition this year. Students should prepare well to get good percentile and organised preparation is very important in order to qualify in the graduate aptitude test in engineering examination.

Click Here To Download Gate 2018 Admit Card (Available From January 5th)
Instructions to the Candidate :
1. This Admit Card must be presented for verification along with at least one original (not photocopy or scanned copy) valid photo identification proof (for example: College ID, Employer ID, Driving License, Passport, PAN card, Voter ID, Aadhaar-UID).
2. This Admit Card is valid only if the candidate's photograph and signature images are legible. To ensure this, please take a clearly legible, preferably colour print-out of this admit card on an A4 sized paper.
3. Candidates must report at the examination venue 60 minutes before scheduled commencement of the examination.
4. Candidates will be permitted to appear for the examination ONLY after their credentials are verified by centre officials.
5. Candidates will be permitted to occupy their allotted seats 35 minutes before the scheduled start of the examination. Candidates can login and start reading the necessary instructions 20 minutes before start of the examination.
6. Candidates are advised to locate the examination centre and its accessibility at least a day before the examination, so that they can reach the centre on time for the examination.
7. NO CANDIDATE WILL BE ALLOWED TO ENTER THE EXAMINATION HALL AFTER 09:30 HOURS IN THE FORENOON SESSION AND AFTER 14:30 HOURS IN THE AFTERNOON SESSION.
8. Candidates will not be permitted to leave the examination hall before the end of the examination.
9. A virtual scientific calculator will be available on computer screen during the examination. Personal calculators, mobile phones or any other electronic devices are not allowed in the examination hall. Candidates should not bring any charts/tables/papers into the examination hall. GATE authorities will not be responsible for safe keep of candidates' personal belongings.
10. Scribble pads will be provided to candidates for rough work. A candidate has to write his/her name and registration number on the scribble pad before he/she starts using it.The scribble pad must be returned to the invigilator at the end of the examination.