Happy World Student's Day 2016 : It was year 2010 when United Nations decided to mark the importance of India's former President and great scientist APJ Abdul Kalam and declared his birthday as 'World Students Day'.
October 15, which is Dr. Kalam's birth anniversary, is celebrated as a day for students all around the world.  Even Dr. Kalam always expressed his wish to be remembered as a teacher by the people.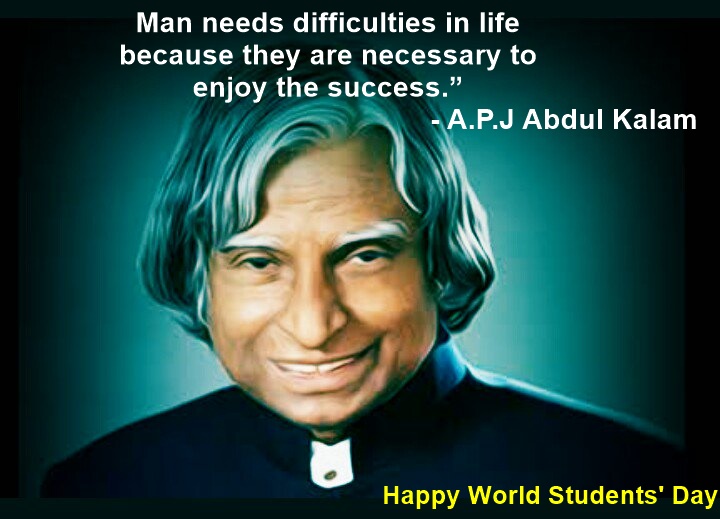 Happy World Student's Day 2016 Images, Quotes, Wishes, Greetings
Happy #86thBirthAnniversary to Our  Hero A. P. J. Abdul Kalam. Born on Oct 15, 1931 Kalam's 79th birthday was recognised as World Students' Day by United Nations. The libran cannot be forgotten RIPKalam.
Happy World Students' Day!
Today we celebrate students around the world and their hard work. They inspire us to keep learning!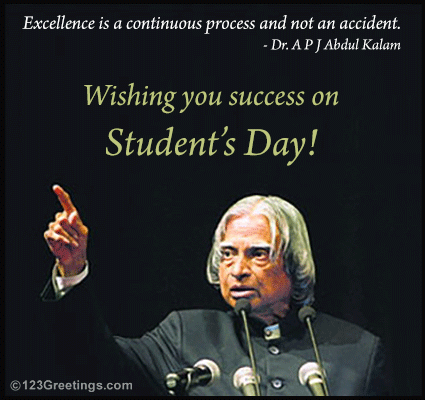 Quotes : 
Failure will never overtake me if my determination to succeed is strong enough.

"Don't take rest after your first victory because if you fail in second, more lips are waiting to say that your first victory was just luck." – A.P.J Abdul Kalam

"If you want to shine like a sun. First burn like a sun." – A.P.J Abdul Kalam
Today birthday of #DrAPJAbdulKalam,will known as 'WORLD STUDENTS DAY'There couldn't be a better way to honour him pic.twitter.com/rrDdWN2u0b

— Rahul Shukla (@rahulshAAP83) October 15, 2016
#HappyWorldStudentsDay to All.

Without your involvement you can't succeed. With your involvement you can't fail.#HappyBirthdayKalam pic.twitter.com/XziPI1A3lD

— JNTUK Fast Updates (@jntukfast) October 15, 2016
There is no limit of age to study new things as a student #HappyWorldStudentsday
There is no limit of age to study new things as a student #HappyWorldStudentsday ☺?

— ? #SPYder ? (@priyaa_official) October 15, 2016
To Get Latest Updates Download JFU App
| Results | Time Tables | Notifications |