HCU Student JAC calls for Universities bandh on 27th January 2016
Hyderabad: The agitation at Hyderabad Central University over the suicide of dalit research scholar Rohith Vemula further escalated on Monday with students rejecting the appointment of Vipin Srivastava as interim Vice-Chancellor and calling for a nationwide university strike on January 27.
Latest News : JNTUK All PG End Semester Exams & UG Mid Examinations Scheduled On 27-01-2016 Are Postponed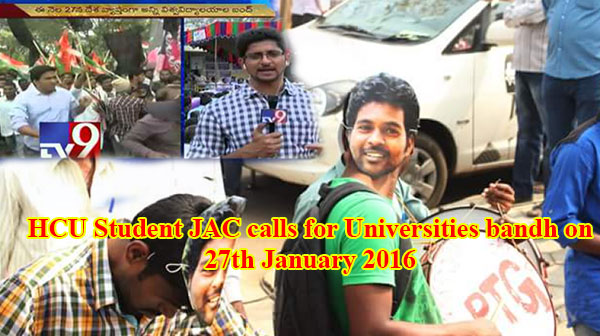 Tensions prevailed on the Hyderabad Central University campus on Monday with hundreds of students from various universities and some social groups coming out in support of the agitating students over the suicide of Dalit research scholar Rohith Vemula. The students' joint action committee (JAC) demanded that the in-charge VC Vipin Srivatsav be removed from the post as he was the one who recommended the suspension of five Dalit scholars including Rohith.
HCU stir: Students' JAC calls for nationwide varsity strike on January 27