IIIT Basara Admissions 2019-20: Rajiv Gandhi University of Knowledge Technologies has released 6 Year Integrated B.Tech Programme admissions notification 2019-20. Eligible candidates can apply online from —-. Last date for receiving online application by RGUKT –, 2019.
IIIT Basara Admissions 2019-20 – Apply Online For 6 Year Integrated B.Tech Programme (UG Admission)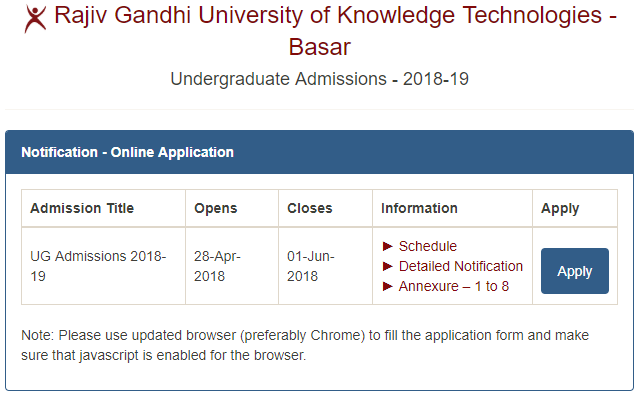 Important Dates:
Issue of Applications (online): —
a) Last date for receiving online application by RGUKT : —
b) Last date for submitting the printout of the on-line application : —
c) Display of Selection List for Counseling : —
d) Counseling dates for Phase-I: —
e) Counseling dates for Special Categories(PH/CAP/NCC/Sports): —
f) Counseling date for Global Category: —
g) Counseling date for Phase-II: —
h) Counseling date for unfilled seat of Global Category: —
i) Commencement of classes for 2018 batch (Orientation) : —-
Note: *Dates are subjected to change without much advance intimation.
Eligibility for Admission:
a) Candidates should have passed SSC (10th class) or any other equivalent examination recognized by the Governments of Telangana State & AP State and conducted in 2019 in first attempt.
b) Candidates should not have completed 18 years of age as on —, (21 years in case of students belonging to SC and ST categories).
c) International students shall be of Indian Nationality / Persons of Indian Origin (PIO)/ Overseas Citizen of India (OCI) Card Holders.
Admission Procedure:
a) Admissions to the first year of Integrated B Tech Program (2019-20) will be based on merit in the Grade Point Average (GPA) and Grade obtained in each subject in 10th class, and by following the statutory reservations of the State. A deprivation score of 0.4 prescribed by the Government for the year 2018-19 under Statute 13 (3) shall be added to the 10th class GPA of those applicants who studied in non-residential Government Schools including the Zilla Parishad and Municipal Schools, with an objective of providing weight age to the socio economically challenged students in the admission process.
b) At RGUKT, Basar, admissions to 85% of the total available seats shall be reserved for the Local Candidates (Osmania University area, Telangana State) and the remaining 15% of the seats shall be un-reserved (these seats will be filled with both States Telangana and Andhra Pradesh students based on merit) as specified in the Presidential Order 371 Article D in consonance to Section 95 of the A.P. Reorganization Act, 2014.
How To Apply:
IIIT Basara UG Admission 2019 Apply here – Link Available Soon
a) The candidates should apply through TSOnline services only.
b) Application Fee: Rs. 200.00 (for OC and BC candidates) Rs. 150.00 (for SC and ST candidates)
c) The application fee should be paid in cash at TSOnline service center, for which the center will issue a receipt.
d) An additional amount of Rs. 25.00 per application should be paid as service charges to the TSOnline Centre
e) If any candidate applies more than once, then the latest application will be considered for the selection process.
f) Immediately after submitting the application through online, the applicant should send its print-out duly signed along with copy of the receipt mentioned in 2(c) above and the relevant certificates to The Director, Rajiv Gandhi University of Knowledge Technologies, Basar, Nirmal District, Telangana State-504107, by Speed Post / Registered Post. The candidates should write on top of the cover 'Application for Admissions 2018 – RGUKT – Basar'.