JAC 10th Time Table 2020: Jharkhand Board 10th Examinations, 2020 Routine has released by JAC. Students can download Jharkhand Board 10th time table/routine from official website, jac.jharkhand.gov.in. As per Programme the Jharkand Academic Council (JAC) will be held the class 10 or annual secondary exams from 11th February to 28th February, 2020.
Candidates who are interested to prepare well in advance for the exams can download the jac class 10 routine from the specified below link. Students who are pursuing under jharkhand academic council board will let you know the details of examinations 2020 from the official website after the announcement.
JAC 10th Time Table 2020 – Jharkhand Board 10th Routine @ jac.jharkhand.gov.in
The State of Jharkhand came into existence on the 15th of November, 2000. An Act to establish the Jharkhand Academic Council was enacted by the Jharkhand State Legislature and assented to by the Governor of the State on 26.12.2003, which was known as Jharkhand Academic Council Act 02.7.2003. The Jharkhand Academic Council was constituted by HRD Department Government of Jharkhand Notification in 2007.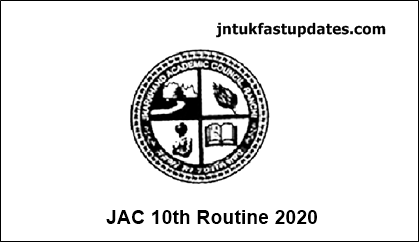 Exam Dates: JAC Class 10 exams will begin with Commerce/Home Science paper on 11th February and end with Sanskrit paper on 28th March. According to the schedule,
Time: The class 10 or secondary exams will be held in the morning shifts (9.45 AM – 1.00 PM).
Jharkhand Board 10th class Time Table 2020
| | |
| --- | --- |
| Name of Examination | Jharkhand Board 10th Examinations 2020 |
| Name of the Board | Jharkhand Academic Council, Ranchi |
| Category | JAC 10th Class Exams 2020 |
| Status | JAC 10th Routine 2020 Released |
| Official website | jac.jharkhand.gov.in |
Also Check: JAC 12th Time table 2020
How to download JAC Board 10th Exam Routine 2020 Online
By following such steps you can get your exam routine after that students prepare as per schedule
First of all visit to official website: jac.jharkhand.gov.in
Visit to examination portal
Look for exam time table 2020
Download the PDF
Print out the hard copy for further use.
Jharkand Authority Council 10th Time Table/Routine 2020
The Students can Download Jharkhand Board 10th Time Table 2020 from the official website: jac.nic.in.
Programme for annual secondary examination, 2020 – Released
Date of Exam
Subject
11th February 2020
Commerce/Home Science
12th February 2020
Urdu/Bengali/Oriya
13th February 2020
Kharia/Khortha/Kurmali/Nagpuri
/Panch Pargania
14th February 2020
Arabic/Persian/Ho/Mundari/
Santhali/Oraon
15th February 2020
Hindi (Course A & Course B)
17th February 2020
Social Science
18th February 2020
Music
20th February 2020
Mathematics
24th February 2020
Science
26th February 2020
English
28th February 2020
Sanskrit
About Jharkhand Authority Council Board of Education:
The Jharkhand Academic Council started functioning in a rented house in Rameshwaram where previously the Jharkhand Intermediate Council functioned, and the Secondary portion continued to function in Zilla School Ranchi campus. The search for suitable accommodation for JAC continued unabated till at last the Council was housed in a portion of the Birsadih Club on rent. The present office was inaugurated by the honorable Chief Minister Sri Arjun Munda on 13.12.2003 under the Chairmanship of the then HRD Minister Sri Pashupati Nath Singh.
We would like to greet "ALL THE BEST" to you for your bright future. We are very happy for you being here. Thanking you for visiting our site and reading our post. We ensure that we will update our site with more fine points regularly. In the last year, there is a exceed number of girls than boys who have attended for the Secondary and Higher Secondary Examinations and they scored best grades in the examinations.