ACADEMIC REGULATIONS R13 FOR M. Tech (REGULAR) DEGREE COURSE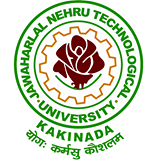 Applicable for the students of M. Tech (Regular) Course from the Academic Year 2013-14 onwards
The M. Tech Degree of Jawaharlal Nehru Technological University Kakinada shall be conferred on candidates who are admitted to the program and who fulfil all the requirements for the award of the Degree.
1.0 ELIGIBILITY FOR ADMISSIONS
Admission to the above program shall be made subject to eligibility, qualification and specialization as prescribed by the University from time to time.
Admissions shall be made on the basis of merit/rank obtained by the candidates at the qualifying Entrance Test conducted by the University or on the basis of any other order of merit as approved by the University, subject to reservations as laid down by the Govt. from time to time.
2.0 AWARD OF M. Tech DEGREE
2.1 A student shall be declared eligible for the award of the M. Tech Degree, if he pursues a course of study in not less than two and not more than four academic years.
2.2 The student shall register for all 80 credits and secure all the 80 credits.
2.3 The minimum instruction days in each semester are 90.
Download Official JNTU Kakinada M.Tech R13 ACADEMIC REGULATIONS Here – click Here