JNTU Kakinada MBA R13 ACADEMIC REGULATIONS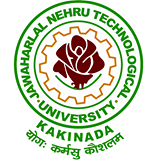 JNTUK ACADEMIC REGULATIONS MBA (Regular) 2013-2014 – Reg
The MBA Degree of the Jawaharlal Nehru Technological University Kakinada shall be conferred on candidates who are admitted to the program and fulfill all the requirements for the award of the Degree:
1.0 ELIGIBILITY FOR ADMISSIONS
Admission to the above programme shall be made subject to the eligibility, qualifications and specialization prescribed by the University from time to time. Admissions shall be made on the basis of merit rank obtained by the qualifying candidate at ICET examination or at an Entrance Test conducted by the university subject to reservations prescribed by the university from time to time.
2.0 AWARD OF MBA DEGREE
2.1 A Student shall be declared eligible for the award of MBA degree, if he pursues a course of study and completes it successfully for not less than two academic years and not more than four academic years.
2.2 A Student, who fails to fulfill all the academic requirements for the award of the degree within FOUR academic years from the year of their admission, shall forfeit his/her seat in MBA course.
3.0 ATTENDANCE
3.1 A candidate shall be deemed to have eligibility to write end semester examinations if he has put in a minimum of 75% of attendance in aggregate of all the subjects.
3.2 Condonation of shortage of attendance up to 10% i.e. 65% and above and below 75% may be given by the College Academic Committee.
3.3 Condonation of shortage attendance shall be granted only on genuine and valid reasons on representation by the candidate with supporting evidence.
3.4 Shortage of attendance below 65% shall in no case be condoned.
3.5 A candidate shall not be promoted to the next semester unless he fulfills the attendance requirements of the previous semester.
Download official JNTU Kakinada MBA R13 ACADEMIC REGULATIONS here – Click Here