JNTUA B.Tech 1-1 Sem Academic Calendar For A.Y 2021-22, jntu anantapur I year I semester academic calendars for academic year 2021-22.
JNTUA B.Tech 1-1 Sem Academic Calendar For A.Y 2021-22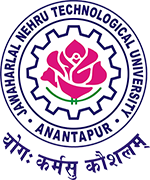 B.Tech I Year – I Semester (2021-2022)
Inducation Program (Zero Semester)
25-11-2021 to 15-12-2021 (3 Weeks)
I Spell of Instructions
18.01.2021 to 04.02.2021 ( 7 Weeks)
I Mid Examinations
02-02-2022 to 05-02-2022 ( 4 Days)
II Spell of Instructions
07-02-2022 to 07-04-2022 ( 9 Weeks)
Issue of Examination Notification
21-03-2022 (Monday)
Finalization & submission of attendance to University (considering presumptive attendance for a period of one week)
01-04-2022 (Friday)
(presumptive week from 02-04-2022 to
07-04-2022)
II Mid Examinations
08-04-2022 to 12-04-2022 (4 Days)
Preparation and Practical Exams
16-04-2022 to 20-04-2022 ( 5 Days)
End Examinations
21-04-2022 to 30-04-2022 (10 Days)
Note:
i. The Mid-term Examinations Should be conducted and completed as per the Schedule
ii. All the midterm examinations shall be of both objective and descriptive type as per the academic regulations.
iii. For slippage of working days due to any unavoidable reasons, compensation can be made by conducting class work on second Saturdays, Sundays and other holidays, except on National Holidays and important festivals.
Download the Official Notification Here – Click Here