JNTU Kakinada Conduct of objective type online exams for R13 batch (From 2013-14 Batch)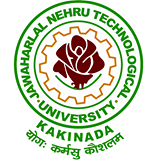 As per 'R13' academic regulations (for the students admitted from 2013-14 onwards) the distribution of internal and external marks in respect of theory subjects is 30 marks and 70 marks respectively. The total internal marks (30) are distributed in three components as follows:
1. Descriptive (subjective type) examination : 15 marks
2. Assignment : 05 marks
3. Objective type examination (multiple choice) : 10 marks
Last academic year i.e 2013-14, for R13 batch admitted students, the third component i.e objective type examination is conducted at the college level for duration of 20 minutes with 20 multiple choice objective type questions with a weightage of ½ mark each.
From this academic year (2014-15), it is decided to conduct the objective type examination online from the University end with same weightage and duration.
Hence, the Principals of affiliated and constituent colleges are hereby informed to conduct the objective type examination online from academic year 2014-15 onwards for all the students admitted in R13 regulations. They are further informed to stick to the examination schedules notified by the University.