JNTUK Prathibha Awards 2018 Selected Candidates List (2017-18 Passed out students)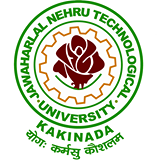 Sub: – JNTUK — DAP —Prathibha Awards — 2018 (2017-18 passed out students) for selected candidates of Constitute / Affiliated / Autonomous Colleges of the University — Reg.
I am by direction, wish to inform that the Department of Collegiate Education, Andhra Pradesh has sent the students list of "Prathibha Awards — 2018" together with Medal/Certificate/DD for the eligible students of the Constituent/Affiliated/Autonomous Colleges for the A.Y. 2017-18.
In this connection, the Principals of the concerned colleges are requested to inform the students, as per the lists enclosed, to collect the above on 26.06.2019 (Saturday) at 11.00 AM at the Senate Hall, JNTUK, Kakinada.
The Principals are further requested to inform the students to bring the Declaration form attested by the College Principals along with ID proof for collection of "Medal/Certificate/DD". The same declaration forms have to be submitted to Depattment of Collegiate Education.
List of selected candidates in Prathibha Awards-2018 (2017-18 passed out students) at constitute/Affiliated/Autonomous colleges of the University – for further details click here