JNTUK Syllabus: JNTU Kakinada syllabus R16, R13 Regulations. Download the R16 regulation b.tech syllabus books, r13 regulation syllabus books, m.tech, mca, mba, b.pharmacy, m.pharmacy syllabus books pdf.
JNTUK Syllabus Books – JNTU Kakinada Syllabus For B.Tech, MBA, MCA, M.Tech, B.Pharmacy, M.Pharmacy
Here we are providing JNTU kakinada B.Tech, B.Pharmacy, MBA, MCA, M.Tech, M.Pharmacy syllabus books In Single page For R16, R13, R10 Regulation Students. You can simply download the respective syllabus books from below links. If you have any queries or any link not working, feel free to add your comments below.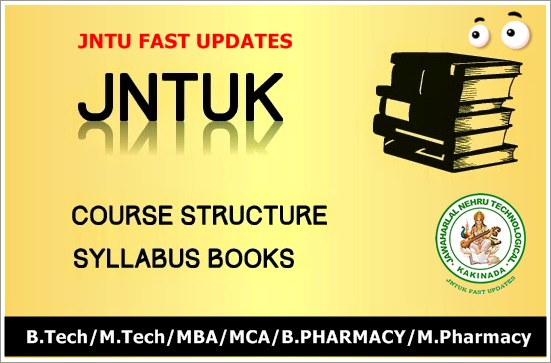 Syllabus Books for Aeronautical Engineering (AE), Civil Engineering (CE), Computer Science & Engineering (CSE), Computer Science & Systems Engineering (CSS), Electronics & Control Engineering, Electronics and Communications Engineering (ECE), Electronics and Computer Engineering, Electronics and Instrumentation Engineering, Information Technology (IT), Mechanical Engineering (MECH), Mechanical Engineering (Mechatronics), Bachelor of Pharmacy, Pharma D, Master of Business Administration (MBA), Master of Computer Applications(MCA), M.Tech, M.Pharmacy and other Courses/Branches.
JNTUK B.Tech Syllabus Books (R16, R13 Regulations)
Download the JNTUK B.Tech R10 Regulation Syllabus Books Here: Click Here
JNTUK MBA Syllabus Books (R16, R13 Regulations)
JNTUK MCA Syllabus Books (R16, R13 Regulations)
JNTUK M.Tech Syllabus Books (R16, R13 Regulations)
JNTUK M.Pharmacy Syllabus Books (R16, R13 Regulations)