Karnataka II PUC Time Table 2018: The Department of Pre-University Education (PUE) has conducts Karnataka II PUC (12th Class) Examination March 2018 in overall state. Those students who are studying 2nd PUC in Karnataka Board are informed that exams might start from month of march, you can download the Exam Date Sheet (Time table) through its official website i.e., www.pue.kar.nic.in.
The Class X (SSLC) exams will be held between March 23, 2018, and April 4, according to the provisional timetable released by the Karnataka secondary education and examinations board (KSEEB) on Thursday. While the pre-university (PU) exams will commence on March 1, 2018, and conclude on March 16.
Karnataka II PUC Time Table 2018 – Time Table of II PUC Annual Examinations (Pre-University Examination Board)
Karnataka higher secondary Board will be released the notification of 2nd PUC Time Table for session 2017-18. The private and regular students can check and download Karnataka 2nd PUC Time Table 2018 all stream such as Art, commerce and science from official website. PUC will conduct examinations of Biology, Electronics, History, Geography, Mathematics, Political Science, Basic Maths, Economics, Geology, Psychology, Physics, Logic, Education, Optional Kannada, Statistics, Home Sciences, Business Studies, Chemistry, Marathi, Urdu, Sanskrit, French, Hindi, Telugu, Sociology, Accountancy, English, Kannada, Tamil, Malayalam and Arabic.
The examination would be held from March 2018 in two sessions, Morning session from 9 A.M to 12.15 P.M and Afternoon Session 2 P.M to 5.15 P.M.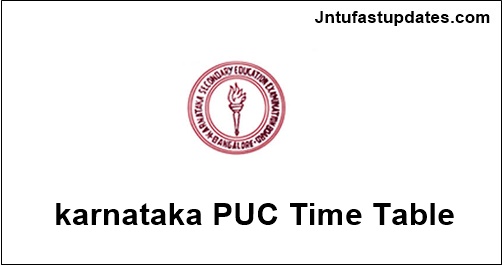 Karnataka Board 2nd PUC Time Table 2018 Download
The department offers courses under Humanities (Arts), Science & Commerce streams. There are 23 subjects, 11 languages and 50 combinations in the Pre-University curriculum. As every year students are awaited for the exams to score for the good marks as they initial career begins with the plus 2 examinations. They are several government jobs which is related with different sectors. last year also many of them secured best results . Many of them choose the higher studies and the remaining are interested in jobs.
Also Check: karnataka Board SSLC Time Table 2018
Time Table of II PUC Examinations March 2018
The board provides the exam syllabus, text books to the students studying in affiliated schools. Karanataka SSLC Examination will be held in March 2018. The Official Exam Date Sheet will be release one month before the Exam. Get start prepared from today itself to get the best results. It conducts the both sslc and 2nd PUC exams similarly.
Students who are attended Karnataka 2 PUC final exam soon released the II exam Students are advised to plan their study in such a way that they will crack examination in the most efficient way Students are advised to plan their study in such a way that they will crack examination in the most efficient way.  Students need Karnataka 2nd PUC Time Table 2018 for the study plan.
Karnataka Tentative Time Table for II PUC Annual Examination 2018 March
The final timetables will be published after considering the suggestions and objections from the public which have to be filed on or before November 24, 2017. For more details, students can log on to www.pue.kar.nic.in (PU).
Steps to check Karnataka 2nd PUC Date Sheet/Time Table March 2018
 Go to the Official website is : "http/pue.kar.nic.in"
 Then Click on Examination tab
 After that select "II PUC Time Table 2018″ link.
enjoy the timetable ans save it for further use.
About Karnataka PUE Board:
The Department of Pre-University, Government of Karnataka is the organisation for implementation of higher secondary education in the state. It functions under the Department of primary and secondary education. It has 1,202 government pre-university colleges, 637 aided pre-university colleges, 1,936 unaided pre-university colleges, 165 bifurcated pre-university colleges and 13 corporation pre-university colleges.
Primary and Secondary Education Minister Tanveer Sait said"We are discussing conducting the exams for both the classes together. This will not just save time, it will also help reduce malpractice cases," Sait said.
Conducting exams without errors is a challenge before the department every year. Among the other issues haunting the department are question paper leaks, malpractice cases and mass copying. To this the minister said that holding both the exams simultaneously will resolve 90 per cent of these issues. "The number of room invigilators we need will be reduced. Besides, we can also use the same transportation for both the exams," he said.