Kerala Plus Two Time Table 2022 Download Subject Wise – Directorate of Kerala Education Board (DHSE) has released Kerala Plus Two (+2) Second Year Examination 2022 Date Sheet. Students can download DHSE kerala Time Table 2022 on the official website i.e., dhsekerala.gov.in.
Kerala Plus Two Time Table 2022 – DHSE Kerala Time Table Download @ dhsekerala.gov.in
Candidates who have registered for the Higher Secondary Examination March/April, 2022 they can download HSE Time table from official website. The Kerala Higher Secondary Education board has released the Kerala HSE time table 2022 in december. After the official announcement, the students can download their DHSE Kerala Plus Two (+2) time table from the official site dhsekerala.gov.in. Based on the Kerala Board HSE time table 2022, the students have to appear in the exam without any fail.
Kerala DHSE class 11 and Class 12 examinations will begin on 30th March and the exams will be concluded on 22nd April, 2022. The students can know whether they should be presented in the morning session or afternoon session in the exam. The exam timing will be 10.00 AM to 12.45 PM (For Subjects without Practical's) & 10.00 AM to 12.15 PM.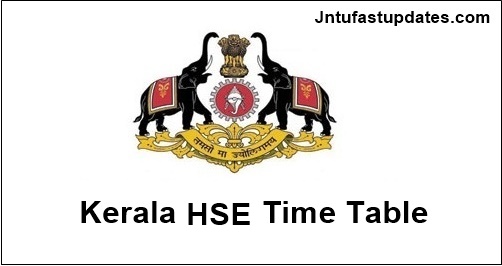 Kerala Board Plus Two (+2)/HSE Time Table/Date Sheet 2022
The students can know their exam dates from the exam time table. Name of the exam board, Name of the exam, name of the subject, date of the exam and session of the exam will be given in the Kerala HSE Plus One and two time table 2022. All the candidates who will appear for the exam can download the DHSE Kerala time table 2022 from here as soon as published by the board.
Moreover, approximately lakhs candidates will take the examination this year. Last year, The Kerala DHSE had released the Kerala Plus Two (Class 12th results) on may. Out of the 3.69 lakh who appeared for the exam, a total of 3.09 lakh became eligible for higher studies. The pass percentage for the Plus Two exam stood to 83.75 percent.
Also Check: Kerala SSLC Time Table 2022
THE BOARD OF HIGHER SECONDARY EXAMINATIONS, KERALA SHALL CONDUCT THE FOLLOWING EXAMINATIONS IN 2022
I. Second Year Higher Secondary Examination, March/April 2022
II. First Year Higher Secondary Examination, March/April 2022
Kerala HSE/DHSE Time Table 2022 With Subject Names
The private and regular students can check and download time tables of Kerala HSE 1st and 2nd year all stream such as Art, commerce and science from official website. HSE will conduct examinations of Biology, Electronics, History, Geography, Mathematics, Political Science, Basic Maths, Economics, Geology, Psychology, Physics, Logic, Education, Optional Kannada, Statistics, Home Sciences, Business Studies, Chemistry, Marathi, Urdu, Sanskrit, French, Hindi, Telugu, Sociology, Accountancy, English, Malayalam and Arabic.
| | | |
| --- | --- | --- |
| Exam Name / Class | Start Date | End Date |
| SSLC / Class 10 | 31st March, 2022 | 29th, April, 2022 |
| HSLC / Class 12 | 30th March, 2022 | 22nd April, 2022 |
| VHSE / Class 12 Vocational | | |
As per local media reports from Kerala, the Secondary School Leaving Certificate (SSLC) Board Exam for 2022 will commence from 31st March and continue until 29th April, 2022 when the final exam paper will be held. Similarly, the Higher Secondary School Leaving Certificate (HSLC) Board Exam for 2022 will also be held from 30th March to 22nd April, 2022. The Vocational Exam for Class 12 students i.e. VHSE Exam will start from April.
TIME TABLE FOR THE HIGHER SECONDARY EXAMINATION MARCH/APRIL 2022 – Available Now
TIME OF EXAMINATION
Subjects without Practicals: 9.40 A.M TO 12.30 P.M [IST] including Cool Off Time of 20 minutes
Subjects with Practicals except Biology & Music: 9.40A.M TO 12.00 P.M [IST] including Cool Off Time (20minutes)
Biology: 9.40 A.M TO 12.10 P.M [IST] including Cool Off Time (25 minutes ie., 10 minutes each for Botany & Zoology and 5 minutes preparatory time for Zoology)
Music: 9.40 A.M TO 11.30 A.M [IST] including Cool Off Time (20 minutes)
NB: The Practical Evaluation will be conducted and date will be published later
How to Download Kerala Plus Two (+2) Time Table 2022 PDF Online?
Follow the mentioned procedure to download Kerala HSE Time Table 2022:
Go to official website "www.dhsekerala.gov.in".
A new page will appear on the screen.
Then, click on "HSE Date Sheet" link.
It will be displayed on the computer screen in a pdf format.
Download the time table.
Take a print out of the date sheet and save it for further use.
REVALUATION/SCRUTINY AND PHOTOCOPY OF ANSWER SCRIPTS
The Directorate of Higher Secondary Education provides the candidates the opportunity to get their answer scripts re-valued and scrutinized for those papers without double valuation. Photocopies of the valued answer scripts are also issued on request. This facility is available for all the examinations conducted by the Directorate.
About DHSE Board:
The board was established in 1990. The Kerala Board formed under the State Government of India. The Board is also responsible for providing leading education to the student of Kerala. Every year, the board organizes SSLC and HSE board Examination. The Kerala Board controls the whole system of education in affiliated school in the State of Kerala
The Directorate is envisaged as a central agency of the state government seeking to promote all round development in higher secondary education by establishing appropriate philosophies, adequate institutional network, effective administrative systems and well-qualified and motivated staff necessary to carryout academic and administrative responsibilities.Kerala Plus Two Exam Time Table 2022 released by the Kerala Board of Higher Secondary Education (KBHSE).
We would like to greet "ALL THE BEST" to you for your bright future. We are very happy for you for being here. Thanking you for visiting our site and reading our post. We ensure that we will update our site with more fine points regularly
what is Kerala Plus Two Exam Dates 2022?
As per Media Reports, Tentatively Exams Scheduled from 30th March to 22nd April, 2022.
How can we download DHSE Kerala Plus two time table 2022 PDF?
Download the official time table pdf link from the above post.
How can we check Exam Centers of Kerala Plus Two Exams 2022?
Exam center names and subject wise schedule will be printed on Hall ticket.