Odisha HSC Time Table 2019: The The Board of Secondary Education (BSE) Odisha has announced on Monday that the state's class 10 High School Certificate (HSC) examinations will be held from February 22nd and will conclude on march 8th 2019. Students can check BSE Odisha Class 10 Exam Schedule at bseodisha.ac.in. The practical examinations of Class 10 students will be held between February 11 and February 16, 2019.
The announcement regarding to BSE Odisha 10th Class Exam Schedule was made from the Cuttack office of BSE Odisha. The Odisha HSC Exam Date Sheet 2019 will also be available on the official website of the board i.e. " bseodisha.ac.in". Matriculation examinations will kick off in the odisha state from February 22nd and it will conclude by March 8. This announcement gave a huge relief for lakhs of students across the state.
Also Check: Odisha HSC Result 2019
Odisha HSC Time Table 2019 – BSE Odisha Class 10th Date Sheet/ Matric Exam Schedule
Odisha Matric Time Table 2019: The annual High School Certificate (HSC) examinations 2019 will begin from February 22, she said, adding the exams will carry on until March 8, 2019 for regular students. The Board has also recently released instructions for filling the application forms for HSC class 10 board examinations 2019. These can be found on the official website and can be filled online.
Also Check : Odisha CHSE Time table 2019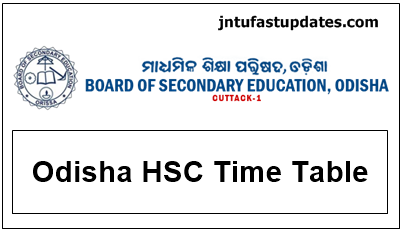 Odisha HSC Examination Subjects:
First Language: FLO, FLB, FLH, FLU, FLT, FLE (Alt. English)
Second Language: SLE (English), SLH (Hindi), SEP Env. & Population Edn. (Only for Hearing Impaired Candidates)
Third Language: TLH, TLS, TLO, TLP, TLV (Theory)- Time 01 hour Visual Art (Theory) Only for Hearing Impaired Candidates
TLV (Practical) – Time 2 hours Visual Art (Practical)
Mathematics (MTH )
Science (GSC)
Social Science (SSC)
Odisha Board of Examinations: The Board of Secondary Education, Odisha is a Body Corporate constituted under the Odisha Secondary Education Act, 1953. It regulates, controls and develops Secondary Education in the State of Odisha. It Provides varied courses in order to qualify students for different occupations, to prepare them for University education and to equip them for various cultural purposes.
How to Download Odisha Board HSC Time Table 2019
Visit the official website: "bseodisha.ac.in".
On home page search for HSC Exam Schedule 2018.
Click on this link, a PDF File will open in new window.
Download it or take a print out for further use.
Download Odisha Board HSC Time Table 2019 PDF – Available Soon
BSE Odisha Class 10 Annual Exam Schedule 2019
The Board shall conduct the High School Certificate Examination twice a year. The first examination shall be called the Annual Examination and the Second Examination shall be called the Supplementary Examination 'Provided that the Board may conduct more than one such Annual and Supplementary Examinations if so directed by the State Government'
The High School Certificate Examination shall be open to the following categories of candidates.
Regular candidates, that is candidates who have satisfactorily prosecuted a regular course of study in classes 9 and 10 at one or more High Schools recognized by the Board and who have been duly sent up for the Examination by the head of the institution last attended.
candidates will have to attend 120 periods of the socially useful productive work program in the test centre for the High School Certificate Examination 1983 onwards, a sum of Rs. 20/- only will be collected from each student by test centre concerned.
Ex-regular candidates, that is, candidates who have prosecuted a regular course of study in one or more recognized High Schools in classes 9 and 10 and who were admitted to an examination of a previous year but could not appear or having appeared failed at the examination. (This provision will be applicable in case of candidates appearing in 1984 and onwards).
As every year students are awaited for the exams to score for the good marks as they initial career begins with the SSC examinations. They are several government jobs which is related with the secondary school examination results. last year also many of them secured best results . Many of them choose the higher studies and the remaining are interested in jobs. Get start prepared from today itself to get the best results.
We would like to greet "ALL THE BEST" to you for your bright future. We are very happy for you  being here. Thanking you for visiting our site and reading our post. We ensure that we will update our site with more fine points regularly.