OU Degree Time Table 2020 Sept: Osmania University Degree time tables for 6th Semesters BA, B.Com, B.SC, BBA examinations September 2020 released at osmania.ac.in. Students Can Download their OU Degree 6th sem time table for Regular/Backlog Examinations from below links. Candidates getting their Graduate Degree under Osmania University can check the OU Degree exam dates 2020 from the OU official website, osmania.ac.in.
OU Degree Time Table Sept 2020 6th Sem (BA, B.Com, B.SC, BBA)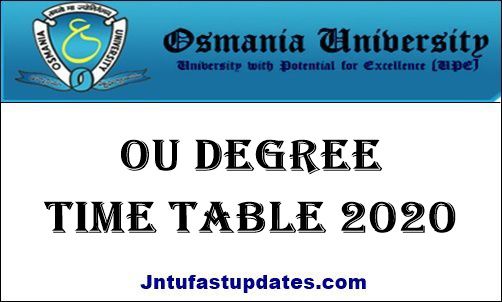 Osmania University is one of the best universities of Telangana state. It offers various UG and PG programmes for the students. Osmania University offers various educational programs for aspirants. It also monitors the education system and maintains the quality education for its understudies. OU follows semester system to conduct examinations. It annually conducts the examinations in May/June months and December/January months. Usually, the even semester examinations will be held in May/June months and the odd semester examinations will be held on December/January months. Students presently obtaining the education under the OU can check the latest updates regarding the time tables, results, and other details from the OU official website, osmania.ac.in.
OU Degree Time Tables May/June 2020 – Important Details
University Name
Osmania University (OU)
Offered Courses
Under Graduate, Post Graduate, PG Diploma, PhD and Certificate programmes
Category
OU Degree Time Tables Sept 2020
Status

Releas

ed
Official Website
osmania.ac.in
Osmania University Degree BA, B.Com, B.SC, BBA Time Table 2020
The OU UG 6th Semesters time table 2020 is released for various courses BA, B.Com, B.Sc, B.Tech, and others. Hence students pursuing in various Undergraduate degree courses can check the date sheet for Nov/Dec examinations and prepare well for the upcoming examinations. Candidates who are going to attend the OU Degree 6th sem examinations in the month of September will have to pay the examination fee before the last date. The OU examination fee details and date sheet details were clearly mentioned for the knowledge of aspirants.
The Following Examination Time Tables are Released:
B.A/ BBA/ BSW/ B.Com/ B.Sc (CBCS) VI SEMESTER (REGULAR) EXAMINATION, September 2020
OU UG 6th Sem Time Tables 2020 Download
Aspirants who are presently undergoing the graduate degree in Osmania University can check the UG BA, B.Com, B.SC, BBA date sheet of September 2020 examinations. The OU Degree 6th semesters exam time table 2020 is presently accessible on the Osmania University official portal, osmania.ac.in. By visiting this page aspirants can check the examination dates, examination timings and can also take a printout of the time table for further reference.
Download OU Degree Time Table 2020 BA, B.Com, B.SC
All the students who are undergoing the even semester classes in BA, B.Com, B.Sc, and other courses can download the OU Degree Date sheet 2020 for September exams from its official portal, osmania.ac.in. Soon, the university is expected to roll out the date sheet for all general and vocational courses. The timings, exam dates can be checked from the OU Degree Time Table 2020.
OU UG VI Semester Main and Backlog & B.A/B.Com and BBA(CDE) III Year Examinations Time Table – September/October 2020
OU Degree 6th Sem Time Table 2020 – Released
Steps to Download OU UG Time Table 2020
Initially, visit to the official web portal of OU, osmania.ac.in
On the homepage, the examination schedule links will be displayed.
Select the course, semester and download the corresponding time table.
Download & Save
Take a printout for further reference.
NOTE: 1. Any Omission or clash may be intimated to The Controller of Examinations, O.U.
2. The Candidates whose forms are rejected by the Examination Branch will not be examined. If any Candidate is found not eligible at a later stage his/her registration will be cancelled for this Examination.
3. The Candidates must write the Examination in allotted centers only. The College Principals / Chief Superintendents should not allow other center candidates under any circumstances.
4. Cell Phones & Programmable Calculators are strictly not allowed into the Examination Hall.
5. The Candidates responsible for obtaining correct question paper as per Hall Ticket from the Invigilator at the Examinations. Answering a wrong Question paper may leads to Cancellation of Results.
OU Degree 1st Sem Time Table Nov/Dec 2019
OU Degree 3rd Sem Time Table Nov/Dec 2019
OU Degree 5th Sem Time Table Nov/Dec 2019
UG (BA/BBA/BSW/B.COM/B.SC) I, III & V Semester (Regular) Examiantions, November/December-2019
Final Time Table of UG (BA/BBA/BSW/B.Com B.Sc & CDE) Yearwise Backlog Examinations October/November-2019
MBA (CBCS) III Semester (Regular) Examinations, Dec-2019
B.E (AICTE, CBCS & NON-CBCS) Examinations, December
BHM&CT & BCT&CA (CBCS) & (NON-CBCS) I-Semester (Main & Backlog) Examinations, November/December
B.E, BHM & CT & BCT & CA, PGDCA 2nd Sem, M. E., JUNIOR / SENIOR DIPLOMA IN FRENCH/ GERMAN EXAMINATION Time Table