Assam HSLC Routine 2020: Board of Secondary Education, Assam (SEBA) has announced High School Leaving Certificate/Assam High Madrassa Examination Routine and the exam to be held from 10th February to 29th February, 2020. These examinations of HSLC and AHM are conducts by the Secondary Education Board of Assam (SEBA) and begin to build up the secondary education in the Assam. Students who enrolled for SEBA 10th class they will be able to download HSLC exam schedule 2020 through the official website of board at http://sebaonline.org.
Assam HSLC Routine 2020 – SEBA 10th Class Routine Download @ sebaonline.org
The Board has announced that practical exams will be held on January 21 & 22 for all those who would be appearing for board exams. Likewise last year, the exams will kick off with English as the first paper to be held on February 10, 2020. Except for Fine Art, and NSQF papers, all other papers will be held in the morning session which will start at 9:00 am and conclude at 12:00 pm. The exam for Fine Art, and NSQF papers are scheduled in the afternoon session which starts at 1:30 pm and ends at 4:30 pm.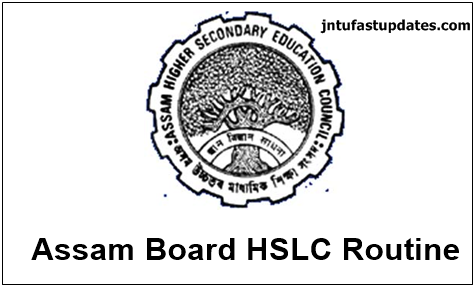 SEBA Programme for HSLC/AHM Examination, 2020
Assam board is a sate level education board and well known as SEBA. Assam board every year conducts 10th and 12th examination in February – March month at various examination centers. The head quarter if Assam board is located at Bamunimaidam, Guwahati, Assam.  SEBA was established in 1961. Now students of Assam board want to utilize their valuable time to get good marks in annual board examination. Students want to plan their study wish to appear in assam 10th board can download their time table by following given below steps. SEBA is responsible for publishing the ssc routine 2018.
Also Check: Assam Board HS Routine 2020
Assam Board 10th Exam Routine 2020 – Details
| | |
| --- | --- |
| Name of the Board | Assam State Board of Secondary Examination (SEBA) |
| Official Website | sebaonline.org |
| Name of the Examinations | HSLC (10th) Class Exams 2020 |
| Date of Exam | 10th February to 29th February, 2020 |
| Status | Available Now |
Download Assam Board HSLC Routine/Time Table 2020
Assam Higher Secondary Education Council has established in the year 1984, which is also known as AHSEC, This board was founded to regulate higher secondary education and high school (10th and 12th) in the state under the jurisdiction of Assam State Government. AHSEC, Assam will release the Assam State Board Exam Time Table 2018 at the official website of Assam Board. It is supervising the system of  1st Year and 2nd Year education across the state. Millions of students appear in this exam each year, who are pursuing the education of 10th and 12th class from any Assam board tied up school.
As every year students are awaited for the exams to score for the good marks as they initial career begins with the SSC examinations. They are several government jobs which is related with the secondary school examination results. last year also many of them secured best results . Many of them choose the higher studies and the remaining are interested in jobs. Get start prepared from today itself to get the best results.
Download Assam HSLC/ AHM Routine 2020 PDF – Available Now
Students due to appear in Assam board 10th exam can check the detailed exam schedule below:
February 10, 2020 – English
February 11, 2020 – Music (E), Dance (E), Garment Designing (E)
February 12, 2020 – Manipuri (E), Bodo (E), Santhali (E), Bengali (E)
February 13, 2020 – Advanced Mathematics (E), Sanskrit (E), Geography (E), History (E), Home Science (E), Nepali (E), Computer Science (E), Arabic (E), Persian (E)
February 14, 2020 – Hindi (E), Arabic Literature
February 15, 2020 – Assamese (E)
February 17, 2020 – Social Science
February 20, 2020 – Fish & Aquaid, Weaving & Textile Design (E)
February 22, 2020 – General Science
February 25, 2020 – General Mathematics
February 28, 2020 – MIL / English (IL)
February 29, 2020 – Wood Craft (E), Retail Trade NSQF (E), IT/ITeS NSQF (E), Private Security NSQF (E), Health Care NSQF (E), Agriculture & Horticulture NSQF (E), Tourism & Hospitality NSQF (E)
The practical examinations would be held on January 21 and January 22, 2020. Candidates appearing in the exam will be given additional 5 minutes at the start of the exam in both sessions to read the question paper.
Steps to download Assam HSLC Routine/Date Sheet 2020
Visit Assam board official online web portal at sebaonline.org
Find out Assam HSLC Routine 2020 link
Click on date sheet link
Download and save date sheet 2020 PDF file
If required take a print out of exam routine for further references.
 Assam Board HSLC/AHM Time table/Routine 2020 PDF Download
Previous year Assam board X and XII exam was conducted in the month of February so It is expected this year as well. The exams will start from 10 February 2020 and is conducted in two sessions. The morning session will continue from 9.00 AM to 12.00 PM and second session will begin from 1.30 PM and commence at 4.30. PM. Candidates will get duration of 3 hours to complete their whole paper. We will update on this page with subject wise date of 10th and 12th Exam 2020 as and when it is released.
We would like to greet "ALL THE BEST" to you for your bright future. We are very happy for you  being here. Thanking you for visiting our site and reading our post. We ensure that we will update our site with more fine points regularly.