Tamil Nadu SSLC Time Table 2019: TN Board has released the SSLC Public Exam Time Table March 2019. Students can able to download their tn board 10th class/SSLC examination time tables 2019 from official website dge.tn.gov.in.
TN SSLC Time Table 2019 Released – Download Tamil Nadu 10th Time Table PDF @ dge.tn.gov.in
The Tamil Nadu Board exams will commence from 14th March 2019 to 29th March 2019 for students of Standard X, and the results will be announced in 29th April, studying in schools affiliated to the state board. Candidates enrolled in Class 10th, 11th and 12th of the Tamil Nadu Education Board can follow the instructions below and download the official notification to see the Board Examination March 2019 Schedule and other details pertaining to the same:
The Directorate of Government Examinations conduct SSLC Public Examination three times in a academic year, as in March/April, Instant Special Supplementary Examinations in June/July and Supplementary Examinations in September/October Sessions. Examination will be conducted by the Directorate of Government Examinations as per Time-Table scheduled by the Director.
Also Check: Tamil Nadu HSC Time Table 2019
Tamil nadu government has to conduct the exams of both class x and class XI/XII at once. so, the decision to announce the results and exam schedule has been taken so by the teachers. They can plan the curriculum and the schedule for the entire year. Some section people feel that this schedule would put immense pressure on the teachers to complete the syllabus with in the period.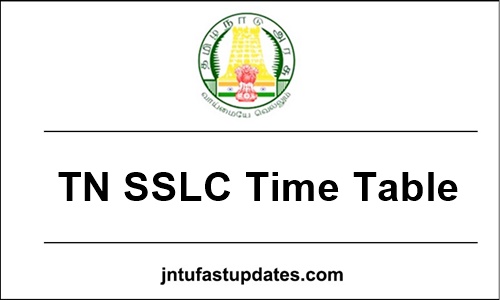 Tamil nadu SSLC Exam Procedure:
The Department of Government Examinations is conducting SSLC Examination for the following subjects on the dates fixed by the Director of Government Examination. Duration of each examination is 2 1/2 Hours.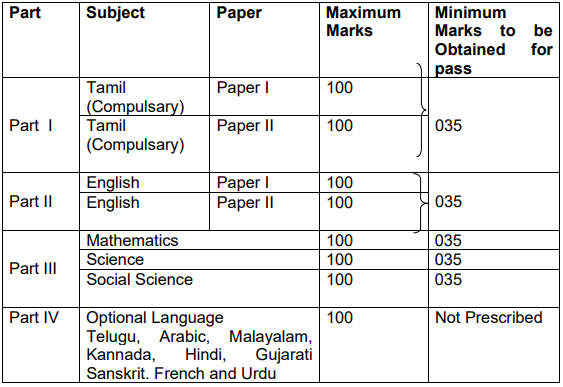 The Directorate of Government Examinations have introduced the online system from March 2012 session for the purposes of online application registration for private candidates through service centres and regular candidates by school Headmasters, Retotalling, Downloading of Hall Tickets, Result Releasing and Downloading of Provisional Mark Certificates.
Award of Certificate Minimum for a pass: Must secure a minimum of 35 marks out of 100 in each subject. For the "Science subject consisting of theory and practical Examination, minimum mark for a pass is 20 marks out of 75 in Theory and 15 marks out of 25 in Practical. This includes passing under the compartmental system also.
Tamil Nadu SSLC Public Exam Time Table March 2019
All the students are requested to download their SSLC exam time table for March 2019 and start your preparation towards the annual exam. The TN 10th exam dates are clearly displayed in the pdf document which you can download and take print out from official website.
Tamil Nadu SSLC Exam Time Table Date Wise:
DATE/SESSION
DAY
SUBJECT
14.03.2019
A.N.
THURSDAY
LANGUAGE PAPER  I
18.03.2019
A.N.
MONDAY
LANGUAGE  PAPER II
20.03.2019
A.N.
WEDNESDAY
ENGLISH PAPER  I
22.03.2019
A.N.
FRIDAY
ENGLISH PAPER II
23.03.2019
F.N.
SATURDAY
OPTIONAL LANGUAGE
25.03.2019
F.N.
MONDAY
MATHEMATICS
27.03.2019
F.N.
WEDNESDAY
SCIENCE
29.03.2019
F.N.
FRIDAY
SOCIAL SCIENCE
Duration of Examination: 2 1/2 Hours
Examinations commence at 10.00 a.m. and ends at 12.45 p.m.
10.00 a.m. to 10.10 a.m. Reading the question paper
10.10 a.m. to 10.15 a.m. Verification of particulars by the candidates
10.15 a.m. to 12.45 p.m. Duration of the examination
Download Tamil Nadu SSLC Time Table 2019 PDF  – Available Here
Steps to get the TN Board 10th Time table 2019
The following procedure will explain in step by step process.
Go to the TN Board Official website.
Click on the link for "TN Board SSLC/10th time table 2019".
The Tamilnadu board 10th time table will be opened in pdf format.
Save it for the further use in your pc.
Tamil Nadu Board SSLC Time table March 2019
Tamil Nadu Board of Secondary Education, established in 1910, is under the purview of the Department of Education, Government of Tamil Nadu, India. The Tamil Nadu State Board of School Examination evaluates students' progress by conducting two board examinations at once at the end of may.
More students have opted for Class 10 board examinations to be conducted by the Central Board of Secondary Education (CBSE) over school-based examinations. There is an increase of over a lakh in the number of students compared to last year when the difference between school and board exams was over 24,000 more students.
Get start prepared from today itself to get the best results. It might me tougher for the students to get good percentages as the exam pattern has been changed. As they are many jobs opportunities based on ssc marks . They can choose several career options  and also it is the important to score to get the cut off marks for class 12th admissions with less fee of cost. Anyway ALL THE BEST