TS EAMCET Final Seat Allotment Order Results 2018 Rank Wise/ College Wise Released – Telangana EAMCET Allotment Order Download at www.tseamcet.nic.in. TS EAMCET 3rd Phase Counselling Seat Allotment Order 2018 College Wise and branch wise available from 25th july.
TS EAMCET Final Phase Seat Allotment Results 2018 College Wise – Telangana EAMCET Allotment Order Download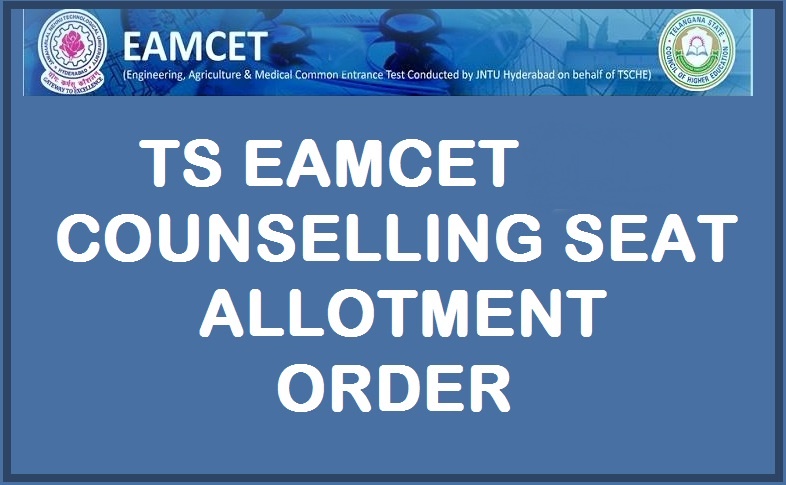 Telangana state Government educational council conducts ts eamcet 2018 1st phase counselling process is conducted through the web options and web counselling. So Many Candidates had attended for certificates verification and web option entry as per given schedule. The Schedule was ended on 5th june with changing of web option. after all the process now the board is allotting seats to students based on rank and category/ caste wise on June 8th. Students can Download TS Eamcet Seat Admission Letter from Below on Friday (June 8th).
TS EAMCET seat Allotment Order 2018 – Download TS EAMCET 2018 Final phase counselling Seat Allotment Order Name/ College wise list:
Name of the examination: TS EAMCET 2018
Date of examination: 4, 5, 7th may 2018
Category: Ts Eamcet 3rd counselling Seat allotment order.
Seat Allotment Result: July 12th (Released)
Official Website: www.tseamcet.nic.in
Location: Telangana State
Admissions: Telangana Engineering & Medical College.
Jawaharlal Nehru Technological University Hyderabad conducted the Counselling Process. Most of the qualified candidates have attended the Counselling. In the Web Counselling, the students choosen some colleges according to their interest. Now those candidates are searching for the TS EAMCET Allotment order rank wise. For those candidates, we have provided here the TS EAMCET Admission Letter Below.
Final Phase Allotments Will be Released. Download From below
TS EAMCET Final Seat Allotment Results 2018 – Available Now
TS EAMCET 2018 Seat Allotment Order College Wise/ Rank Wise – Available Now
How To Download Telangana EAMCET Seat Allotment Order 2018 College wise?
1. Open https://www.tseamcet.nic.in (Only in Internet Explorer and Mozilla Firefox)
2. Candidate Login Enter ID, Hall Ticket Number, Password , and Date of Birth
3. Download Allotment Order and Challan Form for Fees
4. Pay the Fees any Indian / Andhra Bank Any Branches.
5. Report the Engineering College with Challan Form and allotment order
6. Last Date Submit allotment order
7. Failure to report by the date stipulated will automatically result in cancellation of seat. Expected date of Commencement of class work is to be announced.