TS 10th Class Supply Time Table 2018: Telangana SSC Advanced supplementary exam will be held from 4th to 19th June. Students can check Telangana 10th class Exam Dates Subject wise and Download examination time table at bse.telangana.gov.in. For more details about Telangana Board of Secondary Education time tables or TS 10th class exam schedule check the following article.
Telangana 10th Class Advanced Supply Time Table 2018
Telangana Board of Secondary Education declared the results of the Senior Secondary Certificate (SSC) or Class 10 exams on April 27. Students who had failed can appear for the supplementary examinations that will be held from June 4.
Minister Kadiyam Srihari said that the advanced supplementary examination for the SSC will be held from June 4, 2018 till June 19, 2018. from 9.30 am to 12.15 am. The last day for payment of exam fee by the candidates to the Heads of Schools concerned is 21st May.
TS 10th Class Supply Time Table 2018 Download – Telangana SSC Exam Dates Subject wise manabadi
It is informed that the SSC, OSSC and SSC Vocational Course Public Examinations June, 2018 will be conducted from 04-06-2018 to 19-06-2018 between 09:30 AM to 12:15 PM /12:45 PM as per Time-table enclosed herewith.
Directorate of Government Examinations telangana has announced SSC Supplementary Exams June 2018 Time Table on 27th April 2018. The students who are pursuing the 10th Class for the academic year 2018 can check the time table to get a better view of it.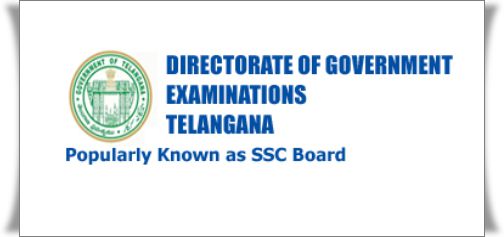 Telangana SSC/10th class Exams Time Tables 2018
Directorate of Government Examinations is an independent department functioning under ministry of Secondary Education, Government of Telangana. The Department is responsible for conducting the SSC/OSSC Public Examinations and a number of minor examinations. You can download SSC exam time table from the official website Also available in jntufastupdates.com.
Subject Names: 
First Language Paper-1
First Language Paper-2
Second Language
English Paper-I
English Paper-II
Mathematics Paper-I
Mathematics Paper-II
Science Paper-I
Science Paper-II
Social Studies Paper-I
Social Studies Paper-II
OSSC Main Language Paper-I
OSSC Main Language Paper-II
SSC Vocational Course Subjects
Manabadi TS 10th class Advanced Supply Exam Time table 2018: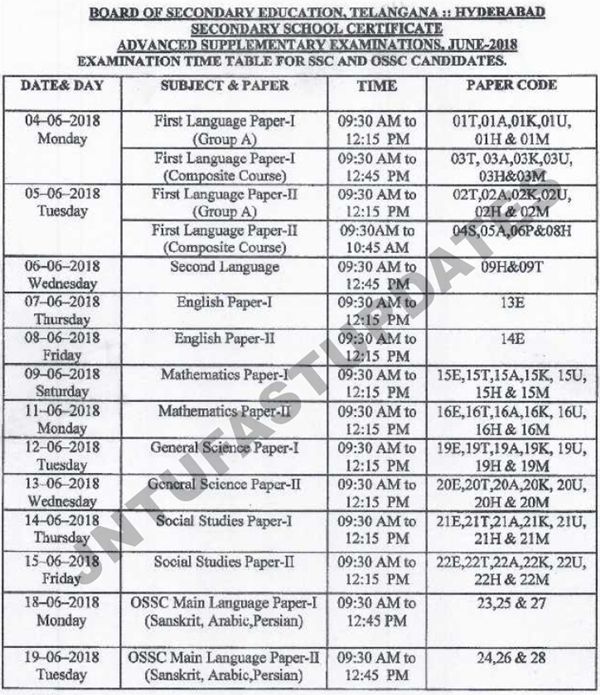 The objective paper (part-B) in all the subjects in which they are given have to be answered in the last half-an-hour only.
All the Academic course subjects / Papers are common for both SSC Academic Course and OSSC Course candidates.
SSC Advanced Supplementary Examinations, June, 2018 will be conducted strictly as per the above time table even if the respect of any date / dates mentioned above.
The performance of the candidates who answer wrong combination of question papers will be cancelled. Hence the candidates are instructed to demand/ answer right combination question papers only.
The Performance of the candidate in the examination will be cancelled, if the candidate appears in the examination centre other than originally allotted by this office.
Click Here To Download Official TS 10th class Advanced Supply Time table 2018 PDF
Steps to Download TS SSC Exam Timetable 2018:
1. Visit the official website of BSE Telanagana or Click on the above given link
2. Click the 'Time Table' under student services.
3. Click "10th class (SSC) Time Table 2018″ link
4. Save it for further reference.
5. Done