TS DEECET Counselling Dates 2019: Department of School Education, Telangana has released the Telangana DEECET results 2019 on 3rd June. Candidates can check TS DEECET Counselling Schedule 2019, Certificates Verification, Web Options Entry details below.
TS DEECET Counselling Dates 2019, Certificates Verification, Web Options Entry
On the other way, candidates waiting for counseling process can attend the Telangana DEECET counseling, which is going to be started from June. The document verification will be carried out from 20th June, 2019 to 22nd June 2019. Candidates can check more details such as TS DEECET web options, seat allotment, fee payment, Final seat allotment letter downloading, and reporting to college details mentioned in this article.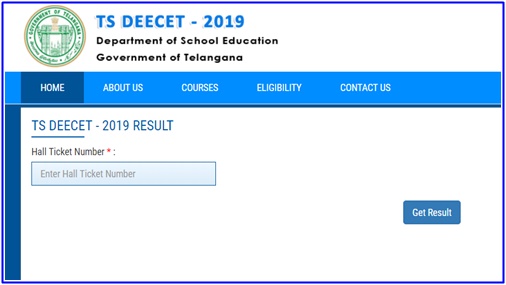 TS DEECET Counselling Schedule 2019
The government of School Education Department Telangana annually conducts the Diploma in Elementary Education Common Entrance Test (DEECET) entrance test for admission into 2-year Diploma in Elementary Education course. This examination is annually being organized by the TS School Education Department is to offer admission in 2 years Diploma in elementary education in Private and Government District Institutes of Educational Training in Telangana. Yearly, many of the hopefuls compete for this examination to get admission in D.Ei.Ed courses. The competition is higher this year, as per the reports announced by Commissioner of School Education TS. A large number of candidates have applied for DEECET examinations from 11th March to 4th April. The Telangana School Education Department has organized the DIETCET/DEECET examination on 22nd May in many examination centers. More than 26K candidates have appeared for the Telangana DEECET this year. All the candidates have already checked the Telangana DEECET results on 3rd June. Hopefuls waiting for the Telangana DEECET Counselling, document verification process can check the details from the official website, tsdeecet.cgg.gov.in.
The Telangana DEECET Convener has released the detailed counseling schedule today. Aspirants qualified in the TS DEECET and waiting for the counseling information can check the details from here below.
Telangana DEECET Counselling, Document Verification 2019 – Complete Schedule
1). DEECET-2019 Certificate Verification will be available from 20-06-2019 to 22-06-2019.
2). DEECET-2019 Submission of web based preferences will be available from 23-06-2019 to 25-06-2019.
3). The candidates shall attended for certificate verification in their concerned districts at Government DIET colleges.
| | |
| --- | --- |
| Event | Date |
| For qualified candidates document verification process will be held in District Government DIET Colleges | 20 June to 22 June, 2019 |
| Web Options Selection | 23 June to 25 June, 2019 |
| Seat Allotment | June 2019 |
| Fee Payment | June 2019 |
| Final Allotment Letters can be downloaded from | June 2019 |
| Reporting At the Allotted Colleges | June 2019 |
| Classes Starting From | June 2019 |
DEECET-2019 STATEMENT SHOWING THE DISTRCIT WISE AND DAY-WISE NUMBER OS CANDIDATES FOR CERTIFICATES VERIFICATION
S.NO.
District
Count
Day-1: 20.06.2019
Day-2: 21.06.2019
Day-3: 22.06.2019
S.No. of the list
Total no. of the candidates on the day
S.No. of the list
Total no. of the candidates on the day
S.No. of the list
Total no. of the candidates on the day

1

MAHABUBNAGAR

1830

1-600
600
601-1200
600
1201-1830
630

2

RANGAREDDY

1815

1-600
600
601-1200
600
1201-1815
615

3

HYDERABAD

524

1-300
300
301-524
224
0
0

4

MEDAK

1280

1-500
500
501-1000
500
1001-1280
280

5

NIZAMABAD

708

1-400
400
401-708
308
0
0

6

ADILABAD

3046

1-1000
1000
1001-2000
1000
2001-3046
1046

7

KARIMNAGAR

595

1-300
300
301-595
295
0
0

8

WARANGAL

994

1-500
500
501-994
494
0
0

9

KHAMMAM

799

1-500
500
501-799
299
0
0

10

NALGONDA

586

1-300
300
301-586
286
0
0

TOTAL

12177

5000

4606

2571