TS Degree Seat Allotment List 2019 Results for Phase 2: DOST Seat Allotment 2019 2nd list will be announced on 20th June. The aspirants can go through the DOST Official website, dost.cgg.gov.in to check the TS Degree seat allotment 2019 information. The Telangana State Council of Higher Education (TSCHE) has notified about DOST TS Seat Allotment 2019. Candidates can go through the article for more details.
Telangana DOST Seat Allotment 2019 Results – TS Degree Second Allotment List
The Telangana DOST Degree Seat Allotment 2019 will be announced on 20th june. The TSCHE Vice Chairman was appointed as the convener of DOST for executing the seat allotment process in degree courses. Students can get admission into various Degree colleges such as government colleges, autonomous colleges, private colleges and aided colleges in Telangana. The TSCHE is monitoring the DOST admission process in the state of Telangana.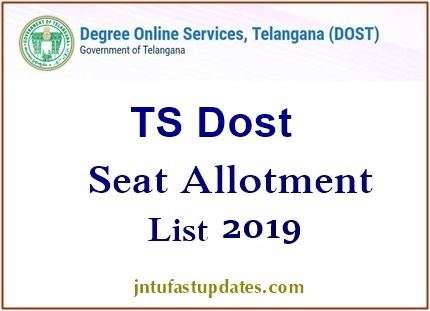 The Degree Online Services of Telangana (DOST) will offer Degree admissions across Telangana in around 1200 colleges and six universities. The DOST Offers admission in Telangana University, Satavahana University, Osmania University, Palamuru University, Mahatma Gandhi University, and Kakatiya University.
TS DOST Degree Seat Allotment 2019 Second/2nd Round
The Telangana DOST has issued notification for Graduate Degree admissions on 22nd May while the online applications were accepted until 30th may from aspirants seeking admission. The TS DOST 2nd Seat Allotment is to be held on 20th June 2019. Final round list to be released on 10th july.
Approximately 1.5 lakh students were applied for DOST while there are 4 lakh of seats were available in TS Degree colleges. The DOST Second allotment list will be announced on 20th June and for candidates appeared for supplementary examinations the counselling will be held for 2nd and 3rd rounds.
TS Dost Degree 2nd Round Seat Allotment 2019 Results will be published on June 20th. The Allotted students get SMS about their allotment and Also People can check through Dost official login from below link
Check Here : TS DOST Degree 2nd Phase Seat Allotment List Results 2019 (Available Soon)
Telangana DOST 2nd Phase Seat Allotment List 2019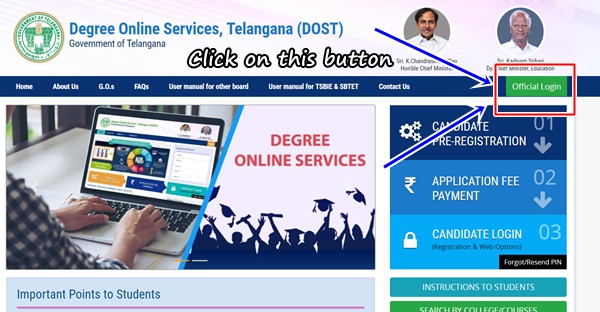 How to Check Telangana DOST Degree 2nd Phase Seat Allotment?
first go to official website of ts dost i.e dost.cgg.gov.in
check the above image and click on "Official Login" button.
Enter username and password.
after successful log in, you will see the allotment results on top of page.
all the best.
DOST Degree Seat Allotment Result 2019 Name Wise with Candidate Login:
The students those have applied for admissions can check the seat allotment result from DOST official portal, dost.cgg.gov.in. Candidates have to login to the portal and can check their allotment status/ allotment list. If students have already chosen the colleges at the time of registration, then the allotment will be done of the premise of marks obtained by them.
DOST is going to publish the seat allotment list on 10th June. Students can accept the seat allotted by DOST or they can proceed for 2nd round seat allocation to get admission in their interested college. Students have to pay the requisite admission fee to confirm the college. Students who get admission in the college have to report to the corresponding college on or before 15th June 2019.
Candidates those have allotted seat will be informed through SMS on their registered mobile numbers.
Important Dates: As per given Schedule
DOST First Phase Seat Allotment

:

10th June, 2019

Online self-reporting (by online payment of college fee/seat reservation fee as the case may be) by students : 10th June to 15th June 2019
Second Phase II Registrations (with registration fee of Rs.400/-) :  10-06-2019 to 15-06-2019
Web options for 2nd phase : 10-06-2019 to 15-06-2019
DOST 2nd Phase Allotment Date: 20-06-2019
Reporting to Colleges by Students (in 2nd Phase) : 20.06.2019 to 25.06.2019
S.NO
Details
Dates
6
Seat allotment – First List
10.06.2019
7
Online self-reporting (by online payment of college fee/seat reservation fee as the case may be) by students
10.06.2019 to 15.06.2019
8
II Phase registration
(with registration fee of Rs.400/-)
10.06.2019 to 15.06.2019
9
II Phase web options
10.06.2019 to 15.06.2019
10
II Phase Verification of Special Category Certificates
(i) 15.06.2019 – PH/CAP/NCC/Extra Curricular Activities
(at All University Help Line Centres from 10:00 AM)
11
Seat allotment-second list
20.06.2019
12
Online self-reporting (by online payment of college fee/ seat reservation fee as the case may be) by students
20.06.2019 to 25.06.2019
13
III Phase
( last phase) web options and registrations (with registration fee of Rs.400/-)
20.06.2019 to 25.06.2019
14
Verification of Special Category Certificates
(i) 25.06.2019 – PH/ CAP/ NCC/ Extra Curricular Activities
(at All University Help Line Centres from 10:00 AM)
15
Seat allotment-third List
29.06.2019
16
Online self-reporting (by online payment of college fee/ seat reservation fee as the case may be) by students
01.07.2019 to 04.07.2019
17
Reporting to Colleges by the students who have already confirmed their seats online (self-reporting) in Phase-I, Phase-II and Phase-III
01.07.2019 to 04.07.2019
18
Commencement of class work, Semester-I
01.07.2019
19
Intra-college Phase
05.07.2019 to 07.07.2019
20
Seat allotment
10.07.2019