TS ECET Counselling Dates 2019 Rank Wise, Certificate verification, Online Apply Procedure, Colleges web option entry instructions available at tsecet.nic.in. Candidates can check telangana ecet 2019 web counselling schedule here.
TS ECET Counselling Dates 2019 Rank Wise, Certificate Verification, Web Option Entry @ tsecet.nic.in
The Qualified candidates of TSECET-2019 (Diploma Holders including Pharmacy & B.Sc Mathematics candidates) desirous of seeking admission into University and Private Engineering & Pharmacy colleges of Telangana State under lateral entry system are informed that the Admission Counselling process will commence on 22-06- 2019. Minority candidates who have not qualified or not appeared in TSECET-2019, but passed and secured required percentage of marks in qualifying examination can also attend for counselling to consider them for admissions into minority colleges in leftover vacancies. Further details and counselling schedule, can be seen in the web- site: https://tsecet.nic.in on 22-06-2019.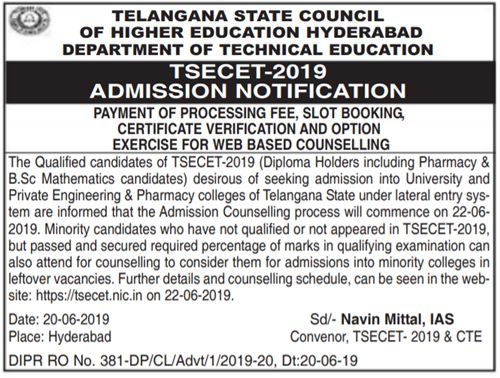 According to the notification, online filing of basic information and payment of processing fee will be held from June 22 to June 23. The certificate verification will be held from June 24 to June 26. Candidates will be able to exercise their web options from June 24 to June 27, provisional allotment list of seats will be released on June 29.
Candidates have to make payment of tuition fee and self-reporting through website should be made on June 29 and July 4. "Update the information and pay the processing fee of Rs 600 (for SC/ST) and Rs 1200 (for others) through online payment (credit card/debit card/net banking) before attending for the certificate verification. Without payment of processing fee, the candidate is not permitted to attend for certificate verification," read the notification.
WHO CAN APPLY:
Candidates who had qualified in TSECET-2019 and who secured 45% (for OC) and 40% (for others) in aggregate marks in Diploma or B.Sc. (Mathematics) Degree Examination.
Latest News: 21-06-2019
ఈనాడు, హైదరాబాద్‌: పాలిటెక్నిక్‌ డిప్లొమా, బీఎస్సీ గణితం పూర్తి చేసిన విద్యార్థులు నేరుగా బీటెక్, బీఫార్మసీ ద్వితీయ సంవత్సరంలో ప్రవేశాలు పొందేందుకు ఈసెట్‌ కౌన్సెలింగ్ జూన్‌ 22వ తేదీ నుంచి ప్రారంభం కానుంది. ఈ మేరకు ఈసెట్‌ ప్రవేశాల కమిటీ గురువారం కాలపట్టికను ఖరారు చేసింది. ఈసెట్‌లో 24,497 మంది కనీస మార్కులు సాధించి కౌన్సెలింగ్‌కు అర్హత పొందారు. గతేడాది వరకు బీటెక్, బీఫార్మసీ ప్రథమ ఏడాదిలో ఉన్న మొత్తం సీట్లకు 20 శాతం సీట్లు అదనంగా కేటాయించి ఈసెట్‌ ర్యాంకర్లకు రెండో ఏడాదిలో ప్రవేశాలు ఇచ్చేవారు. ఈసారి ఏఐసీటీఈ దాన్ని 10 శాతానికి కుదించింది. దాంతో సీట్ల సంఖ్య తగ్గనుంది. కౌన్సెలింగ్‌కు సంబంధించి పూర్తి వివరాలను ఈనెల 22వ తేదీన tsecet.nic.in వెబ్‌సైట్లో ఉంచనున్నారు. ఈసెట్‌ ద్వారా రెండో ఏడాది కోర్సుల్లో ప్రవేశాలు పొందుతున్నందున వారికి ఇంజినీరింగ్‌ కళాశాలల్లో పాత రుసుములే వర్తిస్తాయని అధికారులు తెలిపారు.
TS ECET Counselling Dates 2019 –

Released
S. No.
Events
Important Dates
1
Online filing of Basic Information, Payment of
Processing Fee & Slot Booking to selection of Help Line Centre, Date & Time to attend for Certificate Verification.
22nd June to 23rd, 2019
2
Certificate Verification for already Slot Booked
candidates
24th June to 26th, 2019
3
Exercising Options after Certificate Verification
24th June to 27th, 2019
4.
Freezing Options
27th June, 2019
4.
 Provisional Allotment of seats
29th June, 2019
5.
Payment of Tuition Fee & self reporting through website
29th June to 4th July, 2019
5.
Classes Starts from
After July 4th, 2019
Schedule For Certificate Verification For All Branches including PHARMACY and B.Sc(MATHS) Candidates (Annexure)
The details of the ranks distributed Help Line Center wise for Certificate Verification and all other important information is placed on the website https://tsecet.nic.in and the candidates are informed to visit this website before they go for Certificate Verification.
 Apply online: Click Here
Candidates are informed to collect the details of procedure to be followed and other relevant information from Help Line Centres on the day of Certificate Verification without fail and the same is also placed on website: https://tsecet.nic.in
TS ECET Counselling required certificates – Certificates to be Produced by all Candidates
All original certificates and 2 sets of Xerox copies of the following
Aadhaar Card.
S.S.C or its equivalent Marks memo.
Diploma / Degree Memorandum of Marks.
Diploma / Degree Provisional Certificate.
Study Certificate from IV to Diploma (9th class to degree in case of B.Sc).
Transfer Certificate (T.C).
Income Certificate issued on or after 01.01.2019 by competent authority, if applicable.
Integrated Caste Certificate issued by competent authority, if applicable.
Physically Challenged (PH) / Children of Armed Forces Personnel (CAP) / National Cadet Crops (NCC) / Sports and Games / Minority certificate, if applicable.
Residence certificate of either of parents in Telangana for a period of 10 years in case of Non-Local candidates.
Residence Certificate of candidate for a period of 7 years preceding to qualifying examination in case where the candidate has no institutionalized education.
IMPORTANT NOTE: During Certificate Verification the candidates Aadhaar details (Finger Print Biometric) shall be verified with UIDAI (Unique Identification Authority of India) at the Help Line Centers. Therefore it is mandatory for the candidate to attend for Certificate Verification.
Certificates to be produced by PH/CAP/NCC/Sports/Minority Candidates:
PH-Certificate issued by District Medical Board. Candidates with 40% and above disability are only eligible.
CAP- Certificate issued by Zilla Sainik Welfare Officer, Identity card and Discharge book (in case of Ex-Service men) and Service Certificate (in case of inservice men) issued by Competent Authority for verification. Candidates whose parents are domiciled in the State of Telangana based on the permanent address/home town declared by them while joining the service and as recorded in their Service Register are alone eligible to be considered under "CAP" Category.
NCC & Sports – Certificates issued by competent authorities.
Minorities: SSC TC containing Minority Status or Certificate from the Head Master.
Fee to be Paid:
1. Processing Fee: Rs.1000/- (OC/BC), Rs.500/-(SC/ST). (At the Time of Certificate Verification)
2. Tuition Fee particulars and seats available under Convenor Quota College wise will be made available on the website https://tsecet.nic.in.
3. The Fee Reimbursement for eligible candidates is subject to the guidelines issued by the Government from time to time.
A. DECENTRALISED CERTIFICATE VERIFICATION SCHEDULE (FOR SC/ST/BC/OC/MINORITY) ALL BRANCHES INCLUDING PHARMACY AND B.Sc. (MATHS) CANDIDATES
LAST ++ Means:Minority candidates including Not Qualified/Not Appeared in TSECET-2019 who have already applied to Convenor based on Diploma or equivalent marks.
B. CENTRALISED CERTIFICATE VERIFICATION FOR ALL BRANCHES INCLUDING PHARMACY AND B.Sc.(MATHS) (for PH, CAP, NCC, Sports & Games)
ONLY AT Sankethika Vidya Bhavan, Masab Tank, Hyderabad
Note: No seat is allotted for Ceramic Technology branch under Special reservation Category (i.e. NCC/SPORTS/CAP/PH). Such branch Candidates can attend for Special reservation Category to be considered under other eligible branches.
PH – (V)-Visually Handicapped,
PH – (H)-Hearing Impaired Handicapped.
PH-(O)-Orthopedically Handicapped,
NCC- National Cadet Corps.
Sports – Sports &Games,
CAP- Children of Armed Forces Personnel.
It is informed that other certificates of these candidates will also be verified on the dates mentioned above along with Special Reservation category certificates
SCHEDULE FOR EXERCISING OPTIONS – Old data
1. Allotments will be placed in the website https://tsecet.nic.in on 29-06-2019 after 8:00 P.M
2. For downloading the candidates allotment order, enter the ROC Form Number, Hall Ticket Number, Password and Date of Birth in Candidate login in https://tsecet.nic.in.
Note:
1. The Candidate who has secured 45% (For OC) and 40% (SC/ST/BC) aggregate marks in Diploma or B.Sc Degree Examination is only eligible for Admission.
2. B.Sc. (Maths) Candidates will be considered for allotment of seats after Exhausting all the Diploma candidates in the merit list in terms of G.O.Ms.No.49, Higher Education, EC-II Dept, Dated: 04.06.2011.
3. Candidates are informed that where there is more than one Help Line Centre in one place the ranks are distributed Help Line Centre wise. See the Annexure-I for distribution of Ranks (Integrated for Engineering Diploma holders and branch for Pharmacy and B.Sc (Maths))to attend for Certificate Verification.
4. PH (Physically Handicapped), CAP (Children of Armed Forces Personnel), Sports & Games, NCC (National Cadet Corps) should attend the Certificate Verification only at Sankethika Vidya Bhavan, Masab Tank, Hyderabad as per the dates given in the Schedule.
5. All Help Line Centers will work from 09:00 A.M. to 06:00 P.M on each day.