TS EDCET Counselling Dates 2019 Rank wise: The qualified candidates of TS Ed.CET-2019 Examination are informed to attend the certificate verification for exercising online web options for admission into two years B.Ed. course for the academic year 2019-20, on the dates mentioned against their state-wide rank and methodology, in any one of the Helpline Centers (HLCs) (See Annexure-I) with all original certificates as detailed below.
TS EDCET Counselling Dates 2019 Rank wise, Certificates Verification, Web Options Entry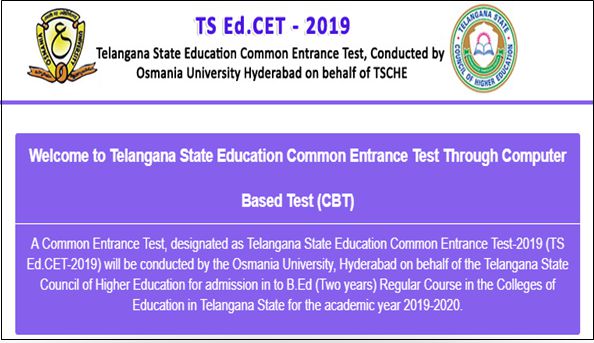 Details of TS EDCET Counselling Dates 2019:
| | |
| --- | --- |
| Conducted by | Osmania University |
| Name of the Exam | Telangana State Education Common Entrance Test-2019 (TS Ed.CET-2019) |
| Counselling Starts from | After July 10 |
| Official website | edcet.tsche.ac.in |
జూలై 10 తర్వాత ఎడ్‌సెట్ కౌన్సెలింగ్
హైదరాబాద్ : రాష్ట్రంలోని అన్ని యూనివర్సిటీల్లో డిగ్రీ పరీక్షల ఫలితాలు విడుదలలో జాప్యం అవుతున్నదని ఉన్నత విద్యామండలి చైర్మన్ తుమ్మల పాపిరెడ్డి తెలిపారు. ఎట్టి పరిస్థితుల్లో జూలై 10నాటికి అన్ని వర్సిటీల్లో డిగ్రీ ఫలితాలు విడుదలచేసి, తర్వాత ఎడ్‌సెట్ కౌన్సెలింగ్ షెడ్యూల్ విడుదలకు చర్యలు తీసుకుంటామని చెప్పారు. రాష్ట్రవ్యాప్తంగా 204 కాలేజీల్లో 13,458 సీట్లు అందుబాటులో ఉన్నాయని పేర్కొన్నారు. ప్రస్తుతం రాష్ట్రంలో అన్ని బీఈడీ కాలేజీలకు అఫిలియేషన్లు వచ్చాయని, ఎలాంటి ఇబ్బందులు లేవని ఆయన స్పష్టంచేశారు.
CERTIFICATES TO BE PRODUCED BY ALL CANDIDATES:
Degree certificate of qualifying exam and memorandum of marks
Intermediate Memo-cum pass certificate or its equivalent
SSC or its equivalent marks memo
Study certificates from 9th class to Graduation
Residence certificate (in case where the candidate had private study without any institutionalized education)
Residence certificate of either of parents in Telangana for 10 years in case of non-local candidates excluding the period of employment outside the state. This certificate should be obtained from the Tahsildar.
Transfer Certificate (TC)
Income certificate issued on or after 01.04.2019
Aadhar Card
Caste certificate issued by Competent Authority (in case of SC/ST/BC).
PH/CAP/NCC/Sports/Minority certificate (mentioned in Graduation/Post Graduation TC) certificates wherever
applicable.
Xerox Copies of two sets of the original certificates
IMPORTANT NOTE:
The Biometric details of the candidates captured at the time of appearing for TS Ed.CET-2019 Examination shall be verified at the Help Line Centers at the time of Certificate Verification. Therefore it is mandatory for the candidate to attend for Certificate Verification.
The candidates who have not given the Biometric details at the time of TS Ed.CET-2019 Examination (list placed in the website: http://edcetadm.tsche.ac.in, http://edcet.tsche.ac.in) shall have to Register the biometric details duly furnishing an undertaking mentioning the reasons for not giving the Biometric details at the time of TS Ed.CET-2019 Examination at any of the Help Line Center as per the schedule.
CERTIFICATES TO BE PRODUCED BY PH/CAP/NCC/SPORTS/MINORITY
1. PH- (Physically Handicapped) certificate issued by District Medical Board. Candidates with 40% and above disability are only eligible.
2. CAP: terms of G.O.Ms. No. 19 School Education (Training) Department, dated: 07.08.2016, the Children of Armed Forces i.e., Ex-Servicemen, Defence Personnel including the Children of Border Security Force and Central Reserve Police Force who are Domiciled in Telangana based on the permanent address/Home town declared by them while joining the service and as recorded in their service Register are alone eligible to be considered under "CAP" Category. Certificate issued by Zilla Sainik Welfare Officer, Identity Card and Discharge Book in case of Ex-servicemen and Service Certificate in case of Servicemen issued by the Competent Authority shall be produced at the time of Certificate verification.
3. NCC & Sports Category: Candidates have to produce concerned original certificates issued by the Competent Authority.
4. Minorities: Graduation or Post Graduation TC containing Minority status or certificate from the Head of the Institution.
Fees Details:
Fee to be paid at the time of certificate verification:
1. Processing Fee (non refundable) for SC/ST candidates Rs. 300/- and for others Rs. 600/-
2. Tuition fee particulars and seats available under Convener Quota College wise will be notified on the website (http://edcetadm.tsche.ac.in, http://edcet.tsche.ac.in) well before the commencement of counseling (option entry). Tuition Fee and Special Fee as fixed by the Government shall be paid per annum.
3. The fee reimbursement for eligible candidates is subject to the guidelines issued by the Government from time to time.
Other Details:
1. Mere attending for Web Counseling does not guarantee a seat.
2. The list of HLCs are provided in Annexure-I.
A) SCHEDULE FOR CERTIFICATE VERIFICATION AND WEB OPTIONS FOR TS Ed.CET-2019
VENUE: ANY ONE OF THE HELP LINE CENTRES (HLCs)
Special category candidates can exercise options along with General Candidates
Special category candidates educational certificates will also be verified simultaneously at the Centre.
TS EDCET 2019 Detailed Notification – Available Soon