TS EDCET Results 2020: Telangana B.Ed cet/EDCET Results & Rank Cards 220 Released at official websites, edcet.tsche.ac.in, manabadi. Students can check result and download the TS B.ED Entrance Exam 2020 rank cards from links given below.
TS EDCET Results 2020 Manabadi – Edcet Rank Card Download @ edcet.tsche.ac.in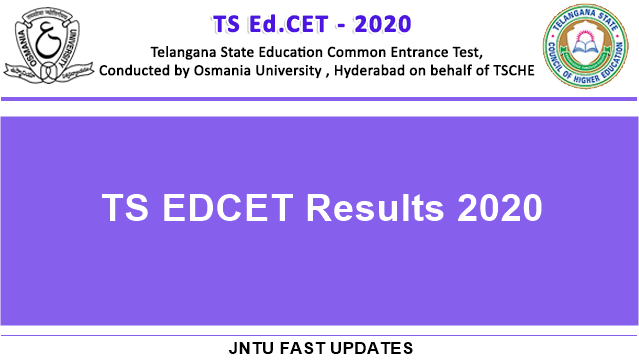 A Common Entrance Test, designated as Telangana State Education Common Entrance Test (TS Ed.CET-2020) conducted by the Osmania University, Hyderabad on behalf of the Telangana State Council of Higher Education for admission in to B.Ed (Two years) Regular Course in the Colleges of Education in Telangana State for the academic year 2020-21. Ts Edcet Exam 2020 was conducted on 1st and 3rd October, 2020
QUALIFYING MARKS:
The qualifying marks in the Entrance Test for all candidates (except SC/ST) is 38 out of total marks (i.e.25%). For the candidates belonging to SC/ST communities there will be no qualifying marks for ranking.
TS EDCET 2020 Results (TS B.ED Entrance Exam Results)
TS Ed.CET 2020 Results & Rank Cards Released on 28th Oct at 11.30 AM. Check From Below.
Telangana EDCET Results 2020 – Available Now
Download TS EDCET Rank Card 2020 – Available Soon
Rank : column consists either Rank or 'NQ'.NQ –> Not Qualified
NOTE : '*' in RANK indicates that candidates claimed SC, ST category and Female candidates in Mathematics and Physical Sciences, hence no minimum qualifying mark.Rank is valid on production of valid certificates at the time of admission.
RANKING:
Candidates will be ranked in each methodology in the order of merit on the basis of marks obtained in TS Ed.CET-2020 through online examination. Where there is a tie in total marks, Part-C marks will be taken into account to decide relative ranking. In case of further tie, the marks obtained in Part-A will be taken into account to decide relative ranking. In case of candidates getting equal marks in each of the parts of the test paper, they shall be bracketed for the purpose of a ward of rank.
At the time of admission into the course, age shall be taken into consideration for relative ranking among the bracketed candidates and the older candidates shall be given priority. The rank obtained in TS Ed.CET-2020 is valid for entry into B.Ed course for the academic year 2018-19 only.
Note: Request for re-totaling or revaluation or personal identification of scripts will not be entertained.
How to Check Telangana/TS Edcet Results 2020
1) Visit the TS Ed.CET Official website: http://edcet.tsche.ac.in
2) Click on link "Telangana edcet results 2020"
3) Enter your hall Ticket Number
4) Click on Submit button.
5) You Will get TS EDCET Results & Ranks.