TS EPASS Renewal Application Form 2018-19: Telangana Postmatric Scholarships For Renewal Registration(2018-19) are opened. The eligible students to get e-pass Scholarship can apply online through, www.telanganaepass.cgg.gov.in
TS EPASS Renewal Registration/Application Form 2018-19 For Postmatric Scholarships
Telangana Postmatric Scholarships (Epass) For Renewal Registration date released, it is For 2018-2019 Academic Year. Telangana Govt. is providing financial assistance to students who belong to economically backward section. The reservation candidates belongs to SC/ST/BC categories with lower income levels are eligible to claim e-pass scholarship. The students who are perusing their undergraduate courses in state of Telangana are eligible to get the scholarship from TS Govt. The eligible students to get e-pass Scholarship can apply online through, www.telanganaepass.cgg.gov.in. Telangana Government has announced scholarship notification for students for the year 2018-19. The candidates who are eligible to claim scholarship have been already applied through online within the specified dates announced by the TS Govt. Now students can get updated with their e-pass scholarship status 2017 on the Official Website of TS Govt. , www.telanganaepass.cgg.gov.in.
Post-matric Scheme Renewal Student Registrations(2018-19) are opened.
For Applying The Epass Scholarship Renewal Registration we need some documents for further verification's, its for all the castes those who are poor. So many Students are not aware of Epass Scholarship Renewal Registration. It is very careful while applying because without having careful you application must not approve. So for the students sake we are showing step by step process.
STEP 1:
If you are From Telangana then Open : https://telanganaepass.cgg.gov.in
1. Click on Student Services Icon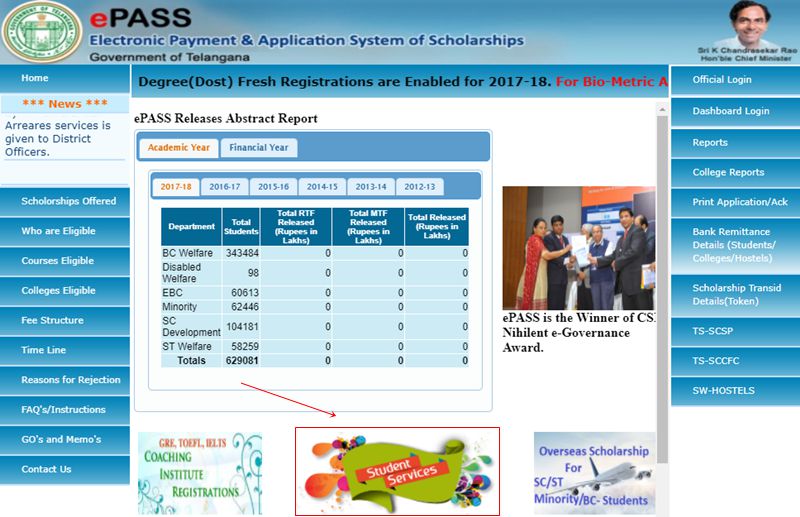 STEP 2:
Click on "Click Here" Button.

STEP 3:
Prerequisits for Renewal Registration Process for the Academic Year 2018-19
1) In case of change of Bank account, open your Zero balance account in any of the nationlized banks (Click here for the list of nationalised banks). Bank account not required For EBC students.
2) Student should have a Mobile Number for receiving One Time Password for registration (Mobile number may belong to the student or any one of his/her family members).
Documents to be Scanned compulsorily For Renewal Registration Process for the Academic Year 2018-19
(Please tick the following check boxes to proceed.)
Bank Pass Book first page with Bank Account number and IFS Code incase of change.(Not Required For EBC Students)
Passed/Promoted Marks Memo of Previous year.
Original Income Affidavit (signed by the Student & the Parent) Download format for affidavit.
Note: If Any Problem in getting Password to Your Mobile, Go to nearest Meeseva/eSeva/APonline Centers For Registering With out Password.
Step 4:
After Click On Apply Now You Have to Log IN with the Details. Follow the Below Image

Step 5:
Fill With Your Details.
Useful Links: http://telanganaepass.cgg.gov.in/
Contact Us: General Issues-040-23390228. For Technical Issues-040-23120311,23120312 (Calls will be answered between 10:30 A.M. to 5 P.M. on Working Days)