TS ICET Answer key 2018 Download with Question paper for All Sets at icet.tsche.ac.in. Telangana ICET 2018 Examination preliminary key download from official website.
TS ICET Answer key 2018 Download with Q.P (All Sets) @ icet.tsche.ac.in
TS ICET – 2018 (Telangana State Integrated Common Entrance Test -TS ICET) is for admission into M.B.A. and M.C.A. courses of all the Universities in Telangana State and their affiliated colleges for the academic year 2018-19. This test is being conducted by Kakatiya University, Warangal on behalf of Telangana State Council of Higher Education, Hyderabad. Kakatiya University has successfully conducted ICET in 2005, 2006, 2012, 2013, 2014 and TS ICET – 2015, 2016 and 2017. We welcome you to the web site of TS ICET – 2018 and wishing you all the best.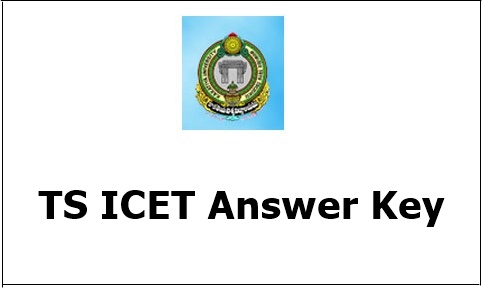 Telangana ICET 2018 Answer key Download
The students can also check their answers with the answer which is now provided online for all the branches. Andhra Pradesh ICET answer key will be available for all the students. Candidates can check on the official Website or direct links given below.
Name of the exam: TS ICET 2018
Name of the organising board: Kakatiya University
Category: TS ICET 2018 Answer Key
Date of TSICET Examination: 23rd and 24th May, 2018 (Wednesday &Thursday)
Announcement of Preliminary Key: 28-05-2018 (Today)
Last Date for Submission of Objections on Preliminary Key: 04-06-2018 (Monday)
Announcement of Final Key and Test Entrance Results: 06-06-2018 (Wednesday)
Official Website: icet.tsche.ac.in
TS ICET 2018 Exam Preliminary Answer Key Download PDF
Telangana government is making all the necessary arrangements to release ICET answer key on its official website. Here we have given direct link to download the answer key and we keep update ICET entrance further information.
Please verify TSICET2018 Preliminary Key for Computer Based Entrance Examination conducted on 23rd and 24th May, 2018 three sessions (i.e. 23rd May, 2018 10.00 A.M. to 12.30 P.M. on & 2.00 P.M. to 4.30 P.M. and 24th May, 2018 10.00 A.M. to 12.30 P.M.) The respective question paper along with response of the student and Preliminary key has been mailed to the mail id specified, while submitting the on line application form. This information can also be downloaded from website.
AP ICET 2018 Exam Questions & Key
Download Key Objections format
The objections if any, on the preliminary key can be sent on or before 5 pm on 01-06-2018 to Email id: convenertsicet2018@gmail.com
Qualifying Marks for TSICET-2018:
The qualifying percentage of marks in the Entrance Test is 25% (i.e. 50 marks out of total 200 marks). However, for candidates belonging to Scheduled Castes or Scheduled Tribes, no minimum qualifying percentage of marks is prescribed.