WBBME Result 2018 at wbresults.nic.in – Students can access their West Bengal Board of Madrasah Education Result, Merit list 2018 Announced. Check WBBME 10th result 2018, West Bengal Madhyamik Pariksha results, High Madrasah, Alim, Fazil Result 2018 below.
WBBME Result 2018 – West Bengal Board of Madrasah Education Madhyamik Result, Merit list 2018 wbresults.nic.in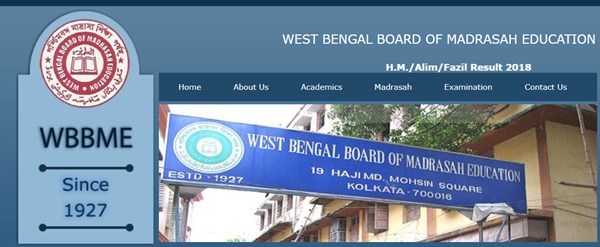 WBBME Madarasa (Madhyamik) Result 2018: West Bengal Board of Madrasah Education Board (WBBME) declared the WBBME Result 2018 on its official website www.wbbme.org, wbresults.nic.in. Students who had appeared for the West Bengal Board of Madrasah Education examination 2018 can check their result at the official website wbresults.nic.in. As per the official update, the Board declared on june 1st.
Also Check : West Bengal Madhyamik Results 2018
WBBME Madhyamik Result 2018
The West Bengal Board of Madrasa Education is ready to disclose the notification for WBBME Madhyamik Exam result 2018 through online mode. All students are suggested to check at www.wbbme.org and download score card, merit list 2018. West Bengal Madrasa Xth class result will be announce on 16th May. Scholars who have shown interest for WBMME are waiting to check WBMME Matric Result 2017 after appearing the written exam. Organization is ready to declare the final result on its main official web portal. Students are advised to check the official web portal to know their result, score easily.
The Following West Bengal Madhyamik Pariksha results will be published Here:
High Madrasah Examination, Alim Examination, Fazil Examination Class 10 / Class X and Class 12 / Class XII Results of Madrasah Examination 2018. Madrasah Examination is conducted by West Bengal Board of Madrasah Education (WBBME).
WEST BENGAL BOARD OF MADRASAH EDUCATION EXAMINATION-2018
1. High Madrasah Examination
2. Alim Examination
3. Fazil Examination ( New )
4. Fazil Examination (Old )
H.M/Alim/Fazil Result 2018
The West Bengal Board of Secondary Education (WBBE) Madhyamik Pariksha or Class 10th board examination Results Released on june 1st. Check From below
High Madrasah Examination Result 2018 – Available Now
Alim Examination Result 2018 – Available Now
Fazil Examination Result 2018 – Available Now
Abbreviation Used :
P = Successful,
X = Unsuccessful,
C = Compartmental,
FABS = Full Absent,
ENC = Enrollment Cancel,
CLSC = Compartmental in Language Science,
CSC = Compartmental in Science,
3 = Third Division ( Old System ).
West Bengal Board of Madrasah Education Merit list 2018
WBBME Merit List of Top 100 Students of Various Madrasah Will Be Published in may
Top 100 in High Madrasah
Top 100 in Alim
Top 100 in Fazil
Steps to Check WBBME Madhyamik Result 2018?
Students login the official website which is www.wbbme.org
Then go to the result section from the left side of the main page.
Search the suitable link and hit on it
After that, fill required details like your Roll number and date of birth
Hit the submit tab and wait for a few seconds
Then your score card will be perform on your computer
Take a hard copy printout for future use
About WBBME: The Madrasah Education system in Bengal was grown up and flourished with the foundation of the Calcutta Madrasah in 1780 by the British East India Company. In 1915, the new scheme of Madrasah Education was introduced by the initiatives of Moulana Abu Nasar Mohammad Waheed, I.E.S., the renowned educationist and administrator and the then Principal of Dacca Senior Madrasah. The East Bengal Secondary Education Board (1921), the Board of Islamic Intermediate and Secondary Education Dacca for High Madrasah Education (1922) and the Central Madrasah Examination Board for Senior Madrasah Education (1927) were established to conduct the Madrasah Examinations till 1947. As per recommendation of the Moazzamuddin Committee (1946), the Central Madrasah Examination Board was converted to the Madrasah Education Board, Bengal and later, in 1950 it was renamed as the West Bengal Madrasah Education Board, the oldest Board of Madrasah Education in our Country.
Madrasah Education in West Bengal: The term 'Madrasah' is an Arabic word meaning educational institution or school imparting education to all irrespective of religion, caste, creed and gender. The idea that it imparts religious and theology based education to a particular religion is not true. In fact, the Madrasah education in West Bengal is fulfilling the constitutional commitment by providing access to free education up to secondary level for the most deprived people most of whom are first generation learners live in rural areas where avenues and opportunities are markedly limited. Most of the Madrasahs are situated in the remote rural areas of the state and they were founded with the initiative of community donations. In course of time, these Madrasahs were recognised by the Board and funded by the Government. West Bengal was the first state to offer recognition to Madrasahs and to convert the Board into statutory body in 1994. Recognizing the importance of Madrasah education in the state the Department namely Minority Affairs and Madrasah Education along with the Directorate of Madrasah Education and a separate teaching & non-teaching staff recruitment commission for Madrasahs namely Madrasah Service Commission has also been established has been created and is now functional.