AMMA Vodi Free Laptop Scheme 2021: CM Jagan offered another favor for students who are studying in Andhra Pradesh. Already, it was known that the AP Government is offering Rs 15,000 per annum under Amma Odi Scheme for poor mothers who are sending their children to school. As part of this, CM Jagan inaugurated the laptop scheme in the Nellore district on Monday, January 11, 2021. He was speaking at a meeting organized on the occasion. In the meeting, AP CM Jagan said that the AP government has decided to provide a laptop to a student studying from 9th to 12th class.
AMMA Vodi Free Laptop Scheme 2021 – Eligibility, Apply Online Registration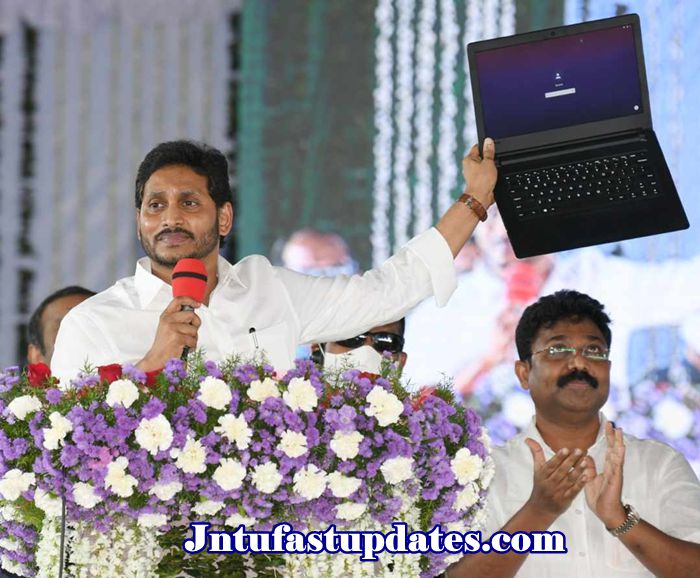 Under Amma Odi Scheme, students can avail of the laptop or the money can be given to the parents or they can choose whether they want a laptop or not. It has been announced that we will be introducing this from next year.The AP Government is providing Rs 25000- Rs 27000 worth laptops at Rs 18,500.
AMMA Vodi Free Laptop Scheme 2021
| | |
| --- | --- |
| Scheme Name | AMMA Vodi Free Laptop Scheme |
| Eligibility | 9th to 12th class Students |
| Date Of Scheme | 2022 onwards |
AP Govt Free Laptop Scheme 2021 For 9th Class To 12th Class Students
ఏపీలో చదువుతున్న విద్యార్థులపై మరో వరం కురిపించారు సీఎం జగన్. అమ్మ ఒడి పథకం కింద పిల్లలను బడికి పంపే ప్రతి పేద తల్లికి ఏటా రూ.15,000 సాయం అందించే విధంగా ఏపీ ప్రభుత్వం నిర్ణయం తీసుకున్న సంగతి తెలిసిందే. అందులో భాగంగా 2021, జనవరి 11వ తేదీ సోమవారం నెల్లూరు జిల్లాలో ఈ పథకాన్ని సీఎం జగన్ ప్రారంభించారు. ఈ సందర్భంగా ఏర్పాటు చేసిన సభలో ఆయన మాట్లాడారు.
CM Jagan said the government was in talks with various well-known companies. Tenders will be called in this regard and reverse tendering will also be done. The government-provided computer will have 4 gigabytes of RAM, 500 gigabytes of storage, Windows 10 operating system, 365 student version, and other facilities. It also comes with a three-year warranty. If the laptop breaks down, the company will make a deal with them to repair or replace it within seven days. The laptop scheme will be applicable to students who are in the 'Vasathi Deevena' scheme.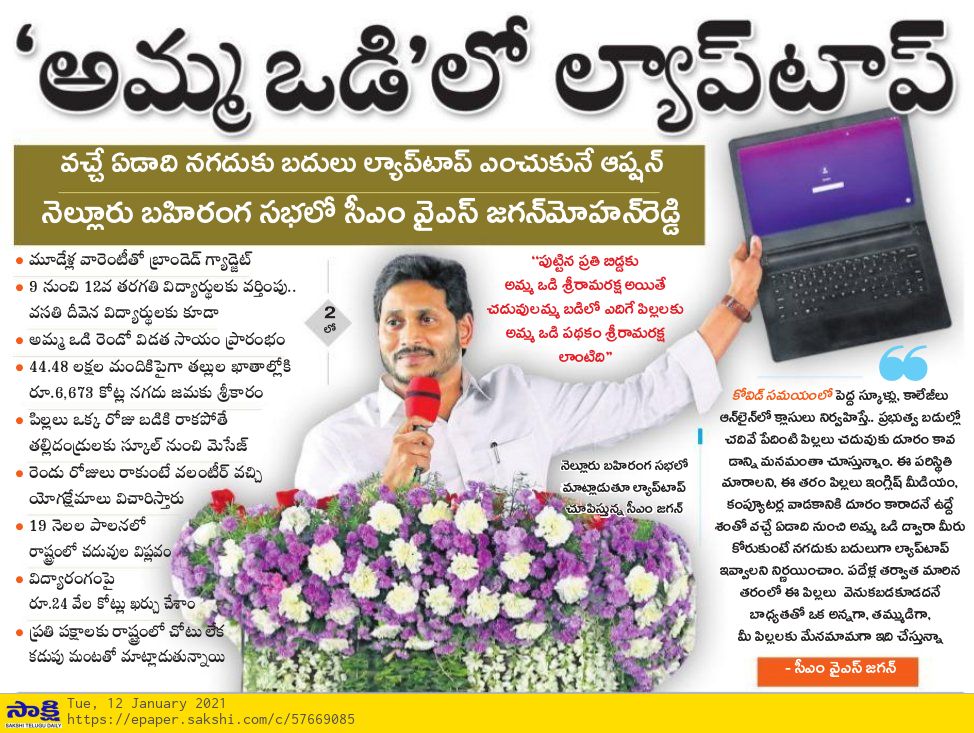 He said that various schools have started online classes due to corona, but some people have stayed away from it. That is why the government has decided to provide laptops. Computer literacy course will be introduced from the 8th class. He said that steps would be taken to provide internet facilities to every village in the next three years at a cost of Rs 5,900 Cr.
Who is Eligible to Get Amma Vodi Free Laptops?
From 9th to 12th Class Students can Choose the Option Free Laptop instead of 15000 Rs.
From Which Year Amma Vodi Free Laptops will be Distributed?
From 2022 Onwards, Free Laptop Option can be chosen.
What are the Amma Vodi Free Laptop Specifications?
4 GM RAM, 500GB Hard Disk, Intel Core Processor, Windows 10 Operating System & Windows 365 Student Version
What is cost of Laptop?
18500 rs quoted as of now
Do i Need to Register for Amma Vodi Free Laptop Scheme?
No, You Need not to register separately for laptop scheme and from next year 2022, the option will be displayed along with Cash payout so that we can select either cash 15000 or Laptop depends on our need.