Andhra University Exams Postponed: As per Official Notification, All the Remaining Exams of B.E/B.Tech/B.Pharmacy in AU Campus and its Affiliated Colleges Scheduled to be conducted from 27th march, 2021 onwards, Have been Rescheduled to Later date and will be posted in AU Official website.
Andhra University BE, B.Tech. B.Pharmacy Exams to be held From 27-03-2021 are Postponed
As per Media Information, Due to Rising of Corona (Covid 19) Cases in Andhra University and Affiliated colleges this decision was taken. So students should note the information and follow accordingly. Check Below Official notification which is attached. Reschedule time table or dates will be intimated later.
The students are hereby to visit www.andhrauniversity.edu.in (or) www.exams.andhrauniversitYMiu.in, for schedule of examinations.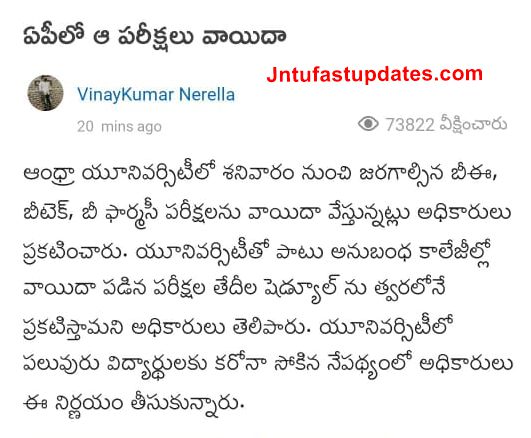 ఆంధ్రా యూనివర్సిటీలో శనివారం నుంచి జరగాల్సిన బీఈ, బీటెక్, బీ ఫార్మసీ పరీక్షలను వాయిదా వేస్తున్నట్లు అధికారులు ప్రకటించారు. యూనివర్సిటీతో పాటు అనుబంధ కాలేజీల్లో వాయిదా పడిన పరీక్షల తేదీల షెడ్యూల్ ను త్వరలోనే ప్రకటిస్తామని అధికారులు తెలిపారు. యూనివర్సిటీలో పలువురు విద్యార్థులకు కరోనా సోకిన నేపథ్యంలో అధికారులు ఈ నిర్ణయం తీసుకున్నారు.
Official Notification: