ANU Conduct of Postponed PG & Professional Courses Exams 2020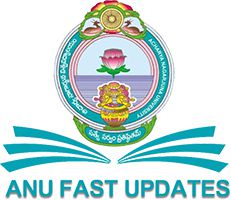 Sub:- Acharya Nagarjuna University — Controller Of Examinations — Conduct Of postponed PG & Professional Examinations due to COVID-19 — Communication Of certain instructions — Regarding.
I am by direction to inform all the Principals Of PG & Professional Courses Colleges that the Final year Examinations Of Acharya Nagarjuna University will be commenced from 07-09-2020 the following semester courses: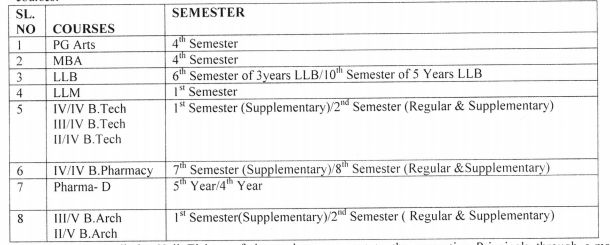 All the Hall Tickets of the students are sent to the respective Principals through e-mails to download the same and distribute the same to the students after duly signed by the Principal. D•Forms and Nominal roll were sent to the Principal & Chief Superintendent of the Examination Center and download the same for smooth conduct Of Examinations at the Examination Centre, Details Of Time-tables and Examinations Centers Of each course are available at University website: www.anu.ac.in.
It is further informed on the following few points in respect Of the above examinations:
1. To conduct practicals 'Viva-Voce Examinations only With internal examiner in the University Colleges/ANUPGC, Ongole and to conduct practical/viva-voce examinations at affiliated colleges With external examiner as was done earlier
2. TO take necessary arrangements to upload all the Internals Marks. Practical Marks and Project MarksfSemlnar/ViVO-Voce marks all courses including Professional Courses through online immediately after completion Of examinations so as to speedy declaration of results.
3. To upload the MOOCs marks in the University online portal in respect of 2nd Semesters Of all PG Courses and Semesters of MCA Course. Photocopy of MOOCs Certificates duly certified by the respective Principals sent to the Controller Of Examinations for speedy declaration of results.
4. University has taken a decision to arrange single valuation to all PG Courses instead Of double valuation on par with Andhra University PG valuation to speed up results and to avoid the academic year loss during in the Covid- 19 situations.
5. All the Principals/HODs are requested to complete the External Practicals/Labs/Project Viva-Voce examinations within 3 days after completion Of theory examinations.
6. To direct the all the Chief Superintendents of Examination Centers to maintain Covid-19 instructions issued by the Govt. from time to time during the Examination i.e., to maintain social distance. wearing of masks by the students etc.,
Your cooperation for conduct of Examination is very much solicited.