ANU Revised Schedule PG and Professional courses Exams, 2020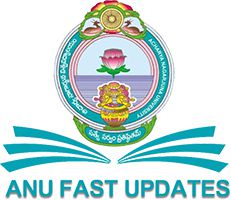 Postponed all the University PG &Professional courses Examinations scheduled in the lockdown period as per the notification cited under read (I), subsequently having considered letters of UGC, New Delhi & Govt. of Andhra Pradesh cited under (2&3) and the minutes of the meeting of the committee of the University Officials cited under reference (4), the Vice-Chancellor has ordered that the date of Examinations, 2020 for PG Arts, Commerce & Law and Physical Education, Sports & Yoga and M.B.A, PG Science Courses and MCA, B.Tech, B. Pharmacy and B. Arch courses semester wise be fixed as shown against each: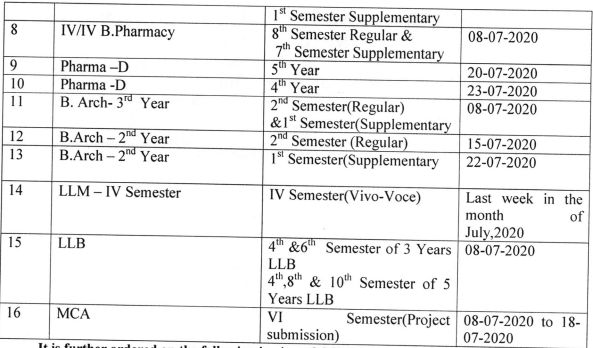 It is further ordered on the following in view of COVID-19:
1. To conduct practicals Viva-Voce Examinations only with internal examiner in the University Colleges/ ANUPGC, Ongole and to conduct practical/viva-voce examinations at affiliated colleges with external examiner as was done earlier
2. To take necessary arrangements to upload all the Internals Marks, Practical Marks and Project Marks/Seminar Viva-Voce marks of all courses through online immediately after completions of examinations so as to speedy declaration of results.
3. To arrange single valuation to all PG Courses instead of double valuation on par with Andhra University PG valuation to speed up results and to avoid the academic year loss during in the Covid-19 situations.
4. To take necessary steps to send all the Hall Tickets, D-Forms, Photo Nominal Galley through mail to the concerned Principals and Chief Superintendents of Examination Centers to face the Covid-19 situations.
5. To direct the all the Chief Superintendents of Examination Centers to maintain Covid-19 instructions issued by the Govt. from time to time during the Examination i.e., to maintain social distance, wearing of marks by the students etc.,
Download the Official Notification Here