ANU Degree One Time opportunity Year End Exams Notification May 2022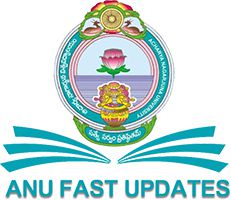 I am by direction, to inform you that applications are invited from eligible candidates for Degree One-Time opportunity scheme Examinations be held in May, 2022 for B.A./ B.Com(Gen.)/ B.Com(Res.)/ B.Com(Voc)/ B.Sc/ B.B.M./ B.B.M (H)/BHM /B.C.A./B.A.O.L/B.Sc(ASLP) Examinations commencing from 14-05-2022. The following is the schedule for payment of examination fee and receipt of applications.
Last date for a ment of fee without late fee: 18-04-2022

Last date for ment of fee with a late fee of Rs. 100 –

21-04-2022
Last date for submission of gallies by colleges in Tri licate to the O o. A.C.E. A.N.U. on or before. 25-04-2022
Date of commencement of Practical Examinations: 25th to 29th April, 2022
Date of commencement of Theory examinations of all courses: 14-05-2022
Download the Official Notification Here: Click Here
The Principals of all the affiliated Degree Colleges of ANU area are requested to pay the exams fees course wise, year wise fee i.e. B.Sc./B.Com./B.A./B.C.A./BAOL/ BHM/BBM/BBM (Hons.)/B.Sc (ASLP)/ B.Sc. (HS)/BHM 1st, 2nd and 3rd years on a separate online challans for each course along with detailed list of students with the Registered NOs.