AP 10th Class Exams 2020 Postponed: AP Govt has Postponed 10th Class (SSC) examinations commence from 31st March Due to Covid 19. Education Minister Adimulapu suresh has announced the postponement of AP 10th class examinations to be held from March 31. He said the exams would be postponed for two weeks. The Board of Secondary Education Andhra Pradesh (BSEAP) board has earlier released a notification for AP Class 10th board examinations. New Examination Schedule to be announced soon.
AP 10th Class Exams 2020 Are Postponed Due to Covid 19
24-03-2020: ఏపీలో పదో తరగతి పరీక్షలు వాయిదా..
ఆంధ్రప్రదేశ్‌లో పదో తరగతి పరీక్షలు వాయిదా పడ్డాయి. మార్చి 31 నుంచి జరగాల్సిన పదో తరగతి పరీక్షలను వాయిదా వేస్తున్నట్టు విద్యాశాఖ మంత్రి ఆదిమూలపు సురేష్‌ ప్రకటించారు. రెండు వారాలపాటు పరీక్షలు వాయిదా వేయనున్నట్టు ఆయన తెలిపారు. మార్చి 31 తర్వాత పరిస్థితులను సమీక్షించి కొత్త తేదీలు ప్రకటిస్తామని చెప్పారు. ఆంధ్రప్రదేశ్‌ ముఖ్యమంత్రి వైఎస్‌ జగన్‌మోహన్‌రెడ్డి మంగళవారం ఉదయం కరోనా కట్టడిపై నిర్వహించిన ఉన్నతస్థాయి సమీక్ష అనంతరం విద్యాశాఖ ఈ నిర్ణయం తీసుకుంది. కరోనా వ్యాపి నిరోధక చర్యల్లో భాగంగా ప్రస్తుతం రాష్ట్రంలో లాక్‌డౌన్‌ కొనసాగుతున్న నేపథ్యంలో ప్రభుత్వం ఈ నిర్ణయం తీసుకున్నట్టుగా తెలుస్తోంది.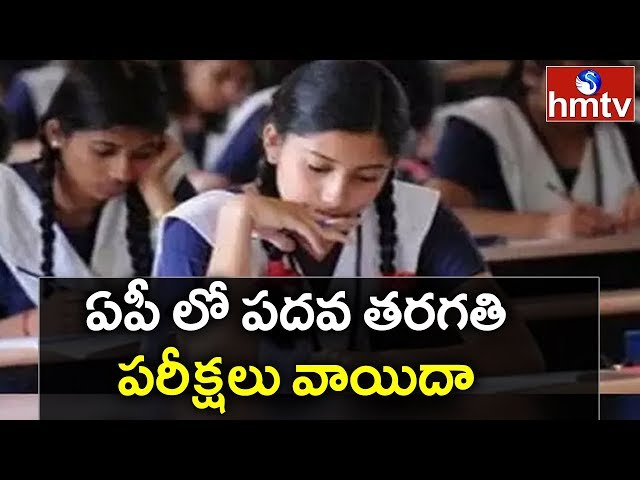 AP 10th Class Exams 2020 Revised Exam Dates?
Students of Class 10th will have to wait for AP SSC new exam dates 2020. As per the announcement by the Govt, the exams are going to be re-scheduled in April/May month. The new exam time table will be soon announced by the BSEAP based on the Covid 19 Status. Clear information about the exam dates, timings, and other guidelines will be announced by the BSEAP.
Video: AP 10th Class Exams 2020 Are Postponed Due to Corona Virus
Source: HMTV